Villanova University has tentatively agreed to buy the nearby Cabrini University, which will close at the end of the next academic year in June 2024 due to financial issues, The Inquirer reported.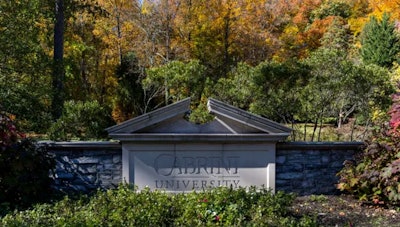 A final agreement is pending. The purchase is subject to regulatory approvals. The hope is to have something by the end of Summer 2023.
Cabrini had been amassing a deficit of more than $10 million in its approximate $45 million budget, said Cabrini President Helen Drinan. Cabrini had been facing operating losses for nine straight years and enrollment declines for at least five.
The school will operate as usual for next academic year, with support from Villanova as needed, and will graduate its final class of students in May 2024, Drinan said.
It is unclear what Villanova has planned for its fellow Catholic university. But it will continue to be known as Villanova's Cabrini campus, Villanova President Rev. Peter M. Donohue said. Villanova's law school will not be moving there, he added.
"I feel very optimistic about this agreement that we have made," Drinan said. "At the same time, I am totally sensitive to the emotional impact that this is going to have on people. ... It's going to be hard for a long time."
Cabrini will help its students transfer away to complete their education and help its employees find new jobs, Drinan said. The school has made arrangements with other local faith-based colleges: Holy Family University in Philadelphia, Gwynedd Mercy University in Gwynedd Valley, and Eastern University in St. Davids. And Villanova will be open to transfers, though its tuition is nearly twice as much as Cabrini's.
And Villanova will maintain and provide access to Cabrini student records after the school closes, for matters such as transcript requests.