Gallaudet University has been recognized as an Apple Distinguished School for 2022–2025.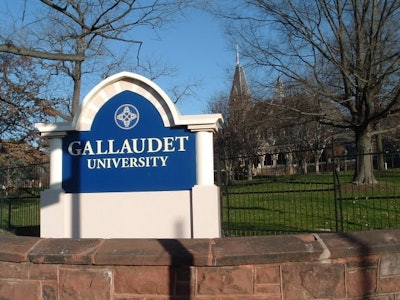 Apple Distinguished Schools are institutions that use Apple technology to inspire creativity, collaboration, and critical thinking in learning and teaching, and have documented results of academic accomplishment.
"Gallaudet University is honored to be recognized as an Apple Distinguished School," said Dr. Khadijat K. Rashid, Gallaudet faculty dean. "We share with Apple the goal of inclusive excellence. We also know that technological solutions work best when the people who stand to benefit from these solutions are involved. Our work together – past, present, and future – shows our shared commitment to foster innovation and inclusion in education. It supports Gallaudet in advancing the three priorities of The Gallaudet Promise: extraordinary learning and academic excellence across the lifespan, knowledge creation and discovery, and signing ecosystems and career success. It upholds Apple's commitment to education and to people who are deaf, hard of hearing, and deafblind. Together, we will make the world a better place for all."
Gallaudet uses Apple products in a variety of ways, such as deaf studies students creating bilingual, bimodal children's ebooks with Apple software and Mac computers; information technology capstone students learning iOS app development and developing a COVID-19 tracking and resource app; and students entering pitch competitions with Apple hardware and software.