In an effort to create a pipeline of college leaders ready to one day become a college president, the Penn Center for minority serving institutions hosted a three-day symposium for its cohort of aspiring leaders this weekend in Philadelphia, bringing together both rising administrators and highly experienced college and university presidents to serve as their mentors.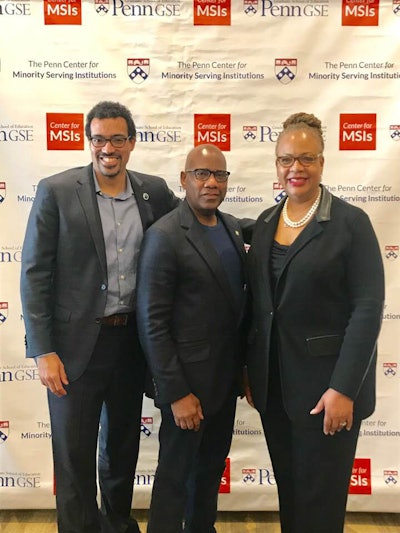 The gathering provided a space that fostered mentorship based on candid conversation and collegiality to train the next generation of MSI leaders.
"Even though I study these things all the time, I feel that I'm constantly learning," said Dr. Marybeth Gasman, director and founder of the Center for MSIs at the University of Pennsylvania, who added that despite the unforgiving schedules of college presidents, she was able to secure more than a handful of prominent college presidents to mentor up-and-coming leaders.
"I tried to just explain what we're focusing on," she said, adding that she convinced the invitees that the program would engage leaders in working for the success of under-resourced and under-represented students at minority serving institutions. "They just said yes. I was really excited."
Dr. Mildred García, president of California State University, Fullerton and incoming president of the American Association of State Colleges and Universities, drew from her experiences growing up as a Puerto Rican woman in New York City. She recalled a childhood memory of her father arguing in a thick Puerto Rican accent with a Jewish man shouting in a thick Yiddish accent over the price of García's Easter clothing. She noticed that as she escalated through the ranks of higher education, these accents disappeared.
Dr. Michael Sorrell, the president of Paul Quinn College delivered an electric presentation about his experience reinvigorating the once-failing HBCU. He emphasized the grim challenges of serving underrepresented students while also highlighting the rewards of leading with love.
Other panels included accomplished presidents such as Dr. Walter Kimbrough of Dillard University, Dr. Ann McElaney-Johnson of Mount Saint Mary's and Dr. Soraya Coley from California State Polytechnic University, Pomona. The speakers covered topics ranging from administrator-faculty relations to dealing with the media.
"I think I was surprised by how honest, transparent, and real the presenters were," said Dr. Felecia Commodore, a former student of Gasman and a current assistant professor at Old Dominion University. She said that the openness of the mentors has only been to the benefit of the mentees.
This inaugural MSI Aspiring Leaders event meeting brought together the 15 mentors and 21 Aspiring Leaders, who were selected through a competitive application process that began earlier this year. The Aspiring Leaders were then paired by the center with one of the sitting presidents.
"I took a chance and applied to the program," said Dr. Davida Haywood, who has admired Gasman's work since she was a graduate student. Haywood is vice president of student affairs at Alabama State University.
She said that the weekend gathering provided an opportunity for her to step back from the chaos of university administration and reflect on the profession.
"There were a couple of aha moments for me," she said. "And I needed that."
Haywood said that she was also struck by the intimate and friendly atmosphere. The tone was set in Gasman's opening remarks when she urged the attendees to address each other by first names, despite career level or title. This helped diffuse any intimidation. To remove other barriers to frank communication, Gasman also noted the no-tech policy, which recommended that the participants put away their phones and laptops during the sessions.
Andrew Martinez, a second-year Ph.D. student at the University of Pennsylvania, helped design the interactive component of the meeting. The Aspiring Leaders were assigned case studies that required them to address certain issues or crises in semi-fictional scenarios.
One case study described a scenario at Cheyney University, a struggling HBCU in Pennsylvania, and a debate surrounding how to alleviate low enrollment. Dr. Levon Esters, an associate professor at Purdue University, was assigned this case with his partner, Dr. Jessica Harris, a professor at Southern Illinois University.
"I knew I would have to challenge myself to think through the case study," said Esters. "There's a lot of layers to this onion."
Esters said his mentor Dr. Elmira Mangum, the former president of Florida A&M University, guided him and Harris in designing the strategic plan for this assignment. Although the Aspiring Leaders presented their case studies on Sunday, Esters said his relationship with Mangum will continue.
"She's a master at financing in higher education," he said. "I'm going to tap into her expertise in that area."
Dr. Rowena Tomaneng, president of Berkeley City College, attended as one of the mentors. She said that although she has participated in similar gatherings as both mentor and mentee, she appreciated being able to have conversations about fundraising and mentorship without the everyday distractions.
"Our schedules are very busy, so it's nice to have concentrated time for longer engagement and for sharing our stories with our mentees," she said.
The mentor-mentee relationships will continue for two years with support from the Center for MSIs. Gasman explained that the Center will check in with the weekend's attendees to assist in setting goals and establishing timelines. She added that the research component of the MSI Aspiring Leaders program will follow the cohort through the next phases of their careers.
"The landscape is ripe for young people, the folks who are here to figure out if this is really what they want to do," said Haywood. "Regardless of what my professional outcome is, this is something I will certainly continue to take on in my journey."
Joseph Hong can be reached at jhong@diverseeducation.com