Strada Education Network, an education nonprofit based in Indianapolis, launched the MSI Measuring College Value Grant last year for minority serving institutions that seeks to enhance the payoff for their students by helping them work toward gainful employment. The five grantee institutions, dubbed "The Fantastic Five" by Strada, spent the 2016-17 academic year in the planning phase of the grant. This academic year, they began the implementation of the programs they designed using funds from the award. From training in practical skills in Microsoft Excel to developing "soft" skills in communication, each of the five initiatives is a specific response to the needs of each school, but The Fantastic Five share the common goal of ensuring their students complete their undergraduate education with a purpose.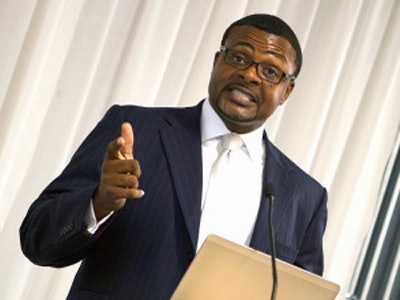 "I'm quite excited about the great progress that they've made. I think it's changing the conversation at these institutions," says Dr. Lorenzo Esters, vice president of philanthropy at Strada Education Network, who pioneered the MSI grant. "In many ways, I think these institutions, many of whom are under-resourced, can serve as examples or models for other institutions who are similarly situated."
Harris-Stowe State University
Harris-Stowe is a historically Black public university in St. Louis, ranked number one by Diverse for granting the most degrees in mathematics and statistics to African-American students. Founded in 1857 and originally named after the abolitionist author Harriet Beecher Stowe, the university offers over 30 academic programs. With the Strada MSI grant, Harris-Stowe's administration hopes to focus on keeping business students active in making long-term plans for their success after completing their degrees.
"We believe in engaging students in their futures and engaging students in their careers, versus just providing a service," says Dr. LaTonia Collins Smith, associate provost and executive director for career engagement. "We wanted to get in front of our students very early in order to start having conversations about their careers."
Smith says she focused on the advisers working in the Academic Success Center. She and her team at Harris-Stowe are using this resource to help students plan a trajectory from major to career. The university also administers a career interest survey to all its students.
"We wanted to start having a conversation with students at admission about the problems of the world they wanted to solve," says Smith, "and what vehicle they wanted to use to pursue their careers."
The team at Harris-Stowe also designed a plan to align the university's curriculum with the professional world as well as expose the students to working professionals. Smith emphasizes that she wanted to see students thinking outside the classroom by learning ways to communicate their experiences to future employers. Harris-Stowe will train its students to distill their academic work and extra-curricular activities to craft attractive applications for employment.
Harris-Stowe has implemented "networking nights" where students can meet professionals who will help them kick-start their careers. The first networking event of the year featured the chief informational officer of Monsanto and was open to all students but focused on business majors. The event provided an overview of business data processing and the various fields at Monsanto. According to Smith, this was just one step in formalizing a stronger connection between the business school and the workforce preparation efforts for undergraduates.
Inside the classroom, Harris-Stowe has recruited faculty from its business school to teach first-year seminars where they can connect students with individuals working in the business industry.
As of now, Smith says she's looking forward to keeping the momentum going.
"I'm really excited watching students persist and complete their internships and ultimately go into rewarding careers," she says.
Martin University
Located just outside downtown Indianapolis, Martin University was founded in 1977 to serve low-income and minority students. It offers its approximately 600 students 14 undergraduate and two master's degrees. The student body is nontraditional, primarily consisting of older students who have decided to return to higher education. Many of Martin University's students work at least part-time while working on their degrees. The institution's mission revolves around helping its students rise to a higher tier in their lives and careers.
"We're working with populations that may not have been successful in getting gainful employment and want that second chance," says Dr. Brian Steuerwald, vice president for institutional effectiveness at Martin University. "They're coming back to the university to get those skills."
Steuerwald explains that Martin University leveraged the grant for a holistic approach to student success. It began by determining the most at-risk groups on campus. The data showed that part-time students as well as those working over 20 hours a week were least likely to complete their degrees. Using this information, the university targeted the incoming class at the university.
"We want to catch them as early as we can, by working with new students coming to the university, whether they're brand new or a transfer student," says Steuerwald. "We're trying to create those opportunities."
Steuerwald and his team then met with employers and learned about the various skill sets they desired from prospective hires. They applied this feedback to adapting first-year coursework to integrate training in Microsoft Office. Moreover, the university designed programs to teach students, who are unfamiliar with today's employment conventions, interview skills and how to apply for jobs online. In addition to altering the curriculum, Martin University held convocations where guest speakers spoke about issues like health and financial literacy.
Steuerwald says the implementation has been smooth so far, but it is necessary for the team to stay committed to the plan they designed.
"When you actually plan it, it looks really good on paper," he says. "When you start implementing it, you really have to stay focused on it."
The team at Martin University hopes this cohort of students will be prepared to succeed after they complete their degrees. According to Martin University's data, most students tend to stay in the Indianapolis area following graduation. Steuerwald is excited to see where these students will be in in four years.
"We've taken the action to give the students what the employers want," says Steuerwald. "It's particularly rewarding to see we're helping strengthen the local workforce."
St. Thomas University
Located in Miami, St. Thomas University embraces a Catholic identity as well as a commitment to diversity on campus. With the Strada MSI Grant, the administration will focus on its students majoring in business, partnering with local companies and emphasizing skills in data analytics.
Specifically, the grant will provide training and resources for second-year students in business, specializing in management, marketing or sports administration. St. Thomas's strategic mission with the Strada MSI Grant revolves around four main goals.
First, the university's team of professionals from Career Services, Office of Instructional Research and Effectiveness, Student Success Center and the faculty will work to ensure that students graduate within four years. Second, the team hopes to synchronize the business program to develop common outcomes. Third, the cohort of students will be trained through hands-on experience in business analytics. Finally, by the third year, students should have acquired at least some internship experiences.
"It's been really interesting to see all the pieces tie together," says Cristina Lopez, director of career services at St. Thomas University. "It's great knowing we'll have a positive impact on students' lives."
The next event will be an orientation run by Lopez in January where the cohort of 30-40 students will be introduced to the program. One of the main components will be the work-study opportunities that will pair students with relevant positions on campus.
Students will not just be answering phones, Lopez says. At the orientation, Lopez will also instruct students on proper business attire and office etiquette for the work-study programs. She will also explain Handshake, a job and internship search platform that was purchased by the university.
Lopez has been with the team through the entire timeline of the Strada grant. The most rewarding part, she says, has been being able to work across the university with individuals from various offices. That said, student success has always been the goal.
She adds that the planning year was challenging and required immense flexibility. However, she found the experience rewarding and is looking forward to the next year of spreading awareness about the program on campus.
"Perseverance pays off," she says. "We stuck with the process, and here we are. I think that'll be the next challenge: embracing everybody and making sure everyone knows what we're doing. It's a university-wide effort."
Texas A&M University–Corpus Christi
Texas A&M–Corpus Christi sits on Ward Island in Southeast Texas. Its five colleges offer over 30 undergraduate majors and over 20 graduate programs. With the Strada grant, the planning and implementation team at the island university initially wanted to support the entirety of its academic community.
"It's been quite a journey with this grant," says Dr. Amy Aldridge Sanford, associate vice president for academic affairs. She explains that she and her team originally aspired to use the grant to hold a conference for all of Corpus Christi's 12,000 students. After meeting with Strada's consultants, they realized they would need to take a more focused approach.
Sanford and the team were able to narrow their efforts to mechanical engineering students, specifically training them in communication skills so that their scientific work can be readily explained to an audience of non-specialists.
"We're tailoring these English and communications classes to engineering needs," Sanford explains. "We're bringing employers to help us do this tailoring so we have this real world experience translated in the classroom."
Sanford says that some engineering students, despite their talents in their field, struggle to explain their work. The initiatives designed through the Strada MSI Grant will help train Corpus Christi's engineering graduates to be better equipped to thrive in a professional environment that demands these skills in communication.
One initiative is using workshops that bring faculty and students from the university's Department of Theatre to coach engineering students in public speaking.
"We're really seeing the sciences and the arts come together even at the student level," Sanford says. Despite early anxieties, Sanford says students have been responding positively to these workshops. She expects more students to join as the successes of the program spread by word of mouth.
The Strada Grant has also supported field trips to workplaces. Student evaluations so far have been overwhelmingly positive. One student wrote in an evaluation that he or she wanted to "get an internship as soon as possible."
For measuring the success of these initiatives, Sanford and her team will use the Personal Report of Communication Apprehension Test, an exam that measures interpersonal skills, group skills, public speaking and performance at meetings.
Sanford says it has been an immensely gratifying experience working with the students, especially those who will benefit most from higher education.
"It is so incredibly rewarding to work especially around first-generation college students because this completion of a degree will be such a life-changer for them, and they know it," she says. "Any opportunities we give them, they are so very grateful."
Wiley College
A private liberal arts college located in Marshall, Texas, Wiley hopes to promote workforce readiness through certification programs that would document student employability.
"Employers want to see incremental successes," says Dr. Gloria Pryor James, provost and vice president for academic affairs. She explains that certificate programs approved by the state of Texas would strengthen students' resumes as they advance toward their undergraduate degrees.
Similar certificates, explains Dean of Education Dr. Calandra Lockhart, already exist in professional settings. These certificates of continuing education are offered to faculty and employees at K-12 schools. Certification is provided through training in areas like technology and safety in the workplace. Lockhart says integrating these programs designed for working professionals into the college's curriculum will help students get a head start.
"They're getting professional development while they're in school," she says.
James and Lockhart hope these certificates will provide tangible evidence to employers, ultimately bridging the gap between higher education and the professional world.
Moreover, Wiley College is targeting incoming first-year students in education and business by integrating professional readiness training into required introductory courses. This training includes a mock interview, tips in building a resume and coaching on appropriate professional dress. This training has also been incorporated into the Academic Success freshman seminar as well as introductory courses across all majors.
James and Lockhart oversaw a professional summit in late 2017, which is required for all first-year students. Despite the meticulous planning and implementation, James and Lockhart's team are still adapting as the Strada grant bears fruit at Wiley.
"We're learning that it's not for everyone," says James. "We're also learning what works and doesn't work."
She adds that the implementation of these initiatives requires extreme commitment.
"We realized that not all faculty are prepared to work with students at this level," James explains. "We had to handpick our faculty."
Both James and Lockhart are hopeful about the program's success. They expect that students and employers will benefit from these initiatives at Wiley.
"We're looking forward to being able to document and show that this program works," says James. "We have to make sure we put processes and people in place. We see already that they work and that students are interested."
"Second, the team hopes to standardize the business curriculum around values like critical thinking, social responsibility, and global competencies."