With gas prices skyrocketing as a result of Russia's invasion of the Ukraine, those who live and work in rural communities across the United States are feeling the economic reality at the gas pumps.
Students, staff, faculty and administrators at Tribal Colleges and Universities (TCUs) are among those severely impacted.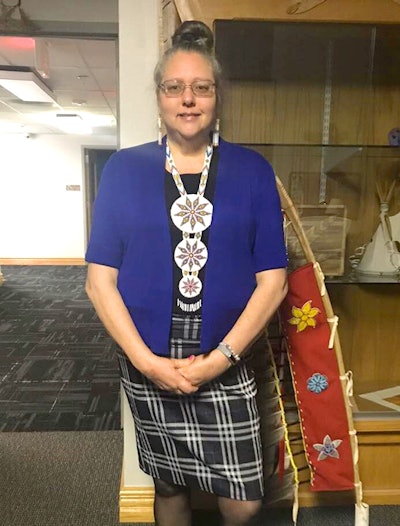 "It impacts our students because the price is so high, and it's hard enough to buy your books let alone worry about paying for gas to get to class," said Lori Ann Sherman, president of Keweenaw Bay Ojibwa Community College (KBOCC), a TCU in Michigan. "It's really affecting our staff and faculty as well, because we're the ones who travel in every day."
In an effort to stem the booming costs, President Biden released one million barrels of gas from the U.S. reserve, with plans to release more over the next six months. As the war in Ukraine shows no sign of slowing, and sanctions on Russian oil and gas imports keep the prices hovering above $4 a gallon on average, many TCUs are making plans to accommodate the steeper expenses well into the summer and beyond.
At KBOCC, Sherman said it's not uncommon for students, faculty and staff to drive over 20 miles to reach their campus in L'Anse.
"We have one taxi, and there's no public transport, no buses," said Sherman. "What I've done for staff and faculty is offered a rideshare program that we just started last week. But that still makes it hard. I live about 25 miles from campus, and no one lives around me."
Students at KBOCC who are tribal members of the Keweenaw Bay Indian Community, have a discount card they can use at gas stations on the reservation, which allows them 16 cents off per gallon. But because of the rural nature of the area and the harsh winters in Michigan, many cars are pick-up trucks or SUVs.
"In this area, it's best for cars to have all wheel-drive, four-wheel or front-wheel, and those are usually bigger vehicles," said Sherman. "The bigger it is, the harder it is to fill."
Many TCUs are helping staff and students alike by providing gas gift cards, in increasing amounts, going from $20 to $50. Requests for that assistance has increased, said Dr. Cheryl Crazy Bull, president and CEO of the American Indian College Fund, an organization that provides financial assistance for Native Americans in higher.
At Diné College in Tsaile, Arizona, President Dr. Charles "Monty" Roessel said many students are used to doing the mental math to incorporate high gas prices, because gas prices on the Navajo reservation are usually much higher. Diné College recently raised the minimum wage of their employees to $15, and so far, Roessel said that raise has made a huge difference.
Many TCUs able to offer their students increased financial support use funding from the Coronavirus Aid, Relief, and Economic Security Act (CARES Act) and the Higher Education Emergency Relief Fund (HEERF). Diné College, for example, was able to use those funds to access strong and steady broadband for their students. Seventy-five percent of Diné College's instruction is still online, which saves the students from having to fill up their cars to commute back and forth to campus.
"Gas prices will be a part of our calculation in terms of what we offer next fall," said Roessel. "We're trying to get back to [face to face instruction], but we might say we'll keep this online." he said
But it's also expensive to have steady broadband. Diné College is paying $800,000 more a year for the service, something Roessel said will be untenable when COVID-19 relief moneys vanish. He said that his college refuses to go back to a time without that resource.
Because these emergency funds have been so helpful for students, Crazy Bull said that The College Fund and TCUs are considering what it might look like to build more emergency support funding into their budgets. At KBOCC, Sherman said she thinks every day about what will happen when CARES Act and HEERF funding run out.
"We're just going to dig deep, and find funding for these students somehow," said Sherman. "We'll do whatever we can to help them so they can make it through financially."
Liann Herder can be reached at [email protected].