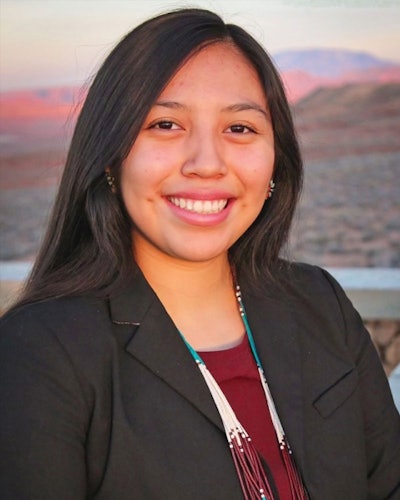 Every Wednesday, Ashlyn Adakai, 19, wakes up early, determined not to be late for her 6 p.m., three-hour chemistry lab at Northland Pioneer College (NPC) on its Winslow, Arizona campus. Her weekly commute is about 300 miles roundtrip. Yet Adakai has never missed a class.
At around 1 p.m., Adakai and her dad, a mechanic, get in the car to leave home on a Navajo reservation near Page, Arizona. They drive about three hours, or 150 miles. When they reach campus and Adakai joins her class, her dad waits in the car until she finishes, often not until 9 p.m. The two drive three hours back in the pitch-black night, past silhouettes of canyons. Around midnight, they arrive home.
"I'm always strict with not wanting to miss a class," said Adakai. "I get a little emotional thinking about everything my family has done for me. They have been a big part of my college education. They will drop anything for me just so I can go to my labs."
Adakai is one of six siblings and the first in her family to go to college. She also receives a Pell Grant, federal aid that supports students from low-income households. The few times Adakai's dad can't drive his daughter because of his work, her older brother has made the trek.
Adakai explained what drives her and her family to keep going.
"There is hardly any accessible health care where I live on a Navajo reservation," said Adakai. "You need to drive hours to get to a hospital. I've had personal experience with that problem in my family. They have been through a lot. My dream is to hopefully be a doctor and come back to serve my community."
With the expense of gas only rising, Adakai has been able to afford her commute thanks to an NPC scholarship that covers students' travel costs. But Adakai said that she would not have known about that aid if she had not felt comfortable asking an NPC staff member for help.
"On our Navajo reservations, we're taught that if we get an education, we can come back to our community and help," said Adakai. "But the thing is, Native Americans have the highest high school drop-out rates. Also, many are not able to attend college because of financial problems and a lack of resources. Which won't stop me."
Native American college student enrollment has been on the decline this year.
"It should be alarming for us all," said Dr. Bryan Brayboy, President's Professor in the School of Social Transformation at Arizona State University and director of the university's Center for Indian Education. "We've had two years of a downward trend, and it doesn't show signs of slowing down. One of the biggest primary challenges for Native students on almost everyone's list is finances: how do you get things paid for?"
Brayboy noted that there is often a myth that Native students get their education paid for, and "that is not true." A related problem is that many Native students, especially in Arizona, are not at a college-level for reading and math.
"There is for me also a question about whether institutions are ready for Native students as well," he added.
Cheryl Crazy Bull is president and CEO of the American Indian College Fund, which provides scholarships and support to Native American college students as well as Tribal Colleges and Universities. She agreed with Brayboy and stressed what institutions can do for students like Adakai.
"There is a lot of evidence that one person matters in helping students," said Crazy Bull. "So many of our students are first-generation or have not had positive experiences with authority. Then if you have a challenge in a class, sometimes you don't know that you should talk to a teacher about it. So, institutions need to put resources into ensuring students have a person and a place they can go to for support specifically for them."
NPC is a Native American Serving Non-Tribal Institution (NASNTI) with four campuses and five centers. About 28% of the college's students are Native Americans who hail mostly from three tribal nations: Navajo, Hopi, and White Mountain Apache. More than 40% of the total land in the college's service area is on Navajo, Hopi, and White Mountain Apache reservations.
"COVID was just devastating to the tribal nations," said Dr. Chato Hazelbaker, president of NPC. "Death rates were higher. Access to health care was tougher. Even though the state of Arizona has largely recovered economically to pre-pandemic levels, we are very, very rural, and we have not seen that same recovery. There is a real fear that these rural tribal areas will be left behind."
Like many NASNTIs, NPC historically lacked representation of Native faculty and staff despite its high Native student population. For Shandiin Deputee, a faculty member in NPC's college and career preparation program as well as a graduate of NPC, that has been slowly changing. She is a member of the Navajo and Crow tribes.
"I can speak to my students in our language and make visible who I am and how I identify," said Deputee. "For my students, that's a wonderful thing. That's not something I saw when I was a student years ago. I feel that the college hiring me as a faculty member has been beneficial for my students."
She teaches adult learners trying to get their high school degree or GED equivalent. Many of her students are also tribal members. Deputee is additionally a faculty advisor of a multicultural club where many indigenous students gather for support.
"The college has become more open because they have created groups that made indigenous people more visible and seen in ways that were not possible when I was a student," she added, noting that she started at NPC in 2003, then took time off, and then came back to graduate around 2016. "I felt like we got left out a lot. As an indigenous person, the college wasn't always geared toward indigenous students."
Recently, Deputee said she has been requiring all of her distance learning students meet about once a week with her over the phone or even via text.
"They have to check in with me that way I can guarantee that they can do the coursework and are okay," said Deputee. "I find that I have much more success when I make it a point to have contact with my students."
Rickey Jackson, dean of arts and science at NPC and of the Pueblo people, added that the college has been trying outreach efforts to make Native students like Adakai more aware of scholarships. For adult learners, Jackson pointed out that local radio has been a way to reach communities.
"We also leave flyers at Indian Health Services facilities, laundromats, wherever people congregate and gather," said Jackson. "The challenges students have at the college are the same challenges people have in the community: food insecurity is a perfect example now with inflation and people trying to pay for groceries."
In addition, NPC brought on a new tool this year to help track relationships between advisors and students. The technology can make sure that advisors are asking students about food security and housing to direct them to the right help.
"We've tried to address the travel needs of our students," added Hazelbaker. "We've moved to a hybrid model, so students driving those long distances may only have to do so once a week for a lab rather than three times a week for lectures and a lab."
Adakai graduates from NPC next month with her associate's degree in medical sciences. This fall, she is transferring to the University of Arizona to earn her bachelor's degree in biomedical engineering. She shared advice for fellow Native students.
"Don't be afraid to branch out of your hometown," said Adakai. "Because I know that in many Native American communities, many don't know the possibilities out of the reservations and what opportunities can bring to them. And my other big advice is to apply to scholarships, especially those through your school. Don't be afraid to ask for help."
Rebecca Kelliher can be reached at rkelliher@diverseeducation.com.