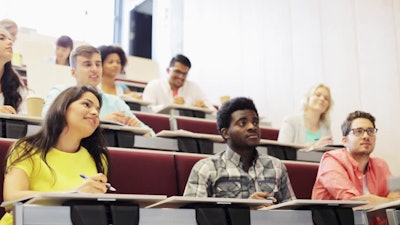 Thirty-five years after the 1983 "A Nation at Risk" report by the National Commission on Excellence in Education, the Ronald Reagan Presidential Foundation and Institute has announced the launch of an inaugural summit focusing on the future of education in America.
Announced January 16, the Reagan Institute Summit on Education (RISE) falls under the foundation's mission to encourage students to be informed and engaged citizens. The bipartisan conference, scheduled for April 11 and 12 in Washington, D.C., will convene thought leaders in education, policy, business and technology to address K-12 and post-secondary education issues at large.
"We know we have a lot of work to do, but we also are very hopeful because we know we've made progress in the learning sciences area and we have better data to work from today," said Janet Tran, director of learning and leadership at the Ronald Reagan Presidential Foundation and Institute. "We're hopeful to bring together the experts and bring controversial, delicate tensions to the surface because the way we view education and the vantage point we come from certainly affects what we believe should be done."
Salient higher education issues the RISE summit will address at the two-day event include college access and affordability, preparation at the K-12 level for students going to college and where thought leaders can illuminate innovative cross-sector collaborations in education.
"We're very hopeful that we answer a need at this time to ensure that 35 years from now, we have not rested on our laurels and actually pursue a path for collaboration to ensure our children learn at the best capacities as possible," Tran said.
The Reagan Foundation will not approach the event with a set agenda, she said.
"We approach it with core values. Every aspect of society is responsible for our children. In spite of political differences, we do share this common goal of building and maintaining a world-class educational system that prepares America's children and college students to become engaged citizens and then, of course, to be competitive in the 22nd century."
Summit organizers look forward to a fresh perspective from thought leaders in areas such as workforce development and free college education at the two-year and baccalaureate level – as well as healthy debate purely for academic sake, Tran said.
Among the scheduled plenary and panel sessions are, "Next Generation College," "Three and a Half Decades of Progress" and "What Does the Future of Education Look Like? What are the New Basics?"
The "New Basics" – a reference to a section of the 1983 "A Nation at Risk" report – will examine new areas students and educators should focus on because some needs outlined in the report "have not been addressed," Tran said.
The summit also will touch on basics such as news literacy and computer science.
The honorary steering committee for the 2018 RISE summit includes former Florida Governor Jeb Bush, the Hon. Arne Duncan, the Hon. Margaret Spellings and the Hon. John B. King, Jr. Lamar Alexander, chair of the U.S. Senate Committee on Health, Education, Labor and Pensions and a former U.S. Secretary of Education, will chair the group.
RISE's closing panel session will feature former secretaries of education sharing their experiences. More session speakers will be revealed as the summit approaches.
After the summit, the Reagan Foundation will continue to support the coalition of emerging leaders working at the forefront of the country's education challenges.
"Our hope post-RISE is that this new coalition – this unlikely coalition – of folks from left and right, from business, from foundations, from all facets of society … are people who are change-makers and people who have courage, who are willing to bypass their beliefs and their identities in order to find an area where they can make change for our students," Tran said.
Tiffany Pennamon can be reached at tpennamon@diverseeducation.com. You can follow her on Twitter @tiffanypennamon.