At the age of 5, Dr. Anjali Forber-Pratt witnessed wheelchair racing at the Boston Marathon, prompting her to dress up as the winner for Halloween that year. As a young child, "It was a powerful moment in terms of seeing role models and adults who had disabilities who were achieving great things," she said.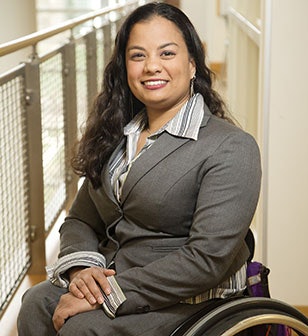 Advocating for disability rights has been something Forber-Pratt has done since she was 7. It eventually led the Natick, Ma. native to compete on the wheelchair track and field team at the collegiate level at the University of Illinois, Urbana-Champaign, the 2008 Summer Paralympics in Beijing and the 2012 Summer Paralympics in London.
The advice of mentors, combined with her passion for social justice and disability studies, compelled Forber-Pratt to pursue graduate studies in the field of speech language pathology and human resource education at the University of Illinois, Urbana-Champaign, nearly a decade ago.
"I purposely wanted my degree and my career path to actually be outside of disability," she said. "I didn't want to be pigeonholed into a career related to disability just because I had a disability."
Today, Forber-Pratt is in her third year on faculty in the Peabody College of Education at Vanderbilt University. She said that the Human and Organizational Development department is "a perfect fit" since she is able to holistically and inclusively examine disability through the lens of social justice.
A well-rounded researcher relying on her psychological and educational training, Forber-Pratt's current scholarship focuses on disability identity development, perceptions of inclusion and disability and victimization experiences in schools. She examines how a coherent disability identity helps individuals adapt to disability, including navigating social stresses and daily hassles such as ableism, inaccessibility and discrimination.
Because disability occurs across cultures and can occur across a lifespan, Forber-Pratt seeks to design enhanced interventions and support mechanisms to better support individuals who might be newly diagnosed with a disability. Some of her work also explores how other people's perceptions can change about people with disabilities through their involvement with sports.
"In some other countries, sports can be a catalyst for social change," she said. Using this lens to advocate for people with disabilities can potentially "open doors to employment, or education, or health care and other opportunities."
What makes Forber-Pratt's research distinctive is how she defines inclusion.
"[It] involves including individuals with visible or apparent disabilities as well as invisible or non-apparent or less-apparent disabilities," she said. "When I'm thinking about the work that I do, I'm including individuals with physical disabilities, intellectual disabilities, chronic health, mental illness, learning disabilities, all of the above and then some."
The scholar has been fortunate enough to have the support of her department. She said her personal experience with disability and these communities make it possible to research and teach others about complex topics in a meaningful way.
In her academic career, Forber-Pratt has been called on by the Obama administration, the U.S. Department of Education, the U.S. Chamber of Commerce and the U.S. Office of Personnel Management for consultation on disability rights and policies. She has published a book titled All About Sports for Athletes With Physical Disabilities and more than 25 academic articles in prominent journals. Her colleagues noted that her scholarship and advocacy place her at a top-tier professionally.
"Dr. Forber-Pratt serves as a major role model about resilience and defying stereotyping and limitations others impose on people with special needs," said Dr. Donna Ford, professor of Education and Human Development at Vanderbilt. "In her sensitive, yet, firm ways, Anjali will educate and enlighten. … It is not surprising that she has, so very early in her career, a national and international reputation — one that competes with tenured faculty!"
Forber-Pratt will be developing and teaching a course on disability culture, community and health next semester, and will continue to be a champion for disability rights and inclusive policy issues in the U.S. and internationally.
"There aren't very many academics with disabilities," she said, "so even being a sounding board and a resource in terms of navigating higher education, navigating the job market and the promotion and tenure process as a person with a disability, I hope that individuals view me as a valued voice of lived experience."
Dr. Anjali Forber-Pratt
Title: Assistant Professor of Human and Organizational Development, Vanderbilt University
Tenured: No
Education: B.S. and M.A., University of Illinois, Urbana-Champaign; Ph.D., University of Illinois, Urbana-Champaign
Age: 33
Career mentors: Dr. Donna Ford, Vanderbilt University; Dr. Dorothy Espelage, University of Florida
Words of wisdom/advice for new faculty members: Get involved. Being able to meet individuals across your entire campus and university can be really helpful because you never know where you may find mentors and support.