Dillard University's School of Nursing received initial approval from the Louisiana State Board of Nursing (LSBN) last week to actualize its pre-licensure baccalaureate nursing programs for the 2018-2019 academic year.
The announcement last week ended a period of inactive admissions at Dillard for the pre-licensure baccalaureate and LPN-BSN nursing programs during the 2017-2018 academic year, following a voluntary comprehensive internal assessment by LSBN. During the hiatus, institutional officials revamped the curriculum, enhanced student support and faculty development, revisited admissions requirements and reaffirmed best practices in nursing education.
"This is our 75th year of nursing education, so we're really excited about the reimplementation of admission into our restructured programs," said Dr. Sharon W. Hutchinson, chair of the School of Nursing. "The response from the public and the students who are already here and interested in becoming nurses has been overwhelming."
Dr. Yolanda W. Page, vice president for academic affairs, called the announcement "a pivotal step in continuing the legacy of the state's first accredited nursing program right here at Dillard."
Having worked collaboratively with LSBN throughout the year of voluntary inactivation, nursing administrators assessed their programming structure in students' plan of study and they "looked at what the data had to say" about student testing outcomes, Hutchinson said.
Previously, nursing students taking clinical courses in their first year had the option to take pharmacology. Now, pharmacology will be a prerequisite to enter the School of Nursing, Hutchinson said.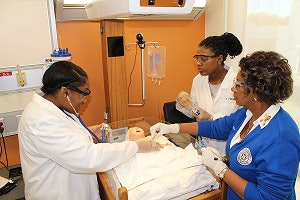 To assist students with testing and board examinations – a basis for the original inactivation of admissions – institutional officials revamped how they administer tests and introduced a new testing policy using strategies learned in LSBN and National Council of State Boards of Nursing workshops.
"We engaged in the whole process for learning how to improve our testing," Hutchinson said. "We were once using pencil and paper, now everything is computer-based testing."
Another area of focus included emphasis on faculty development. Dillard's administration played a pivotal role in providing support for external consultants to come in and offer faculty development workshops on active gunman strategies, "best [teaching] plans" for nursing education and how to present educational content "so that the student is more engaged in the learning process," Hutchinson said.
The inactive admissions period gave faculty the opportunity to attend such workshops and other offerings by the state's board of nursing and other educational entities, even during the summer. Page added that the last year was, in some ways, a period of self-reflection for the program.
"Really, we just had a one-year gap where we will not have a [graduating] class," Page said. "But it was primarily so that we would be able to put more time and effort into the type of work that was required to do the self-reflection activities with focus on curriculum revision, admission policies, thinking about how we recruit students, thinking about what we wanted a Dillard nursing student to look like, as well as ultimately the Dillard nursing program [alumni]."
Among other structural changes, nursing admissions officials will bring back the use of interviews and use a rubric to rank students for entry into the school, and they will continue to use the HESI A2 admissions test. Officials also discussed a plan to decrease the number of students admitted in each year's cohort to give enrolled students more support.
"At one time, we allowed too many students to enter into the program, and we didn't have enough faculty resources or concrete resources to address those needs that the students would have," Hutchinson said.
The approval from Louisiana's nursing board will be a jumpstart for the program to better address student and faculty needs and continue the school's legacy of producing nursing leaders. Dillard nursing graduates – roughly 1,200 since the first graduating class of 1945 – go on to work in healthcare, education, private industry and political fields.
Currently, 36 students are enrolled in the nursing programs, which also offer a baccalaureate degree, officials said. The inactive admissions period did not affect students already enrolled, and these students are benefitting from a lot of the new measures put in place, Hutchinson added.
This week, Hutchinson and other administrators met with nearly 40 new students interested in learning the process for enrolling in the School of Nursing.
On students' renewed interest in the restructured nursing programs, Hutchinson said, "It's popular … the phone has been ringing non-stop."
Tiffany Pennamon can be reached at [email protected]. You can follow her on Twitter @tiffanypennamon.