At first glance, making the argument that human rights are important seems unnecessary. Particularly in America — whose founding document proclaims the "unalienable Rights" of all individuals — it would be difficult to find anyone willing to admit that human rights aren't valuable. The term itself sounds so admirable, so morally right.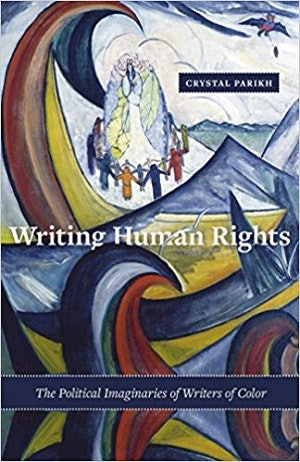 But as Orwell shows us, when terms like "human rights" enter the political sphere, they can quickly turn malleable. Often they become euphemisms that paper over harsher political realities. Sometimes they morph into toothless rhetorical placeholders. As Jefferson was lionizing individual rights in 1776, America's economy was fully dependent on enslaved bodies. And in the last half century, as the U.S. has continued its military-industrial forays around the globe, "human rights" has been used as a catch-all term justifying everything from international aid to preemptive war.
In her new study, Writing Human Rights, Crystal Parikh analyzes the complexities surrounding human rights discourse over the last 60 years, illustrating how the aims of human rights activists have been informed and often ill-served by other geopolitical priorities. For example, though the UN offers international human rights guidelines, it also acknowledges a nation's right to self-govern, even when its laws may run counter to the UN's ideals. Likewise, due to America's global dominance, human rights discussions have been largely U.S.-centric. In practice, America gets to define what "human rights" look like and where violations are or are not occurring.
These conditions have created a landscape where the U.S. has largely remade international human rights in its own image. As Parikh argues, human rights have become synonymous with the "American good life," itself a concept rooted in market-driven neoliberalism, an economic framework hardly known for its charity toward the marginalized. American dominance has also meant human rights discourse often elides the U.S.'s own historical oppression of people of color, women, and individuals with disabilities.
Chapter by chapter, Parikh highlights a different marginalized group — torture victims, children, people of color — that has been the focus of past human rights initiatives. She reads political documents closely, including texts from the Asian-African Conference of Bandung and the UN Convention against Torture, revealing a process where admirable intentions are regularly thwarted by more cynical political forces. The situation seems intractable; activists state their human rights aspirations, the international community supports them, but then neoliberalism just churns along and not much changes. The system's foundations are rotted, but changing those foundations seems impossible.
However, what politics obscures, literature can illuminate. And Parikh argues that, if we want alternative human rights models, we should set aside political discourse and look instead toward novels, particularly the "minor literature" of writers of color that reveals a rich, ongoing conversation about human rights questions.
Parikh combines her analysis of political documents with close readings of a wide variety of authors, arguing that their fiction contains "the aesthetic and cultural renderings of human rights principles, rhetoric, and politics." For Parikh, these writers — including Toni Morrison, Ernest Gaines, Chang-rae Lee and Julia Alvarez — use the novel to re-imagine alternative human rights models that are more empathetic, communal and trans-national. Drawing from Emanuel Levinas, Parikh argues these novelists highlight our "relations of responsibility" toward one another and emphasize "ethical obligation." In these re-imagined models, as Parikh writes:
The minor subject of human rights […] is one whose be(com)ing exists neither as the natural human being, nor the abstract person reconciled to a liberal national or international order, but is a social product whose arrival at once enacts an ethical challenge to those from whom she demands recognition.
Parikh makes clear these novels aren't necessarily changing the hearts and minds of people who wield real-world political influence. Instead, they create a vital space where writers can articulate alternative ways of thinking about human rights. Parikh calls this by different names throughout her book; the novels "incite alternative iterations of political community" or serve as a "crucial staging of the form and meaning of responsibility and protection within a transnational frame of vulnerability, violence, and justice." But the sentiment is the same. All of these works of fiction are attempts to broaden and revise the fundamental ways we think about human rights.
One could argue that the connection Parikh draws between these novels and actual human rights progress is tenuous, that these authors aren't actually doing anything to change the nature of human rights in the world. But by trafficking in fiction, these novelists are free to explore human rights models that aren't subservient to American global dominance or other political strictures.
So while the worldwide human rights struggle will continue to be a slow, often discouraging process, Writing Human Rights demonstrates how "minor" literature can provide a "first step toward thinking of self-determination apart from modern state sovereignty." That imaginative clarity is crucial, for as Orwell also tells us, "to think clearly is a necessary first step toward political regeneration."
Dr. Michael Jauchen teaches creative writing and American literature at Colby-Sawyer College in New Hampshire.