WASHINGTON — It was one of the largest gatherings in recent history.
Tens of thousands of people from Hawaii and Houston to Virginia and Vermont took to the streets in the nation's capital to call for an end to gun violence and to urge Congress to change gun-control laws.
Saturday's march — which drew an estimated 800,000 to Washington, D.C and thousands more to companion marches across the nation — was sparked by the mass shooting at Marjory Stoneman Douglas High School in Parkland, Fla., where seventeen students and adults were killed.
People carried signs along Pennsylvania Avenue in support of students and other victims of gun violence while criticizing and calling on lawmakers and the National Rifle Association to join in efforts to change gun laws.
"It was very powerful and inspirational," said protester Jeff Marchioni. He said he admired how adults allowed youngsters to lead.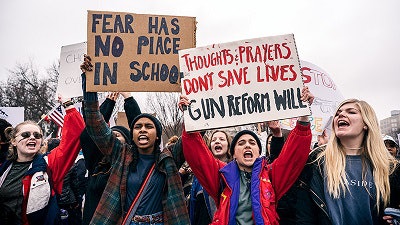 "They kept the focus on the kids because the kids are at the forefront of this movement," said Marchioni. "It was very fair of them to let the kids speak. I don't think there was anyone over 18 that gave a speech."
College students, faculty and administrators across the nation also participated in the day-long event.
College presidents in the Consortium of Universities of the Washington Metropolitan Area released a statement praising the young leaders of the march.
"School shootings and gun violence are far too prevalent in the United States, affecting many communities across our nation, including institutions of higher education. We take seriously our responsibility to provide a secure setting at which our students can flourish," wrote the presidents of Catholic University of America, Marymount University, American University, Gallaudet University, The George Washington University, Georgetown University, Howard University, Montgomery College, Prince George's Community College, Trinity Washington University, University of the District of Columbia and the University of Maryland.
The college presidents said their institutions can provide "important research that saves lives" and can help "develop students who can articulately and forcefully advocate for change at the local, state and federal level."
Some historians said that not since the civil rights movement of 1963, when high school students took part in public marches and protests in Birmingham, Alabama, has the nation witnessed a mass movement involving youngsters.
The decision by organizers to feature a speech by Yolanda Renee King, the 9-year-old granddaughter of the late Rev. Dr. Martin Luther King Jr., was viewed by some as an attempt to tie Saturday's march to King's efforts to build a nonviolent society.
If the momentum continues and eligible high school students vote in the midterm elections this fall, their voices could ultimately influence election outcomes.
On Saturday, a group of teenage girls climbed on top of the "Study the Past" statue outside the National Archives building along 7th Street and Pennsylvania Avenue.
"Hey, hey. Ho, ho. NRA has got to go!" they chanted.
Justin Joyner, another protester, compared gun laws to vehicle laws.
"[Obama] said there was a time cars were killing people because they can be [weapons] if used in the wrong way," Joyner said. "We got better car laws and stricter road laws…and deaths have gone down significantly from when they were first invented. We should do something along those lines [with gun control]."
A cluster of protesters gathered outside the Trump International Hotel and called for the president's arrest. They shouted slogans such as "This is what democracy looks like!" and "No hate. No fear. The NRA's not welcome here!"
Joyner said the march showed "how many people care about this issue and how many kids are involved in this issue. I think this is one of those things [lawmakers] are not going to be able to ignore for a long time."
Marchioni said he believes changes are coming.
"If nothing happens this year, you know the march is going to be back next year and the year after," he said. "Even if [something] does happen, the march will come back again and again just to keep these voices up and aware and make some action. I think it's making change already."