Soon-to-be college graduates who get an early start on their job search are more likely to become and to stay gainfully employed for as many as five years beyond their graduation.
That's not surprising, said Ed Venit, the managing director of EAB, the academic data research company that conducted the survey. The findings are in agreement with what previous research revealed, he added.
"The surprising thing is how few students do the things that are beneficial," he said.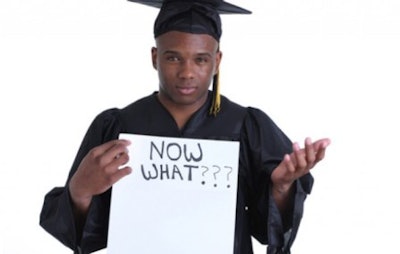 Thirty-four percent of students surveyed started the job search six to 12 months before graduation. A little more than half of that percentage started looking prior to the year before their graduation date.
The maxim, "the sooner, the better" is demonstrated in the case of students who start their job search one year before graduation-according to the survey, those students had a 15 percent higher Gainful Employment Score.
Students who started their job search between 6 months and 12 months before graduation had a 10 percent higher Gainful Employment Score.
But what is considered 'gainful employment?' EAB researchers asked.
There is no general consensus about what defines a "good job" or "gainful employment," so EAB researchers, together with their college and university partners, came up with the best way of defining success.
Based on that data, an 11-point scoring system was created to collect and measure responses from the 6,000 graduates included in the survey, said Brandon Chinn, EAB's lead research on the survey.
The Gainful Employment Score system allowed graduates to assign points to four factors found to be the basis for good employment:
1. whether a job is full or part-time.
2. If a degree is required for the job.
3. The salary based on the media for the state in which the job is based.
4. Job satisfaction.
The survey shows how important it is for institutions and the students they serve, to be proactive, Chinn said, adding that counselors are in a position to stress to students that how they prepare will impact their future outcomes.
Participating in extracurricular activities also equaled higher gainful employment scores, according to the survey. Of the 6,000 polled, those involved in academic base organizations and Greek life had scores 7 percent higher than does who were not involved.
African-Americans who participated in student organizations had a 19 percent higher score than their counterparts who did not, according to the survey.
"There's a lot of room to move the needle here by just driving participation," Chinn said.
African-American students on average have a Gainful Employment Score that is 12 percent below the rest of those surveyed, Chinn said.
Among students who were the first in their families to attend college, participation in student government elevated their gainful employment scores to 9 percent more than their counterparts who did not.
The focus is now on Generation Z, Venit said. That generation overall is very frugal because they grew up during the great recession, he said.
"They want to know if college is worth it," Venit said. Earning potential isn't growing as fast as the financial investment put into obtaining a degree, he said. Now, schools have to focus on delivering on the promise that pursing higher education has good outcomes, Venit said.
With the results of the survey in, EAB researchers are continuing to examine the difference between the schools who are more successful in steering students toward positive outcomes verses the schools who do not.
Jamie Rogers can be reached at jamie@diverseeducation.com