INDIANAPOLIS — In 1796, a slave name Ona Judge took on the "most powerful man" in the nation, when she escaped from bondage and pursued her freedom "at any cost," said Dr. Erica Armstrong Dunbar, the Charles and Mary Beard Professor of History at Rutgers University and the author of the award-winning book Never Caught: The Washingtons' Relentless Pursuit of their Runaway Slave, Ona Judge.
Speaking at the 103rd annual meeting and conference of The Association for the Study of African American Life and History (ASALH) on Saturday, Dunbar said that Ona Judge was "a new American hero" who defied the first president, George Washington, at all costs.
Born in 1773 or 1774, Ona was a small child when the Declaration of Independence was signed. When the Constitution was written, she entered her teenage years and became Martha Washington's "chosen one." As a slave, she tended to domestic duties and was among the seven slaves that Washington selected to travel with him to New York after he was elected president in 1789.
When the Washingtons' granddaughter, Elizabeth Parke Custis Law announced that she was getting married, Martha Washington gifted her best slave, Ona Judge, to her, said Dunbar.
One day, the 22-year-old Judge ran away and she was never caught.
"The pursuit for Ona was intentional, involved and lasted for the lifespan of George and Martha," Dunbar told the audience who gathered at a luncheon jointly sponsored by the Association of Black Women Historians (ABWH) and ASALH.
Even though Judge did not fight during the American Revolution, "she most certainly fought George Washington and she won," Dunbar added.
Dunbar's book, which has been hailed as "a fascinating and moving account of a courageous and resourceful woman" by historian Dr. Eric Foner, was a 2017 finalist for the National Book Award for Nonfiction. A young readers edition with illustrations will be released in January.
Dunbar, who was the inaugural director of the Program in African American History at the Library Company of Philadelphia from 2011 to 2018, said that while searching through newspaper archives, she stumbled across an advertisement by George Washington who was in search of Judge.
"I was excited, frustrated and angry," said Dunbar, who had not previously heard about Ona. "Who was this woman that ran off and what happened to her?" asked Dunbar.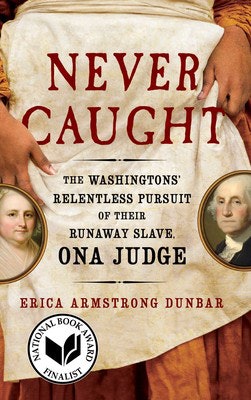 "I believed she never wanted to be forgotten," Dunbar said. "And it's an honor and an obligation to tell her story."
Dr. Evelyn Brooks Higginbotham, the president of ASALH and chair of the history department at Harvard University, called Dunbar a "superstar" who she first met in 1990 while she was on the faculty at the University of Pennsylvania and Dunbar was one of her students.
Dunbar's speech was part of a four-day conference that brought together scholars from across the nation. Although the theme of this year's conference focused on "African Americans in Times of War," there were panel sessions that explored a variety of diverse topics from "The Scholarship and Intellectual Legacy of P. Sterling Stuckey," to "The Life, Legacy, and Music of Aretha Franklin."
This year's conference was Brunetta Garrard's first.
"There are so many fascinating diverse scholars here," said Garrard, a speech and language pathologist from Columbus, Ohio who joined ASALH earlier this year. "It's been a great way to network and establish contacts with individuals who have the same interest and same mindset as me."
Jamal Eric Watson can be reached at jwatson1@diverseeducation.com. You can follow him on Twitter @jamalericwatson