WASHINGTON – Employment data on college graduates needs to be accurate, comprehensive, verifiable, comparable, transparent and accessible for the benefit of students seeking post-secondary education, and the federal government should play a key role in making that happen, according to recommendations in a study released by The Institute for College Access & Success (TICAS).
Under the current system, it is almost impossible to get a truthful reading of results from the higher education sector, which accounts for about $500 billion annually and for which the federal government, state governments and accrediting agencies share oversight accountability, according to the report, "Of Metrics and Markets: Measuring Post-College Employment Success."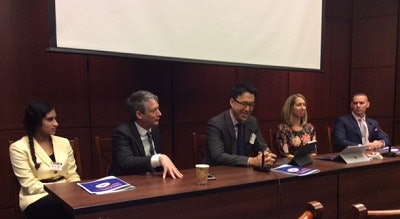 "It's bizarre that we still cannot accurately measure employment outcomes." said Neha Dalal, one of the report's authors, at a briefing Tuesday at the US Capitol Visitor's Center.
The reason no one can is threefold, according to the study, which received funding support from the Lumina, Century, and Laura and John Arnold foundations: employment metrics between schools and degree programs can't be compared because definitions and measurables vary across accrediting agencies; differing data collection methods across states and self-reporting of job-placement rates and starting wages produce inaccurate and unverifiable numbers; and the information isn't clear or easily accessible to students and other stakeholders, even if it were accurate.
Rather than reliable information that can inform prospective students' critical decisions about college, degree and career choices, the status quo offers students "an array of employment metrics calculated by different subsets of colleges and programs at the behest of states, accreditors, and the federal government, and using a variety of definitions. The resulting patchwork of uncoordinated data makes meaningful comparison across programs and colleges near impossible and leaves major questions about the accuracy and reliability of the available information."
Such a system is detrimental to students, said TICAS president James Kvaal.
"It's troubling that the information students have is not as good as it could be or should be," he said.
"Higher education proves a powerful lever of upward mobility for many Americans, but leaves too many worse off than when they started, with substantial debt and little or no increased earnings power to pay it off. Simply put, students are entitled to this foundational information as they make key decisions about where to invest time and money."
The report recommends a number of ways to solve the problems regarding data about job-placement and threshold earnings, including:
· The federal government should spearhead standardizing job-placement definitions to be consistent among federal, state and accrediting agencies.
· New investments should be made in state databases to allow other states to catch up with the few that use them to verify important employment metrics, such as job-placement rates.
· The Department of Education should restore the threshold earnings rate metric to the College Scorecard and improve the metric by calculating and publishing threshold earnings rates at the program as well as school level.
· Congress should provide authorization to create a federal student-level data network that enables calculation of federal employment metrics that include every student attending an institution of higher learning.
"Ultimately, employment metrics have the potential to help students, families, policymakers and other stakeholders make better decisions about where and when to invest time and higher education dollars," the report said. "But in order to achieve this, they must have a meaningful and consistent definition, be collected and verified in a trustworthy manner, and be accessible to students and other decision-makers."
Multiple legal rulings in recent years have impacted hundreds of thousands of students who claimed that they were duped by false job-placement and starting-wage numbers provided by schools, primarily for-profit institutions. Many have stories of schools over-promising and under-delivering, leaving them with a lot of debt and a low-paying job often not even in their degree field.
At the briefing Thursday, Chicago native Andrzej "Andy" Kmkiecik shared his personal story of deciding to leave a community college after one year and enroll in ITT to prepare for a career in aerospace engineering. Instead, after graduating on time in four years with dual bachelor's degrees, he found himself underemployed with credentials not recognized by prospective employers and other schools.
Ensuing financial difficulties resulted in his parents losing their home, he said. Later, he was among thousands of former ITT Tech students who won a judgment against the for-profit system. But he was unable to collect when the parent company ITT Educational Services – after years of lawsuits, investigations and sanctions – suddenly closed its 130 campuses in 2016 and filed for bankruptcy.
Through periods of discouragement, Kmkiecik persevered and got back on track toward his dream. He's currently a first lieutenant in the Air Force and earning an MBA at Northern Illinois University. He said he wished the reliable kind of data advocated by the TICAS study had been available and accessible before he chose ITT in 2001.
"ITT left me with a useless degree and made false promises about the kind of jobs I could get," said Kmkiecik, 36. "I hope they change the rules so this doesn't happen to other people."
It's important for the appropriate authorities to address the study's findings, because until they do it will remain "virtually impossible to make apple-to-apple comparisons" when weighing prospective schools, said Dalal, program and operations coordinator at TICAS.
Panelist Dr. Jordan Matsudaira, an associate professor of economics and education policy at Columbia University Teachers College, was an architect of the College Scorecard and sees restoration of the threshold earnings rate information as important.
Matsudaira added that policymakers can take some steps beyond the report's recommendations. For example, instead of just making great data available, he said, there should be proactive efforts to get the information into the hands of college-hunting students who may not have the same resources or support structures as others to obtain it on their own.
LaMont Jones can be reached at ljones@diverseeducation.com. You can follow him on Twitter @DrLaMontJones