Three Black authors with ties to Alabama will be the focus of a two-year grant awarded to Tuskegee University by the National Endowment for the Humanities (NEH).
"Literary Legacies of Macon County and Tuskegee Institute: Zora Neale Hurston, Ralph Ellison, and Albert Murray" is a project funded by the NEH designed to help faculty produce new curricular materials, digital humanities resources and community engagement activities focused on the three celebrated 20th century authors.
The project — which received nearly $100,000 in funding — is being directed by Dr. Adaku T. Ankumah, a professor of English and chair of the Department of Communication, Modern Languages and Philosophy at Tuskegee.
"We're thinking of the fact that we had literary giants in this area that is not quite known, even to people in this area," said Ankumah, who noted that Hurston was born in Notsulga — a small town in Alabama's Macon County — and Murray and Ellison were both students at Tuskegee, although Ellison did not graduate.
Hurston, who authored classics such as Their Eyes Were Watching God and Dust Tracks on a Road: An Autobiography was a writer during the Harlem Renaissance. Ellison, best known for Invisible Man held teaching posts at Rutgers University and Yale in the 1960s, as did Murray — author of The Hero and the Blues — who held faculty positions at a number of institutions including Columbia University, Emory University and the University of Massachusetts Boston.
Ankumah said that the project — the largest of the three NEH grants awarded to Alabama universities — seeks to connect current and future generations of students to these literary and cultural icons.
"By studying the works of and engaging with scholars knowledgeable about these pre-eminent authors who helped document the racial struggle of the 20th century, students will be able to understand and contextualize 21st century challenges in culture and society," she said.
Last April, Tuskegee paid homage to Murray — a 1939 alumnus — who died in 2013 at the age of 97. His ashes were interred in the Tuskegee cemetery alongside founder Booker T. Washington and his personal library was donated to the university.
Ankumah said that the grant will allow the university to "enrich our existing curriculum in English, History and humanities with their work," and will culminate in a research symposium that will bring scholars from across the world to campus to focus on the three authors.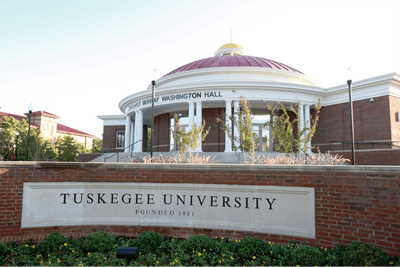 Additionally, she said that the grant will enable Tuskegee faculty to host workshops for area high school humanities and social science teachers who may not be as familiar with the authors.
"We want them to incorporate these authors more because we want the young people to know about them and the society they lived it and how some of the issues we face today are some of the issues that they faced," said Ankumah.
In December, NEH announced 253 humanities grants totaling $14.8 million. The funds, however, will not be disbursed until the partial federal government shutdown — now in its third week — ends.
Jamal Watson can be reached at jwatson1@diverseeducation.com. You can follow him on Twitter @jamalericwatson