Dr. Raymund A. Paredes is stepping down as commissioner of the Texas Higher Education Coordinating Board on Aug. 31, closing out a 15-year tenure of leading initiatives that include increasing enrollment and graduation rates for poor and underrepresented students.
"It was just my sense it was time for some new blood. I enjoy this job very much. I wouldn't have stayed here this long if I hadn't," Paredes said as he explained how he timed his resignation so that he could give input during the current Texas Legislative session. "I didn't want to leave the coordinating board hanging without a commissioner when the legislative session started, and I knew that after the legislation session ends at the end of May, there is always follow up work to do because of new laws, new policies and so forth. So, I said I would stick around for that."
Paredes said it is too soon to tell what the outcome will be. But he is hoping public and higher education in Texas will be funded at adequate levels.
"We asked for $100 million dollars more in funding for all of our primary grant and financial aid programs. I want to fight for that," he said. "We asked for some money to spend in graduate medical education so we could create more residencies and keep more of our medical school graduates in the state."
Paredes said the main question is will state legislators fund enrollment growth and will they fund inflation?
"I don't think we are going to see any increase in base funding. I would be very happy if they funded enrollment growth, the Texas Grad Program and inflation," he said. "If those three things are covered, I would be satisfied with the overall state budget."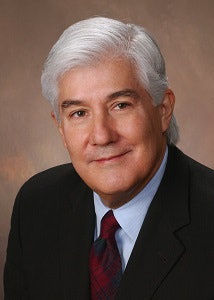 Born and raised in El Paso, Paredes studied English at the University of Texas at Austin and served two years in the U.S. Army. He earned a master's degree in American studies from the University of Southern California and a doctorate in American Civilization from UT Austin.
His career path took him to UCLA where he served 40 years in various roles, including as English professor, dean and vice chancellor.
"I have worked at the campus level, the system level, and now I have worked at the state level and each is different," Paredes said. "I found out that what is good for one institution isn't necessarily good for other institutions and what is good for one system isn't good for the entire state. So, you have to balance conflicting priorities to try to do what's fair."
Paredes said a lot of headway has been made over the years in Texas higher education, but some obstacles have proven difficult to overcome.
"We have a lot of work to do in terms of males. The percentages of males in higher education are either stagnant or being outpaced by the growth and the enrollment of female students," he said. "It's particularly a challenge for African-American and Latino males. I think we need to do something about that."
He said that although the enrollment of poor students has increased, they are underrepresented at lead institutions.
"We have to do something about the large gap in graduation rates for poor students compared to affluent students," he said. "Those are problems that exist all over the country."
Nevertheless, Paredes said his career in Texas higher education has had many high points.
"We have made some strides in getting better results from developmental education," he said. "Also, giving students the options of taking different kinds of math besides College Algebra has made a difference."
The creation of the Texas Affordable Baccalaureate Initiative, where competency-based education is used along with college credit for experiential learning and dual-credit programs, has helped too.
"We can deliver a bachelor's degree somewhere in the neighborhood of $15,000 compared to $40,000. We have 10 institutions that are doing the Affordable Baccalaureate Program right now and it looks like it's going to pull its weight all over the state," Paredes said. "I think we've done a very good job over the past few years of creating more pathways for poor students to achieve baccalaureate degrees. We passed a law a couple of sessions ago that allowed community colleges to offer baccalaureate degrees."
Paredes touted Texas as one of the leaders in online education.
"We are creating much more access to higher education than existed before and we are making it more affordable. As big as Texas is, most of the regions are rural and they don't have access to higher education, so creating online opportunities has been a huge development," he said. "I am resigning, not retiring. I expect to continue in public education for a long time."
The resignation announcement came after Paredes discussed his hopes to meet the goals of the state's 60x30TX plan. That initiative, which launched in 2015, aims to have 60 percent of young adults between 25 and 34 earn a certificate or degree by 2030.
"This plan was a joint effort by 21 extremely talented people committed to public service. We are on track to reach the goals," he said. "We have to increase enrollments and completions by 1.3 percent a year."
"I've always been concerned with making sure students from all backgrounds have access to higher education and have the tools they need to succeed," Paredes said.
Coordinating board chair Stuart W. Stedman will lead the search for a new commissioner.
"Thankfully, Commissioner Paredes' commitment to serve through August of this year gives us ample time to conduct a thorough and thoughtful search," he said in a statement. "He was a driving force in attaining the goals of our previous strategic plan, Closing the Gaps by 2015 – which focused specifically on increasing Hispanic and African-American participation and success rates, expanding the number of teacher certifications and emphasizing the increase of graduates in STEM fields of study, and is the state's chief motivator as we strive to realize the goals of 60x30TX."
Appointing the next commissioner "is one of the most important statutory responsibilities of the coordinating board," Stedman said. "I will be working with my fellow board members in the coming weeks to institute a search process that will identify high quality candidates to fill some very big shoes."
Paredes said he hopes a new commissioner will start by Sept. 1, which will give the new appointee at least a year before a new legislative session begins.
Linda Battles has been with the Texas Higher Education Board for 18 years, starting out as assistant director for governmental relations to her current role as deputy commissioner and chief operating officer. She described Paredes as a visionary, passionate leader, and mentor – even encouraging her to pursue her doctorate degree.
"As I have reported directly to him since he arrived in 2004, he has given me increasing responsibility over that period ," Battles said. "He has really helped me grow professionally, not only teaching me how to be an effective state administrator, but also knowing the higher education issues and policy."
Battles, also an El Paso native, said Paredes came from a poor family himself.
"Obviously, education was a number one priority in his family because they understood that is what would pull them out of poverty. Because of that upbringing, he has been very passionate his entire life about extending that opportunity to children from all backgrounds," she said.
Battles emphasized Paredes' leadership for exceeding expectations for Closing the Gaps by 2015 – which focused specifically on increasing Hispanic and African-American participation and success rates, expanding the number of teacher certifications and emphasizing the increase of graduates in STEM fields of study.
Paredes he will miss the comradery.
"I have been fortunate to have very good boards. The number one reason people resign as superintendents of public schools, presidents or chancellors of universities is because they get sideways with their boards," he said. "I've been fortunate to have extremely good board leadership and I've been actively supported by board members regardless of the turnover in membership. That is the number one thing."