WASHINGTON – The Association for the Study of African American Life and History (ASALH) celebrated its 93rd annual Black History Month luncheon by spotlighting the mass migrations of Black people and how those experiences have helped shape their identity and efforts to make progress.
Black Americans can not be understood apart from their experiences during voluntary and forced migrations over the centuries, speakers told more than 1,000 guests Saturday in a ballroom of the Washington Renaissance Hotel.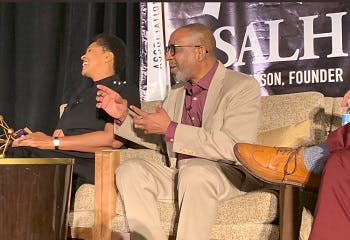 Black migrations are stories of "pain and unbridled hope" that "ultimately are about our striving, about our endurance, and about our perseverance in America," said Dr. Evelyn Brooks Higginbotham, ASALH president and history department chair and Victor S. Thomas Professor of History and African and African American Studies at Harvard University.
In a letter to event guests, Higginbotham noted that ASALH will stress at events throughout the rest of the year the impact of Black migration. Highlighting the 400th anniversary of Africans arriving in 1619 on slave ships to Virginia, the first permanent English settlement in North America, she said ASALH applauds Virginia congressman Bobby Scott's introduction in the House of Representatives "The 400 Years of African American History Commission Act."
During a panel discussion moderated by Dr. Jelani Cobb,  the Ira R. Lipman Professor of Journalism at Columbia University, speakers noted that Black Americans continually forged new identities with each major transfer of population, from the Great Migration from the agricultural south to the industrial north to a current reverse migration of sorts back to the south.
"Folks are constantly negotiating what it means to be African-American on the back end of these migrations," said Dr. G. Derek Musgrove, associate professor of history at the University of Maryland, Baltimore County.
Events that have triggered forced or voluntary Black migration punctuate "400 years of perseverance" seeking economic progress, safety, and respect, yet "when we reinvent ourselves, laws change to undermine our progress," said Dr. Gloria Browne-Marshall, professor of constitutional law at CUNY's John Jay College of Criminal Justice.
Immigration from the Caribbean, Africa, and across the African diaspora can affect and be affected by Black migration events in the United States, and racism and oppression of Blacks everywhere has created a common bond, said Kojo Nnamdi, host of radio shows "The Politics Hour" and "The Kojo Nnamdi Show" on WAMU 88.5 at American University.
While some Black scholars and activists contend that acknowledging historical issues faced uniquely by American descendants of slaves is relevant to the present and future condition of African-Americans in general, panelists downplayed the issue, expressing concerns about competitiveness and division.
How Black identity is parsed is not simple, Cobb acknowledged, adding that there are 'complex narratives about how we came to be who we are."
Current implications of Black migration are informed by various demographic shifts, particularly ones that have seen African-Americans move outward from major cities such as the District of Columbia and New York – where they had been a large part or the majority of the population – because of economic factors.
The large Black population of Prince George's County in Maryland was partly a response to cost and quality of living issues in D.C., and it's important to understand such phenomena when considering how Black Americans are "on the move" today, said Musgrove.
"How do we use the tools that we get out of that story," he asked, "to figure out what is going on today?"
Black people tend to migrate where they perceive opportunities to be, which may be behind the decision of large numbers to return to southern roots from the North and Midwest in recent years, observed Browne-Marshall.
She questioned where the next Black migration should be.
"Out of this country?" she asked. "Back down South? Are we going from the frying pan to the fire? Or do we want another frying pan?"
LaMont Jones can be reached at ljones@diverseeducationcom. You can follow him on Twitter @DrLaMontJones