Dr. Evelyn Brooks Higginbotham envisions the role of the historian today as one who understands the present by examining the past that shaped it. In the same regard, the distinguished scholar sees history as a way to begin to talk about a more "fair and equitable" future.
"The present doesn't just appear tabula rasa and it doesn't just appear," Higginbotham warns. "There are all kinds of events, visions and implications that bring us to where we are."
When Higginbotham, history department chair and the Victor S. Thomas Professor of History and of African and African-American Studies at Harvard University, thinks of the word history, it is more than a word that has been a large part of her vocabulary; it is something she has committed her life to through her scholarship, teaching and leadership as president of the Association for the Study of African American Life and History (ASALH).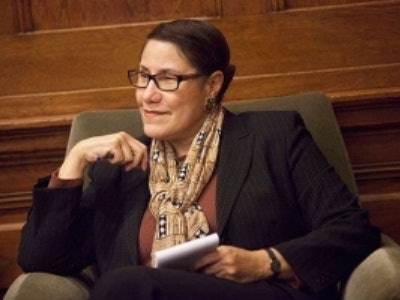 "History, for me, is a way to talk not just about the past, but to use the past for inspiration, for information, for a lot of different things," says Higginbotham.
With a mother — Alma Elaine Campbell, who taught history — and a father — Dr. Albert N.D. Brooks, who served as secretary treasurer under ASALH's founder Dr. Carter G. Woodson — Higginbotham recalls numerous weekend visits in her early childhood to the association's D.C.-based office. Here, she would watch her father work and edit the association's Negro History Bulletin.
"He was just constantly at that address – 1538 9th Street NW," Higginbotham says. "He would say, 'We would disprove the lie that the Negro has no history or none worthy of respect,' and every week, I grew up hearing that."
Higginbotham's home was filled with history books, she adds, and by the time she was in high school, she was already familiar with the works of the "great historians" that regularly visited her home and ASALH's office – historians such as Dr. John Hope Franklin, Dr. Rayford Logan and Dr. Charles H. Wesley.
"I knew my calling at a very young age," Higginbotham says. "I don't think I knew that I would be a college professor, but I always knew I was supposed to be teaching history and African-American history."
Building a legacy
Higginbotham began her foray into education as a public school history teacher. She received her bachelor's degree from the University of Wisconsin-Milwaukee, a master's from Howard University and a Ph.D. in American history from the University of Rochester.
It was her studies at Howard University and her tutelage under Black women historians such as the late Dr. Rosalyn Terborg-Penn that proved transformative in Higginbotham's work to bring more women's voices into the historical record.
"I came thinking I knew Black history, but it was Rosalyn who introduced me to Black women's history," says Higginbotham, who is author of the award-winning book Righteous Discontent: The Women's Movement in the Black Baptist Church 1880-1920.
"That transformed me because I realized I knew only half the story, and the other half of the story was just then and in the process of being told."
Higginbotham's scholarship has covered African-American religious history, the civil rights movement, women's history, respectability politics, and more.
It is also women in organizations like the Association of Black Women's Historians – led by Higginbotham's former student Dr. Erica Armstrong Dunbar – who are uncovering untold stories and continuing the revisionist process to make history more inclusive, Higginbotham notes. One former student, Dr. Ashley Farmer, is a scholar who has re-written the history of the Black Power Moment through looking at women's roles over time.
Dr. Karsonya Wise Whitehead, associate professor of communication and African and African-American studies at Loyola University Maryland and ASALH's national secretary, said Higginbotham's appointment as history chair marked a momentous occasion for the historian.
"Talking about coming full circle," Whitehead says, noting that Higginbotham is chair of the department that hooded both W.E.B. DuBois and Dr. Carter G. Woodson – ASALH's founder – as the first two African-Americans to earn their Ph.D.'s in history.
Whitehead says that Higginbotham will use her position and power as chair to keep open the doors for the next generation of thinkers.
"I want to be able to bend my privilege and step into these positions that have seen so many Black people come through and succeed, and you're able to keep the door open," Whitehead says.
This year, Diverse honored Higginbotham with its 15th annual Dr. John Hope Franklin Award for her excellence and contributions to higher education, and for her embodiment of the trailblazing spirit and legacy of the late Dr. Franklin, a noted historian, educator and humanitarian in his own right.
Higginbotham listed Franklin as a hero when word spread of her historic appointment as the first African-American chair of the History Department at Harvard. She adds that it is an honor to be celebrated in the name of Franklin – someone she remembers meeting at the age of five or six.
During his lifetime, Franklin invited Higginbotham to co-author and re-write the ninth edition of From Slavery to Freedom: A History of African Americans at the time that he was working on his own autobiography. For the tenth edition, Higginbotham will include Franklin's life and contribution to the nation's history in addition to other revisions that will bring the text into the 21st Century, she says.
"He's not simply a name on the cover; John Hope Franklin is in the text itself," Higginbotham says, "because when he first published From Slavery to Freedom in 1947, two years later, it was that knowledge that helped him work with the NAACP legal defense fund … it was that same knowledge that led him to work with the NAACP in 1954 when they asked him about the role of the 14th Amendment in regard to the desegregation of schools."
"He was very conscious of his role in history in fighting for civil rights," she adds. "John Hope Franklin was a real inspiration to me. I love to quote him when he talks about the weapon of history … the idea that history can inform us as to how to become a more fair and equitable nation."
Higginbotham acknowledges that history books did not include much about the Black contribution to America when DuBois, Woodson and Franklin attended Harvard.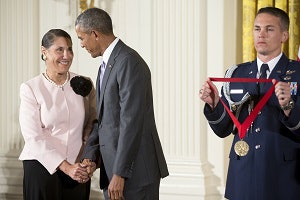 "When they did talk about African-Americans, it was in the worst way," she says. When ASALH was founded during World War I, she adds, the film 'Birth of a Nation' was considered 'legitimately historical.'"
"There was a lot of fake history in those days," Higginbotham says. "Just as they tackled it, we tackle it today. We are in a much better place to tackle the misconceptions today because of the legacy that was begun by people like DuBois, and especially Woodson."
Under Higginbotham's leadership, ASALH will commemorate its 104th anniversary this year by exploring the theme "Black Migrations." The theme recognizes and emphasizes the movement of people of African descent to "new destinations and subsequently to new social realities," the association says.
Higginbotham's research and contributions to African-American and women's history, today and throughout her life, earned her the 2014 National Humanities Medal from former President Barack Obama, ASALH's Living Legacy Award, the Urban League's Legend Award, the Joan Kelly Memorial Prize in Women's History from the American Historical Association and the Letitia Woods Brown Memorial Award from the Association of Black Women Historians, among countless others.
The scholar points to her students over the years at Harvard, Dartmouth College, the University of Maryland and the University of Pennsylvania as products of the legacy she is leaving behind today.
"One of the things I'm most proud of is my students," Higginbotham says, "because my students are writing new histories."
Editor's Note: Dr. Evelyn Brooks Higginbotham received he Dr. John Hope Franklin award on Monday, March 11, 2019 at the 101st annual meeting of the American Council on Education.
This article will appear in the March 21, 2019 edition of Diverse.