Though dreams of becoming a professional baseball player never became a reality and career interests in sports journalism and political science didn't pan out, a longtime love of data and information put Dr. Michael T. Nettles on the path to becoming an educational policy researcher of national repute.
As senior vice president and the Edmund W. Gordon Chair of the Policy Evaluation & Research Center (PERC) at the Educational Testing Service (ETS), Nettles is a highly influential expert on access, opportunity, equity, assessment and student performance and achievement at the K-12 and post-secondary levels.
Because of the breadth of his serious and sustained impact on higher education policy, he is Diverse magazine's 2019 Dr. John Hope Franklin Award recipient.
"I can tell you that his dedication to improving our education system for all learners is second to none," says Dr. Walt McDonald, president and CEO of ETS.
"His work has been instrumental in advancing the application of ETS research and information to highlight and address critical education challenges," adds McDonald, who says he has known Nettles for 35 years. "He's a champion for all learners and is unquestionably deserving of this honor."
Nettles' involvement has been broad and deep. Two U.S. secretaries of education appointed him to the National Assessment Governing Board, which oversees and develops policies for the National Assessment of Educational Progress. He served eight years on both the GRE Board and the College Board of Trustees.
President Barack Obama appointed him to the President's Advisory Commission on Educational Excellence for African Americans in 2014, and he has served on the National Research Council Board on Testing and Assessment, the National Center for the Improvement of Educational Assessment, the Joint Advisory Board for Education Research Centers in Texas, the Board of the Center for Enrollment Research, Policy, and Practice at the University of Southern California and the International Advisory Panel on Assessment for the Human Science Research Council of the Republic of South Africa.
Currently, Nettles sits on multiple boards of directors and trustees for organizations ranging from the Southern Education Association and the National Association for Equal Opportunity in Higher Education to the Peddie School and the Urban League of Middle Tennessee.
A Southern upbringing
Nettles' upbringing in Tennessee helps explain his career path to education policy. He loved sports – and statistics and data about athletes and teams – and showed skill and potential early in baseball and basketball while attending Catholic schools, a predominantly Black elementary school and a predominantly White high school, in spite of physical limitations he was born with that precluded sports participation at a professional level, he learned as a teenager.
"I thought I would become a journalist, and especially a sports writer," he recalls.
He did numerous projects and wrote a lot of papers about race issues when he was in high school in the 1970s, "a period when there was a high level of activism over the war and civil rights," he recalls.
"I worked a lot responding to opposite points of view and perspectives about race and African-American people, and I was fortunate to have teachers who encouraged me to find the evidence. So, I did. And I learned a lot from that. But I still wanted to be a journalist."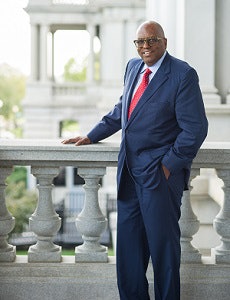 Thanks to a principal, he got an after-school job working in the Nashville office of Billboard magazine. The clerical position turned into a paid position writing about concerts when he graduated high school and he began attending the University of Tennessee.
His father, who had retired from the Air Force and was earning a second bachelor's degree in business, urged him to also study business. But it was too late – Nettles already had been bitten by the political science bug. And its intersection with higher education became an area of serious interest to him.
On his way to graduating in three years with a bachelor's in political science, Nettles engaged in writing and leadership roles that fueled his developing passion for education policy. That would be his focus at Iowa State University, where he earned a master's in higher education in one year and a master's in political science within two years.
Appreciating that Iowa State's academic offerings were "very strong in statistics," Nettles remained there and earned a Ph.D. in education in 1980 at the age of 24.
"I had an environment where it was contributing to my interest in the use of data and information," says Nettles.
He arrived at ETS in 1984, but left in 1989 to work with now-U.S. Sen. Lamar Alexander as vice president of academic affairs with responsibilities for assessment, when Alexander was appointed president of the University of Tennessee. Nettles then went to the University of Michigan, where he enjoyed teaching courses such as educational research and public education policy and the politics of education to graduate students in the classroom and in a research program before returning to ETS in 2003.
Based on countless conversations about diversity, equity and inclusion in education, Nettles sees "quite a bit" that is not being emphasized enough to bring about real change.
"Much of the focus has been on trying to get people to pursue fairly conventional routes to achievement," he says. "Look at how schools are structured and people attend and participate in school. Much of that is geared toward people who weren't involved in creating the system, or had limited involvement in creating the system, fitting into it. One of the missing pieces is the underrepresentation of people of color, Black people in particular, in constructing the system and the process of the system."
"And when African-Americans have been in positions of leadership, they have been expected to carry out the business in the same way that is conventional and have not had the flexibility or the latitude to invent new systems or rethink the existing systems. Perhaps they even rose to positions of leadership in part because of that. So, I think the next generation of Black leaders have the opportunity to cause some disruption."
Such issues inform Nettles' research. He's writing two versions of an article about structural stigma associated with standardized tests for a conference in April. The shorter version will be for publication in Annals, a political science journal, and the longer version will be published by Wylie Online Library with ETS.
Nettles also is writing a paper about "the whole drama around tests" and the history of assessment in higher education. He says it will explore how testing centers were segregated until the 1960s, how minorities were relegated to substandard test-taking environments and how some of the earliest test developers subscribed to eugenics, a set of now-debunked theories that labeled Black people as intellectually inferior to White people.
Rather than eliminating testing, he says, the need is to construct assessment tools that work accurately.
"It's challenging and hard work to go against the grain, but it's important," says Nettles. "In the field of testing and how African-Americans are represented, we're at the bottom. And we don't make much movement or progress. We have to look at who is producing the assessments and such questions. How are they benefiting us? How greater involvement by us changes the methods, procedures, processes, the whole outcome? There's only so far you may be able to go if it's not your system."
Throughout his career, Nettles has been the kind of leader whose often behind-the-scenes work and strategizing have made public impacts of major consequences.
Early in his career when in Tennessee, Nettles saw his research-based recommendations adopted for changing the academic calendar from quarters to semesters at public schools statewide. His data-centric approach also led to the state's adoption of his recommendations regarding where to locate public television and radio stations around the state in the 1980s and the budgets for public colleges and universities that would house them.
Additionally, he was part of a team that led Tennessee to become the first state to adopt a funding system tied to student and institutional performance and achievement, and he worked with the NAACP Legal Defense Fund to help win court approval of desegregation efforts in the state by constructing a method for setting goals for educational institutions.
Then there was his collaborative work with Memphis legislator Dr. Barbara Cooper that informed government actions to create the nation's first statewide "promise" scholarship program to give high school graduates in the state two years of tuition-free schooling at the state's technical and community colleges.
"I've been able to have the support from my family to devote the time to the work and have been able to watch several things happen," says Nettles.
Reducing the debt burden for college students, perhaps the hottest topic in higher education today, is something Nettles continues to work on. In addition to his papers in progress on stigma associated with standardized tests, he's involved in an April convening regarding ETS' 36-year collaboration with historically Black colleges and universities and is instrumental in a June gathering focused on college promise initiatives and funding for them.
"I have pursued a profession where there's a great deal of need for change, a great deal of need for attention to equity and social and demographic equality," says Nettles. "And, so, I work on it all the time. There's plenty to be done. It's a historic problem and I think we're making progress, which makes the work fun."
Progress will be neither automatic nor accomplished "without attention to a massive amount of detail," Nettles adds.
At a time when cost and assessment are thorny issues, names are being changed on college buildings, titles long excluded are not being included in advanced curricula, and there's virtually no focus on African titles in curricula at advanced high schools – even African-American schools – there are many complicated issues that are yet to be addressed, he observes.
"You have to find people committed and dedicated to it, and allies to work on it," Nettles says. "It takes years, and yet that may be one of the sources of the gaps that we see in achievement. We have to wake up and give a lot of attention to these issues."
Editor's Note: Dr. Michael T. Nettles received the Dr. John Hope Franklin Award on March 11, 2019 at the 101st annual meeting of the American Council on Education.
This article will appear in the March 21, 2019 edition of Diverse.