WASHINGTON – Employers are increasingly demanding employees who are competently trained to meet workplace needs, and a new Gallup study indicates that graduates of online-based Western Governors University are more satisfied than others in a range of school-work-life areas.
The study, unveiled at an event Tuesday at Gallup, compared WGU alumni who received undergraduate degrees between 2013 and 2018 to their counterparts from a Strada-Gallup Alumni Survey national database. Among key findings distinguishing the WGU graduates from nontraditional student graduates and graduates of private not-for-profit and public universities are: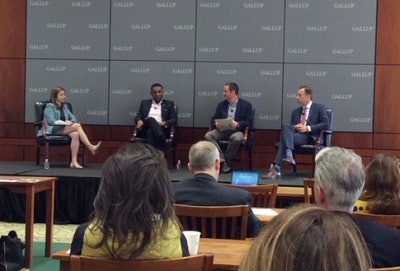 · Nearly 8 in 10 WGU graduates, 79 percent, work full time for their employer compared to a national average of 72 percent.
· WGU graduates said they were engaged by their work at a rate of 44 percent, higher than the national average of 37 percent.
· One in three WGU graduates, 33 percent, strongly agreed that they have the ideal job for themselves while 24 percent of both nontraditional graduates and private not-for-profit university graduates indicated the same.
· Nearly three in four WGU graduates, 73 percent, said their current work was completely related to their program major. That was true for 42 to 43 percent of the other groups and the national average.
· More than two-thirds of WGU graduates, 67 percent, strongly agreed that they had a mentor who encouraged them to pursue their goals and dreams, compared to a national average of 35 percent.
· Eight in 10 WGU alumni, 81 percent, had a job or internship that allowed them to apply what they learned in school; the national average was 58 percent.
· Among respondents who strongly agreed that their education was worth the cost, the rate among WGU graduates was 72 percent compared to a national average of 40 percent.
· Among those extremely likely to recommend their institution to another person, 72 percent of WGU graduates said that they were compared to a national average of 39 percent.
WGU students scored highest among every other group on every metric, and the results are significant.
"Workplace engagement is a measure of an individual's emotional connection to and investment in their job," the report stated. "It is an important driver of overall well-being and a leading indicator of organizational performance such as higher profitability. Thus, compared with graduates from the comparison groups, WGU graduates are more likely to be productive employees and emotionally invested in their work."
The study also examined well-being and career preparation experiences, with WGU graduates indicating the highest self-reports of thriving across five categories: career, 57 percent compared to the national average of 38 percent; social, 50 percent versus 44 percent; financial, 44 percent as opposed to 26 percent; community, 43 percent compared to 33 percent; and physical, 28 percent versus 24 percent.
"WGU graduates' strong career well-being comes as no surprise given the high percentage of WGU graduates who are engaged at work in jobs directly related to their field of study," the report concluded. "Gallup research demonstrates a positive correlation between well-being and engagement at work."
In remarks after an overview of the report by Stephanie Marken, executive director of education research for Gallup, WGU president Scott Pulsipher said his school is geared toward quickly meeting workplace needs through an outcomes-focused curriculum aligned with market and workforce needs.
Yet, students are allowed to work at their own pace to master competencies, with the average undergrad earning a bachelor's degree in two and one-half years.
"Everything is actually designed so that every single student feels like the whole university is designed for them, that one individual," he said.
WGU was established in 1997 by the governors of 19 Western states with the mission of improving the quality of postsecondary education and expanding access, particularly for underserved groups.
It currently enrolls 116,000 full-time students representing all 50 states, the District of Columbia and military installations worldwide, and has awarded more than 140,000 bachelor's and master's degrees in more than 60 programs related to business, technology, teacher education and health professions. Relevant certifications are embedded into degree programs.
Four different types of faculty have separate roles: course designers, course instructors, program mentors and evaluation faculty. A new unit begins each month, 42 percent of undergraduates earn a bachelor's degree within four years and the average student loan debt after graduating is about $15,000, down from approximately $21,000 five years ago, Pulsipher said.
About 6,000 new students enroll each month, he said, the average student age is 36 and more than 60 percent of students are female and first-generation.
Pulsipher announced that on Tuesday, the school launched WGU Academy, an initiative aimed at helping students with no prior college prepare to earn a degree. The access-expanding effort includes focus on power skills essential to social and emotional learning such as teamwork, self-efficacy and communication, he said.
In a panel discussion following Pulsipher's remarks, Johnny C. Taylor, Jr., president and CEO of the Society for Human Resource Management (SHRM), said the self-reported satisfaction of WGU graduates stood in stark contrast to much of the resentment and frustration that he routinely hears as he interacts with some of the 300,000 SHRM members representing more than 110 million workers around the world.
"I'm shocked to see three in four graduates of any institution, from Harvard on down, to say that it was worth" the cost, said Taylor.
Employers are letting SHRM know that they want workers with the relevant skills and competencies, that they are willing to invest in workers' education and they don't care how a school classifies itself, he said.
"Increasingly, employers are going to be your customers. It's going out the window that you have to appeal to 17-year-olds and their parents."
Employers increasingly are demanding engaged workers who are curious, creative, flexible and team-oriented leaders, said Taylor added.
"People like that are easier to manage. It really makes for a better overall environment and a happier place to work."
A shift has begun in higher education away from "a one and done" model to "a lifelong learning loop," so it's essential that data be collected to inform how schools adapt and increase access, affordability and successful transition to a workplace fit, Pulsipher said.
To compensate for a severe shortage of adults in the U.S. educational system, he said, there will need to be "a complete reinvention of institutions" that intentionally engages underrepresented groups in postsecondary education.
However, Pulsipher said, colleges and universities generally "don't appear willing to do that yet."
LaMont Jones can be reached at ljones@diverseeducation.com. You can follow him on Twitter @DrLaMontJones