WASHINGTON – Stories of growth, perseverance and lessons learned were part of a farewell reception for 15 Latino college graduates who spent the last nine months as public policy and graduate fellows in an annual program sponsored by the Congressional Hispanic Caucus Institute.
At Wednesday evening's event, CHCI Alumni Association national president Amilcar Guzman congratulated the nine women and six men and welcomed them into the ranks of more than 3,800 other alumni of the Public Policy Program and Graduate Fellowship Program, which the CHCI established more than three decades ago to introduce young Latinos to careers in public policy.
"We've come a very long way as a cohort," said Antonio De Loera-Brust, the Google Public Policy Fellow, addressing guests on behalf of the 10 public policy fellows. "We proved ourselves as worthy of being here."
De Loera-Brust, who earned a bachelor's degree in film and television production from Loyola Marymount University, said his Mexican-immigrant father taught him to have a strong work ethic and that each fellow's story is one of American greatness.
He praised the program as a way of helping to decrease underrepresentation of Latinos on Capitol Hill, and has been hired to work full-time for a House member.
"To our leaders, be bold, because we are behind you," he said. "We must recognize the weight of the inheritance we have been given."
Gidget Gabriela Benitez, the PepsiCo Foundation Law Graduate Fellow, spoke on behalf of the five graduate fellows. A graduate of Washington College of Law at American University, she said the opportunity fellows were given "in a city that wasn't really built for us in the first place" was extremely beneficial and helped them build the confidence to "tell imposter syndrome to sit down and be quiet."
"This program has shown us who we are, not just to other people, but to ourselves," she said.
"It has made us comfortable enough to walk these halls as we are, natural hair and all," she said, eliciting laughter as she touched her dark, wavy tresses.
The cohort included representation from eight states and eight different Hispanic heritages ranging from Cuban and Venezuelan to Argentinian and African-American. All fellows had a bachelor's or master's degree in fields ranging from business administration and environmental science to global medicine and public administration, and one-third were first-generation college graduates.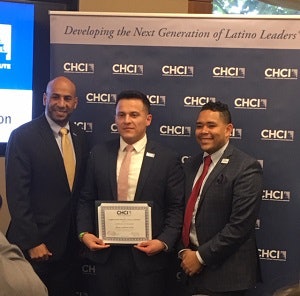 "We have learned much and benefited greatly from having you in Washington this year," CHCI president and CEO Marco A. Davis said in remarks.
"You guys give us such a good reputation on Capitol Hill," added CHCI chair Rep. Ruben Gallego, D-AZ.
Fellows worked Monday through Thursday at governmental and other venues ranging from the offices of Congress members to agencies such as the American Hospital Association, National Education Association, Center for Responsible Lending and Mexican American Legal Defense Fund.
On Fridays, they had development sessions on topics such as emotional intelligence, implicit bias, leadership development, communication styles and their cultures. They also had sessions with executive presence and career coaches, instruction in writing, leadership and public policy by George Washington University professors through the Cisneros Hispanic Leadership Institute, and site visits to agencies and companies across the district.
More than a dozen corporations support the program, including Coca-Cola, Wells Fargo, Amazon, Chevron, Southwest and the Walton Family Foundation.
"Our goal is to expose them to everything here and let them decide what interests them," said Marie Chough, CHCI's vice president of leadership development. "Our fellows really have a wonderful opportunity. They get treated as staff and get some high-quality work done while they're there."
As of this week, Chough said, one fellow will be attending Harvard Law School and another the Harvard Graduate School of Education. Three have jobs working on the Hill, one will be working at an education think tank and another has been hired by a healthcare consulting firm.
Next week, CHCI will welcome 30 Latino undergraduate students for its summer intern program, one of its three such seasonal initiatives. Also during the summer, 13 Latino high school students will participate in an annual weeklong program called R2L NextGen that introduces them to how government works.
And at the end of August, a cohort of 19 new fellows will arrive.
"The goal is really to get them interested and aware of how they can become politically engaged and the process," Chough said, "and to introduce them to Latinos doing this kind of work so they can see it as something they could do themselves."