PRAIRIE VIEW, Texas – Carol Chang Goodwin, a school counselor in the Alief Independent School District, took a few days of her summer vacation to study abroad even though she traveled only about an hour from her home. She wanted to hear and see what she and educators from around the world had in common and what they were doing differently.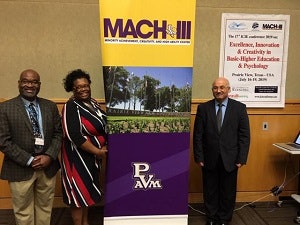 "It was very informative," Goodwin said of the four-day International Centre for Innovation in Education Conference at Prairie View A&M University. "After talking to a lady from Dubai, I found that some students there have to have a 504 plan – a clinical diagnosis – to receive specialized education. In our school, all it takes is a parent saying their child has trouble learning. Talking to people from other parts of the world sometimes shows you how much you have and how much farther you are ahead."
Teachers and researchers from New Zealand, Germany, Croatia, Tunisia, Canada, Sweden, Turkey and elsewhere gathered to learn from each other, build relationships and network during the conference that relied heavily on the themes of service learning and project-based learning.
"This is the first time in our 17-year history the conference was held in the United States and the first time being held at an HBCU," said ICIE cofounder and general director Dr. Taisir Sabhi Yamin, a Cornell University graduate who resides in Germany. "We planned the conference for three years with Dr. Fred Bonner, director of the MACH III Center at PVAMU, because his center is making very impactful contributions to gifted education in general and excellence in education."
This year's ICIE included 12 keynote speakers, 12 symposiums, 32 workshops and representatives from about 40 countries.
The conference was the culmination of the vision of president Dr. Ruth Simmons, PVAMU and the MACH III Center, said Bonner who has directed the center since 2015 and holds and endowed professorship.
"I think this shows the limitlessness of what research and scholarship can achieve on an HBCU campus," he said. "We hope to change the narrative about Black colleges and research."
Dr. Shawn Anthony Robinson, a dyslexia specialist and research associate at the Wei LAB in Madison, Wisc., said it was his first time at an HBCU.
"It was culturally eye-opening," said Robinson, who caught a glimpse of the PVAMU Marching Band rehearsing nearby. "It was also refreshing to get perspectives from individuals who are not in the context of the U.S. but share similar experiences around issues of accessibility, identification, mental health and academic achievement among students of all ethnic and socioeconomic backgrounds."
Maher Bahloul, a linguist from Tunisia who lives in Dubai, said that the conference has been held throughout Europe, the Middle East and North America. The next one will be in Finland.
Designed to highlight relevant 21st-century skills, Bahloul said one of the main themes of the conference has been gifted and talented students up through college.
"This part of the population in many parts of the world, they have no programs for them," he said. "Raising awareness and promoting high-skilled students has been a major aspect of ICIE. Many countries have established programs after this conference, especially in Croatia.
"We would like to bring the conference to Africa, starting in North Africa and moving to sub-Saharan Africa," he said. "This conference has been very fruitful. The hands-on workshops allow attendees to get fresh ideas."
Dr. Stella Smith, a coordinator of the conference, and associate director of the MACH III Center, said she received positive feedback about the gathering.
"Everyone says they were so impressed," she said. "We feel it was successful and that the topics discussed had an impact," she said.