After the events of the Unite the Right rally in Charlottesville in 2017, members from the University of Richmond (UR) community formed a group to discuss race and racism.
Conversations were happening on campus and all around Virginia about the events of the White-supremacist rally. Eventually, Keith McIntosh, UR's vice president and chief information officer, felt that it was necessary to create a space to openly discuss its impact.
So, he began facilitating conversations of the group, which adopted the name Intersections.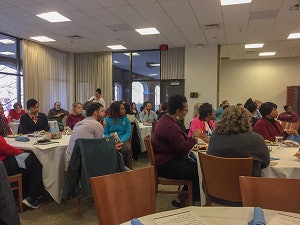 However, after a few months, the layout of the meeting was changed in order to increase participant engagement. Books were introduced and used as a basis for discussion.
Participants started off by reading the book, Overcoming Bias: Building Authentic Relationships Across Differences by Matthew Freeman and Tiffany Jana.
"People felt more comfortable responding to the book versus sharing their personal experiences or perhaps their ignorance or fears," said McIntosh. "That made it easy. From there, I think that's where we really took off."
Eventually, more topics were brought into the discussions including sexism, ageism, xenophobia, classism and more. The group named themselves Intersections because their conversations highlight the interconnections of people's identities.
Ground rules were developed to ensure respect during the meetings, which included being judgment-free and letting people know if something offends them by using "I" and "me" statements. The group also follows the "Vegas rule," meaning, group discussions must be kept private.
Over the past two years, Intersections has read books such as Why are all the Black Kids Sitting Together in the Cafeteria? by Dr. Beverly Daniel Tatum and White Fragility by Robin DiAngelo. They have also watched films such as "Crash" and "Dawnland."
Each member agrees to lead a discussion for the topic, book chapter or a selected movie. They prepare a presentation or guided questions for the rest of the group.
McIntosh has enjoyed the diverse perspectives surrounding various social issues that Intersections provides.
"Some of us, people of color, have had to have conversations about race and racism since we were little kids," he said. "We've just done it for so long that we don't think about it. It was revealing to me, I knew this to be true, but it was great to have majority folks, White folks, come into the room and actually talk about and say, 'You know what? I've never had to think about that.'"
Topics were originally discussed on a weekly basis. After realizing that was overwhelming, the group voted to make it monthly. There is also flexibility within the topics so that discussions surrounding current events can take place.
"We are going to continue talking about different topics as we go, both driven by what's out there on the news but then we will also be looking at what books we can read to continue to raise our own awareness on issues that we aren't necessarily familiar with," said Kevin Creamer, UR's manager, communications and engagement for information services.
Additionally, Intersections hosts guest speakers to facilitate discussions. Last year, as part of the one-year anniversary of Charlottesville events, Charlottesville City Schools superintendent Dr. Rosa Atkins spoke at the meeting.
"It was painful, necessary and I think helped us see what Charlottesville was going through during the White supremacist rally that kind of spurred our group into creation," said Melody Wilson, assistant to the vice president of information services.
Creamer found that the topics from the weekly discussions have translated into his personal life. His wife, who works in the registrar's office at UR, also attends Intersection's meetings. They often discuss the topics with their daughters at home.
"It's really had a personal effect on me and my family," said Creamer. "It's given us a chance to talk about things that we might not have thought to talk about or that might have been uncomfortable to talk about with our girls. I've really appreciated those conversations."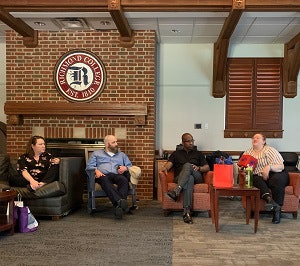 Consistently, around 10 to 12 people are part of the hour-long weekly Wednesday meetings. The group originally consisted of only faculty members from the information services department on campus. However, it has since expanded.
Establishing a group from one university department created both advantages and disadvantages. Many people felt more comfortable sharing their thoughts with colleagues they spend a lot of time with. On the other hand, there were some people who felt uncomfortable learning so much about each other, said McIntosh.
One of the ways Intersections has spread the word is through an on-campus panel.
"We presented how we formed and the topics we discuss," said McIntosh. "And members of the group were able to share their experiences first-hand."
They also recently began advertising their topics in the campus newsletter to increase their growth. Additionally, students are now looking to create their own similar organization on UR's campus.
"We are hoping that more people start these difficult conversations with each other and create more groups in discussion forums to talk about these difficult things," said Wilson. "And if they are interested in doing this, we recommend them starting with the book, Overcoming Bias. It really helped our group explore our own implicit biases and then speak objectively about things afterwards."
Sarah Wood can be reached at swood@diverseeducation.com.