In effectively preparing teachers and educators for diverse environments, the University of Pennsylvania's Graduate School of Education is building pipelines for future students.
Dr. Pam Grossman, dean of the Graduate School of Education (GSE) at the University of Pennsylvania, says the development of educators is critical to building a diverse graduate school population. Current graduate students will soon be present in classrooms, motivating young people and making them aware of the educational opportunities they can access.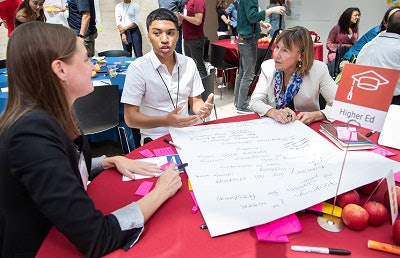 Now in her fifth year at GSE, Grossman was motivated to come to the University of Pennsylvania precisely because of the university's location.
"Penn's location in the heart of West Philadelphia was a huge draw," says Grossman. "It was a great opportunity to think about what a graduate school of education could do in the context of an urban area."
Dr. Vivian L. Gadsden, the William T. Carter Professor of Child Development and Education at GSE, says the school is philosophically committed to urban education. This involves thinking about how to make education better for all children, which involves teaching graduate students to go out into the world and make a difference.
"In many courses, we have field experiences," says Gadsden. "These actually place our students in various communities in order for them to gain a sense of what the issues are that people are facing in these diverse communities. Also, to give them an opportunity to learn from these spaces and an opportunity for us to give to the community."
Grossman's vision for GSE includes making sure there is a diverse faculty and student population. Since becoming dean, she has explored ways to recruit and retain both students and faculty.
GSE currently has approximately 900 master's degree students, 300 Ed.D. students and 100 Ph.D. students. The master's programs span a range of subjects, from teaching to counseling to school leadership. The Ed.D. programs include higher education and teaching, learning and teacher education. The Ph.D. programs include education policy and education, culture and society.
"In thinking about what it means to prepare future educators, you want to be very mindful of who those people are, what they represent and how they will open doors for the students they'll interact with," says Grossman. "Having a diverse set of teachers, a diverse set of leaders is incredibly important in inspiring the next generation to imagine themselves in those roles."
Grossman created a committee on race, equity and inclusion. Last year, the committee launched a climate survey given to students, faculty and staff on issues of diversity and inclusion. Results were shared and concrete ideas developed. It provides a benchmark to mark progress.
"We're bringing together a group of people across the school — students, faculty and staff — to work together," says Grossman. "Our goal is to create an incredibly diverse and inclusive environment for everyone in our school."
At present, 38 percent of GSE tenure-line faculty are people of color with 26 percent from underrepresented minority groups.
"We're always looking for the most diverse group of faculty that we can hire, and probably because we have a diverse faculty we're successful in recruiting other diverse faculty to join us," she says. "A diverse faculty recruits a diverse student population."
Gadsden says students learn from each other when they're open to discussing diversity. She conducts a class exercise in which students interview someone they think they align with culturally and someone with whom they feel little in common and results can be eye-opening.
As an Ivy League institution, GSE is able to lead by example and show the work is possible — both in the school's diversity and in preparing teachers and educators to work in diverse environments. The university is supportive on an institutional level, such as sponsoring and partnering with other schools to bring in pre-doctoral fellows from underrepresented groups to work with faculty for a year.
Mentoring and advising are an important part of retention for GSE students.
Dr. Ed Brockenbrough, associate professor in GSE's Teaching, Learning and Leadership division, works with the Fellowship for Black Male Educators, a national organization based in Philadelphia that addresses issues of retention in the teaching profession. Brockenbrough utilizes some of their concepts for student retention.
Gadsden says over her decades at GSE she has seen increasingly better retention initiatives developed, particularly in the office of student affairs. "[Students] have to make sure that they are pushing the institution to do its best job, to be responsive to their needs," she says.
GSE teacher education programs work with the Woodrow Wilson National Fellowship Foundation. There are Weiss Woodrow Wilson Teaching Fellows — that program has an explicit focus on developing a diverse population of STEM teachers.
"It's working with a lot of different organizations … to think about how they become a pipeline into our graduate school," Grossman says.
The hope is that GSE graduates become leaders in education at many levels, from the classroom to college presidents, and continue to advocate for equity and inclusion in their myriad roles.
"In addition to forging a path for others, they'll also be leaders around some of this work," Grossman says. "Our graduates go on to do that."
This article appeared in the Aug. 22 issue of Diverse.