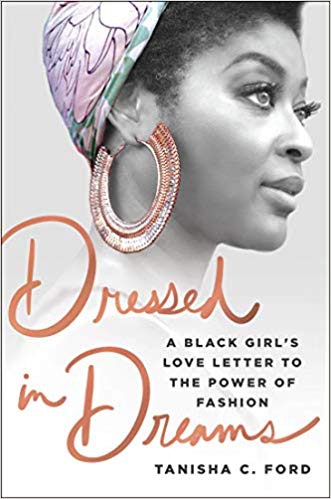 Dr. Tanisha C. Ford's Dressed in Dreams: A Black Girl's Love Letter to the Power of Fashion is a powerful and compelling memoir that is deeply historical.
Ford — an associate professor of Africana studies and history at the University of Delaware — does a brilliant job tracing the roots of fashion and its intersection with African-American culture, music and social movements.
"Our garments are archives of memories — individual and collective, material and emotion — that tell these rich, textured stories of our lives," writes Ford. "To make it plain: our clothes make us feel things. All the things."
Ford, an expert on pop culture and a rising star in academia, said she wrote the book because she wanted to celebrate Black innovation in fashion.
"We are the most creative folks, knowing how to do the most with the very least, in all the best ways," she writes. "I wanted to pay homage to every Big Mama and Ma'dear who made sure that even if their kids had nothing but hand-me downs, they would be clean.
"I wanted to shout out the kids who had to go to school in said ill-fitting hand-me down jeans and turned that look into the vibrant baggy jean trend of the 1990s. I wanted to embrace the girls who survived on a steady diet of Vibe and Honey magazines and got called 'ghetto' for rocking two pairs of huge doorknocker earrings, turquoise Wet n Wild lipstick, and dookie braids, only to see White girls be praised as fashion-forward when they did it.
"I wanted to big-up everyone who rocked a knock-off when they couldn't afford the real designer version. I wanted to give queer and trans folks in the ballroom scene their props for innovating much of what we call hip-hop fashion and beauty culture, without ever getting the credit they deserved. There's a whole Black fashion ecosystem that exists because of and in spite of the mainstream fashion industry, which steals as many dreams as it inspires."
Poignant yet funny, Ford's book helps the reader grapple with Black ingenuity in fashion. From the rise of dashikis in the 1960s to the hoodie sweaters that became a symbol of resistance to racism in the wake of Trayvon Martin's death, Ford historicizes the ways that fashion has been a source of deep empowerment for African-Americans.
Still, as Ford rightly notes, over time other ethnic groups have mimicked and in some cases appropriated African-American culture and fashion.
The genius of Dressed in Dreams is that Ford situates herself right in the text. This is a bit unusual, particularly for historians who are trained to write about other people and events.
But this style of writing works for Ford, who takes readers on an intimate journey into her world as a youngster growing up in Indiana in the 1980s. In the process, she introduces us to her parents — Herman and Amye — who were "part black militant" and "one part bohemian dream" who settled in the Rust Belt city known as Fort Wayne.
Over the 246-page coming-of-age book, we learn how Ford experimented with the Jheri curl and learned how wearing the wrong color tennis shoes at the roller rink during the drug and gang wars of the 1980s could trigger an all-out brawl.
Ford's book has already received rave reviews and was listed as one of Essence magazine's top 10 Summer Reads.
Dr. Michael Eric Dyson, a professor at Georgetown University, praises the book, noting that Ford "explores and explicates the intricacies and politics of Black style with the rigor of a critic and the heart of a writer."
Dyson says that Ford is a "master at letting us see and feel how what we wear expresses our politics and our deepest desires."
Image activist and writer Michaela Angela Davis also praised the book.
"Dressed in Dreams takes you not only into the closet, but the inner sanctum of an ordinary extraordinary Black girl who discovered herself through clothes and reveals a textured and layered look on American life."
In an interview with Diverse, Ford says that in writing the book, she took time to thumb through old family photo albums to see what she and her family were wearing several decades ago.
"I tried to first start by centering my own stories," she says, adding that she is encouraged by other scholars who are increasingly writing about Black women and hair politics.
"I think the field is expanding," she says. "To see more U.S.-based scholars take on this work, for me, is refreshing."
Ford says she wants Black women and girls to "see themselves" when they read the book. And for everyone else, she says, "You can't tell American fashion without telling the story of Black women and girls. You just can't do it because we are so central to what is produced and what is considered fly and stylish even when the industry tries to rip our stories apart from that new thing that they've created. I want people to see that Black women and girls are American history."
Jamal Watson can be reached at [email protected]. You can follow him on Twitter @jamalericwatson