A federal court judge ruled on Tuesday to uphold Harvard University's race-conscious admissions policy, dealing a stunning blow to anti-affirmative action proponents who had hoped that the case might be a defining issue in next year's 2020 presidential race.
Judge Allison Burroughs rejected the claim that Harvard had intentionally discriminated against Asian-American applicants and defended the use of race as a consideration in the admissions process, while also acknowledging that affirmative action may fade away in the not too distant future.
"The rich diversity at Harvard and other colleges and universities and the benefits that flow from that diversity will foster the tolerance, acceptance, and understanding that will ultimately make race conscious admissions obsolete," she said in a 130-page opinion.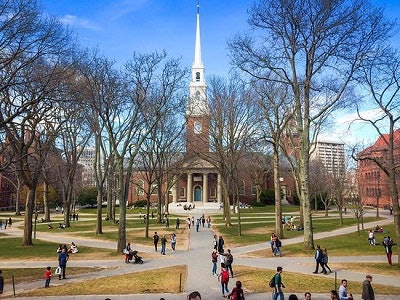 Students for Fair Admissions v. Harvard claimed that Asian American students were being discriminated against and were denied admission to the Ivy League institution.
"Students for Fair Admissions is disappointed that the court has upheld Harvard's discriminatory admissions policies," the organization's president, Edward Blum, said in a statement. "We believe that the documents, emails, data analysis and depositions SFFA presented at trial compellingly revealed Harvard's systematic discrimination against Asian American applicants."
Civil rights groups, however celebrated the ruling.
"Today's decision is a critical victory for Asian American students, who benefit from affirmative action and support race-conscious admissions policies," said Aarti Kohli, executive director of Asian American Advancing Justice. "While we must do more to ensure that Asian American students do not face unequal opportunities through harassment, stereotyping and language barriers, the use of race-conscious admissions policies—which safeguard against discrimination—is an important step."
Dr. Gary Orfield, Distinguished Research Professor of education, law, political science and urban planning and co-director of the Civil Rights Project at University of California, Los Angeles hailed the decision as a victory.
"It's a pretty sweeping victory for affirmative action and a rejection of the idea that there is discrimination against Asians going on at Harvard, and respect for the fact that university admissions is a complicated process and admissions officers that are implementing affirmative action plans tend to be very conscientious about doing the very best to be fair to everyone," said Orfield. "I think it's a strong decision."
Orfield said that the ruling will influence how the facts are treated by the higher courts.
"That certainly doesn't mean that this is over. This is going to be appealed and obviously the administration would like to take a case to what they think is a much more conservative Supreme Court and be able to win in spite of all of these powerful factual findings," he said. "This is a stage, but it's a really important stage. It's a good decision for those who want to have diverse colleges."
Like Orfield, Dr. Stella M. Flores, associate dean for Faculty Development and Diversity and associate professor of Higher Education at the Steinhardt School of Culture, Education, and Human Development at New York University predicts that the fight over affirmative action will be ongoing and will likely come before the U.S. Supreme Court again.
"For the immediate case, I think that it was the right decision for the judge to uphold the educational benefits of diversity," said Flores, an expert on affirmative action. "That has survived for decades now as well but that doesn't mean the challenges won't continue."
Still, Flores worries that "civil rights are being challenged at their most basic levels," on a daily basis. "So it's going to be a continued fight but it's the right decision in terms of the facts of the case and the pedagogical facts of what diversity brings to educational institutions."
Dr. Lawrence S. Bacow, the president of Harvard praised the ruling.
"The consideration of race, alongside many other factors, helps us achieve our goal of creating a diverse student body that enriches the education of every student," he said in a statement. "Everyone admitted to Harvard College has something unique to offer our community, and today we reaffirm the importance of diversity—and everything it represents to the world."
Jamal Watson can be reached at jwatson1@diverseeducation.com. You can follow him on Twitter @jamalericwatson