NEW YORK — At a recent forum marking the Teagle Foundation's 75th anniversary, humanities faculty explored what their disciplines offer underrepresented students – and whether liberal arts schools are the institutions best serving them.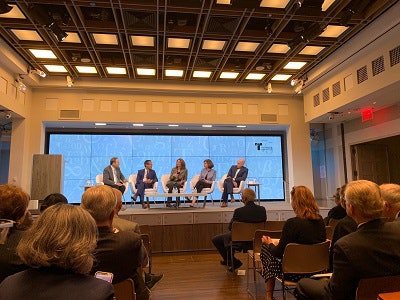 "We can – and do – conduct our work with awareness that higher education is in some ways, alas, doing more to replicate than resist the trend toward savage inequality in our country," said Teagle Foundation President Dr. Andrew Delbanco in his opening remarks.
The Teagle Foundation offers grants to initiatives that advance liberal arts education and civic engagement.
Delbanco pointed out that the most prestigious institutions aren't the ones educating the majority of underprivileged students. Public community colleges are, he said, and they should be a part of the liberal arts conversation.
Or as former LaGuardia Community College president Dr. Gail Mellow put it, "When we say humanities is dying, you're looking at the wrong half of higher education." Mellow emphasized that its mostly institutions like hers that teach humanities to "people who haven't had a chance."
Her co-panelist, University of Maryland, Baltimore County president Dr. Freeman A. Hrabowski III, called on liberal arts school leaders to confront the disparity between them and the populations they want to serve.
"I say this with love to fellow Americans, but you don't look like America, looking at the audience," he said. "That's the elephant in the room for anybody of color. I'm not saying you shouldn't be here. We should just have a bigger room."
But the community colleges serving these students often lack the resources to support them, and speaker Dr. Jennifer Summit, provost and vice president for academic affairs at San Francisco State University, shared a theory as to why. In the 1960s, community colleges were built on a funding model that assumed low retention rates, accounting for the large percentage of dropouts today, she said. Schools budgeted for low-cost classes so they'd have low losses if students left.
"When students at campuses like ours don't stay and graduate, it isn't because the institutions aren't working but because they're working exactly the way they were designed to work," Summit said.
She called this "a kind of stealth meritocracy." Community colleges don't filter out needy students during the application process, she said, but they do after enrollment by simply not possessing the resources students need to succeed.
At San Francisco State University, she's trying to counteract that effect through a project funded by the Teagle Foundation, which supports departments in redesigning their curricula to serve underprivileged students better. For example, she described how her school's biology department shifted its structure to focus more on a freshman core curriculum, built for students with little background, versus upper division courses. Over five years, the program has spread to 43 academic programs on seven California State campuses.
The goal is to create curricula "to uplift students, not filter them out," she said.
In addition to focusing on work done by community colleges, the forum also highlighted private universities making liberal arts more accessible to underrepresented students.
Delbanco noted that private universities benefit from federal research grants and tax-exempt donations, among other federal resources, even if they aren't directly receiving state funding.
"There is no such thing as a private institution," he said. "All private institutions have public responsibilities."
Several speakers shared how their institutions try to uphold those responsibilities, and the role they think humanities programs can play in the lives of underrepresented students.
For example, Dr. Roosevelt Montás, who served as director of the Center for the Core Curriculum at Columbia College, is an instructor for the Freedom and Citizenship program, which brings low-income high school students to Columbia University for an intensive three-week American Studies program. The program, funded by the Teagle Foundation, started ten years ago and now welcome a cohort of 45 students every summer.
Montás aims to "give students a taste of what it's like to read these old texts in a way that illuminates their lives and illuminates contemporary reality," he said. He's interested in what they have to say and strives to make famous works, from Hobbes to Plato, "meaningful in the context of their own experience and engagement."
"This does something to them," he said. "This has a transformative impact on the way that they see themselves and the way that they understand their capacities."
A professor of French and comparative literature at Bard College, Dr. Marina van Zuylen shared similar thoughts on teaching the Clemente Course in Humanities, a free college class for underserved adults.
In the course, she was struck by how non-traditional students used texts to connect "literature to life," working through sometimes difficult experiences in their discussions of great works.
"So many of these students have only had experiences where they were reminded of failure, where they were reminded that they weren't talented, that they wouldn't go anywhere…" she said. "But with these works of writing, literature, philosophy they actually discovered that they could be something else."
Sara Weissman can be reached at [email protected].