When Dr. Dwight C. Watson was applying to be the new chancellor of the University of Wisconsin-Whitewater, he knew the position was the right fit for him. When the university asked him to reflect on its stated values, Watson recognized that they closely aligned with his own. He says that was one of a few indicators that the post was for him.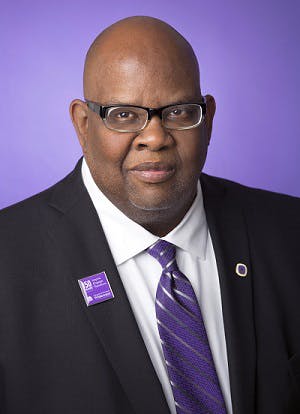 Watson, who took the helm in August, is the University of Wisconsin-Whitewater's first African-American chancellor.
He's had a long career in education. Watson served as the provost and vice president of academic and student affairs at Southwest Minnesota State University. He was also dean of the College of Education at the University of Northern Iowa, associate dean of the Teacher Education Program at the University of Wisconsin-Eau Claire and chair of the Department of Education at Hamline University. As a professor, Watson's research focused on literacy and language acquisition for students of color. And along the way, Watson was also a K-12 teacher.
"I did not want to leapfrog to a presidency or chancellorship," Watson says. "I wanted to do the rich and deep work of institutional leadership along the way."
Now that he's done the work, Watson says he's achieved a "pinnacle position at a pinnacle place." For Watson, that means making the University of Wisconsin-Whitewater the last stop on his career path. He says this will allow him to think long term about the future of the university. With several interim cabinet positions to fill, Watson says he wants to bring a "sense of stability" to the campus.
In his first month on the job, Watson held a series of listening sessions with administrators, students, faculty and staff. It's part of his year-one plan to set goals and get to know the campus and surrounding community.
"It's such a place of excellence that I want to celebrate who we are and what we're about," he says. "I'm entering through a lens of celebration, not problematizing."
This level of outreach has been particularly meaningful to faculty members. During the search process, members of the campus's faculty senate wrote an open letter, arguing against a new University of Wisconsin system policy that entrusted the search for chancellor to an 11-person committee that included only three professors.
But Dr. Eric Compas, a member of the faculty senate and the vice chair of the search committee, says Watson has "done a great job of reaching out to faculty and making it clear he understands shared governance."
Watson brings a "personal touch" to the position, Compas adds, describing Watson as "a leader with a heart" and a clear vision for engaging students who might see higher education as "out of reach."
The new chancellor was once a first-generation college student. From experience, Watson says, "first-generation folks don't know what's available, and they're going to try to just rely on their own resilience and muddle through. You don't just wait for them to come seeking services."
As the traditionally White University of Wisconsin-Whitewater aims to diversify its student population, Watson says he doesn't want the focus to be just on "access and affordability." He wants students of color to see themselves represented on campus— in the student body, among faculty and in the curriculum.
"It's one thing to make students feel warm and welcomed and accepted and like this is their place," Watson adds. "It's another to make it affirming to [their] identity."
Meanwhile, the University of Wisconsin-Whitewater has already taken steps to foster diversity, Watson says. It offers a range of student organizations, including the nine historically Black fraternities and sororities, and the campus is currently working on adding gender pronouns to the school roster.
"I know that my first-generation sensitivities, my being a Black person, my being a gay person, all of those aspects of my marginalization can work to the benefit of students coming in today," Watson says. "I want to make sure that all of the students are getting the services and support that they need."