The Modern Language Association (MLA), founded in 1883, hosts one of the country's preeminent conferences for scholars of language and literature.
The 135th MLA Convention ended last week and a lot has changed since the late 19th century.
The event is smaller, by design. It has also become less stressful for graduate students who were earlier expected to attend the conference to be considered for open faculty positions. And it has become more inclusive and focused on professional development.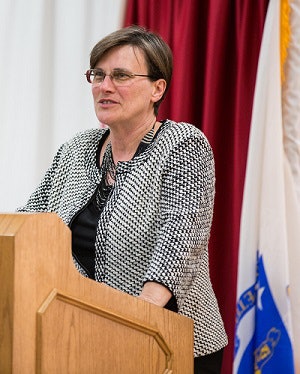 As a result, this year, the conference has become "much more relaxed," said Dr. Paula Krebs, MLA's executive director.
"I felt like people were very collaborative, very generous with each other, very interested in each other," said Krebs.
Harried graduate students no longer need to rush from one job interview to another. This has not just reduced their stress, it has also helped take some of the financial burden that comes with attending the conference off them. Also, faculty have been given more opportunities to present their research, even as sessions have acknowledged the need for more guidance on professional development.
Historically, the MLA hasn't always been known for its inclusivity. The College Language Association (CLA) was founded by Black scholars in 1937 because the MLA failed to embrace them and their work. Today, the two organizations have key overlapping leaders and remain affiliated. "I think it could be a richer partnership. … The convention itself, we're really trying to make it more representative of the profession in general and everybody who teaches in the profession," said Krebs.
Also, including the work of community colleges at the convention is a priority for Krebs. "Some of the elitism of the convention" has been mitigated, she says.
When Krebs was dean of the College of Humanities and Social Sciences at Bridgewater State University, she started an annual workshop for graduate students in Massachusetts which looked at what it's like to work at a teaching-intensive institution. At the workshop, Krebs talked about the "rewarding careers our Ph.D.s in humanities were having in community colleges." She also communicated that two-year colleges were putting in a lot of work to instruct newly minted professors on how to teach, and especially how to empower underrepresented students.
This broadening of MLA's purview has paid rich dividends.
Last year, the organization won a three-year grant from the Andrew W. Mellon Foundation to create MLA Teaching Institutes, a teaching program for community college faculty. The first two weeklong residential programs were conducted last year.
This summer, MLA will create three more institutes, one at East Tennessee State University, with a focus on teaching at Historically Black colleges and universities, a second at Sonoma State University with faculty and aspiring faculty at Hispanic serving institutions, and a third at Columbia University.
"We really want to put our money — or Mellon's money — where our mouth is," said Krebs. "We're aware that if we want community colleges to be engaged with us, we need to be responsive to their needs. … If you're focusing on students and students of color and students from underrepresented groups, community colleges are really the place to pay some attention."
Krebs also wants the research conducted at community colleges to continue to be highlighted at MLA.
"Both the scholarship of teaching and learning and public humanities work can be really fertile grounds for those who are really concerned about diversity, inclusion, access, equity," she said.
Dr. Patricia Matthew, a professor at Montclair State University, led an MLA session called "Strategies for Decolonizing" and noted that conventions like MLA can be opportunities for faculty of color — often isolated in their institutions' departments — to connect with each other.
"I was really excited that people were there in what felt like a really generative spirit," said Matthew. "Academic conferences can bring out the cynic in all of us, and I didn't feel cynicism in that room. … I was really happy that the people of color in that room could talk to each other and lift one another up."
Matthew said Krebs has had a positive impact on diversity, equity and inclusion at MLA.
"She has an investment in diversity and has done this work prior to joining MLA," said Matthew. "I feel more welcome in large part because I see her reach out to not just people of color but people at different stages of their career, people at different kinds of institutions."
Next year, the MLA Convention will be held in Toronto, where Krebs hopes to feature local faculty working on indigenous issues.
The theme, "persistence," will be "a rich theme for diversity issues," she said.
Matthew said she hopes to see a continued focus on sessions that "demystify gatekeeping processes," like publishing. She also thinks MLA can be a venue to talk about strategies to more equitably review peer scholarship so it includes more work on race and ethnicity in journals.
Sara Weissman can be reached at sweissman@diverseeducation.com.