WASHINGTON – When Luce Foundation president and CEO Dr. Mariko Silver was president of Bennington College, a colleague, while trying to respond to a moment of student unrest, asked her, "Do the students see you as a person of color?"
Silver, who is Asian American, was taken aback.
"You didn't ask me how I see myself, you didn't ask me how I present myself to the students, you didn't ask me how I would deal with the challenges you are facing," she remembered thinking. "You asked me if I got a pass."
Silver shared this episode at the faculty of color luncheon at the annual meeting of the Association of American Colleges and Universities in Washington D.C., where about 2,000 higher education professionals gathered on Thursday.
The Luce Foundation president's point was that higher education plays a role in the way that people see the world and in shaping the "contours of power." The stories and needs of faculty of color shouldn't be a "side dish" or a marginal pursuit. And in shaping students' and others' perceptions, faculty of color play a crucial role, albeit not an easy one.
"The work is incredibly hard. And don't let anyone tell you any different," said Silver.
Many of the conference's sessions discussed how to make that work – the work of understanding the need for and appreciating diversity, equity and inclusion – a little bit easier.
Women leaders in higher education spoke about how they can support and mentor each other in the male-dominated upper echelons in their fields. They also spoke about the challenges of being in positions of power.
Dr. Marjorie Hass, president of Rhodes College, said that women are treated differently when they're perceived to have power. She said there aren't many spaces where women can talk about what it means "to own power and ambition" – as women, that is.
For Dr. Lisa Perfetti, provost at the College of Wooster, her first leadership role as director of Muhlenberg College's Faculty Center for Teaching came with complicated feelings. She wasn't used to people viewing her as a person in a position of power.
It's important, and sometimes difficult, to separate "your role and your personhood," she said.
Panelists also said the frustrations of women in positions of power are often "over-interpreted" as hysterical and that women of color, in particular, worry about expressing emotion in the workplace.
Women leaders are expected to be nicer, to smile more, to offer more care to students and faculty, they said. And as a result, many struggle with self-doubt, something Hass called a "side effect of being a woman under patriarchy."
To cope with these struggles, panelists spoke of the importance of an empowering network and community.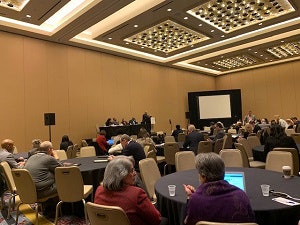 For instance, Dr. Angela Webster, associate vice president for institutional diversity and inclusion at the University of Central Arkansas, said that as a professor, she had a cohort of women of color.
"I had my tribe, I had my sisterhood," she said.
Similarly, Dr. Micki Meyer, assistant vice president of student affairs and community and Rollins College, suggested women in higher education "build and foster relationships" with five people they can turn to for guidance.
Everyone should look around and think, "Who else can I support?" Hass said.
Another panel, moderated by Dr. Jamal Watson, Editor-at-Large at Diverse: Issues In Higher Education and a faculty member at Trinity Washington University, asked how colleges and universities can better support minority faculty, and more importantly, help retain them.
Speakers' suggestions for retaining faculty of color included supporting employee affinity groups, acknowledging often unrewarded diversity work, offering equitable salaries that encourage people to stay and reducing the workload for junior faculty.
Dr. Ramon Goings, an assistant professor of educational leadership at Loyola University of Maryland, said that retaining faculty of color is also about transparency at every step. For example, junior faculty need to know what tenure entails at their particular institutions.
Panelists also talked about what they said is the false belief that there aren't enough quality, diverse applicants out there.
"The data says otherwise," said Dr. Lawrence Potter, chief academic officer at the University of the District of Columbia.
He noted that search committees need implicit bias training, and hiring decisions need to be "informed" and "intentional," taking into account what the university needs as a whole "across the organization," not just department by department.
Dr. Araceli Frias, assistant dean of diversity at the University of Utah, expressed that clarity is needed at the graduate student level, as well. Career counselors need to answer graduate student questions, like how to give a job talk or the nuances of a community college or research institution CV.
Other suggestions for retaining faculty of color included supporting employee affinity groups, acknowledging often unrewarded diversity work, offering equitable salaries that encourage people to stay, and reducing the workload for junior faculty.
It isn't natural to look for our blind spots, said Dr. Belinda 'Otukolo Saltiban, chief inclusion and diversity officer at Utah Valley University. But "at this point in time, we're beyond intentions. We need more action."
Sara Weissman can be reached at sweissman@diverseeducation.com.