Duke University has reached an agreement with the U.S. Department of Education to settle an anti-Semitism complaint filed against it, reported the Zionist Organization of America (ZOA), the institution that filed the complaint.
The incident that sparked ZOA's complaint occurred last March at a conference on Gaza, which was co-sponsored by the University of North Carolina at Chapel Hill (UNC), as part of the Duke-UNC Consortium for Middle East Studies. The conference came under scrutiny "primarily due to a performance by Palestinian rapper Tamer Nafar, which was perceived to have anti-Semitic lyrics," said Duke's student-run newspaper, The Chronicle.
According to ZOA, UNC signed an agreement similar to that of Duke's last November.
The Duke-UNC consortium receives a federal grant, and ZOA said in its complaint that the consortium used part of that grant for the controversial conference. Therefore, said ZOA, the incident was a violation of Title VI of the Civil Rights Act, which prohibits discrimination because of race, color or national origin in any program or activity that receives federal funds or financial assistance.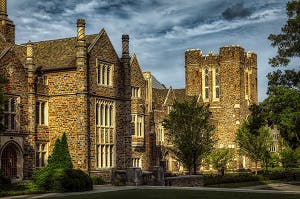 Despite these agreements, the universities, and specifically, the consortium, aren't out of the woods yet, especially because they receive federal grants.  Last September, the Department of Education ordered the universities' consortium to "revise" its schedule of activities. The Department of Education further said the consortium "lacks balance as it offers very few, if any programs focused on the historic discrimination faced by, and current circumstances of, religious minorities in the Middle East, including Christians, Jews, Baha'is, Yazidis, Kurds, Druze and others."
It's unclear where the issue stands as of this time. Duke didn't respond to an interview request by press time.
On the anti-Semitism complaint, as per Duke's accord with the Department of Education's Office of Civil Rights (OCR), linked to by ZOA in its statement, the university agreed to issue a statement to all of its students, faculty, and staff that it "does not tolerate anti-Semitic harassment or discrimination," nor does it tolerate any such acts "on the basis of race or national origin." Duke reportedly emailed this statement to its community on Jan. 29, according to The Chronicle.
Duke also agreed to revise its policy that prohibits discrimination, harassment and related misconduct. The revision will include "a description of the forms of anti-Semitism that can manifest in the university environment." It will also include a similar description of forms of discrimination based on national origin or religion. The university was required to submit this policy to OCR by Jan. 30.
"Duke is firmly and deeply committed to calling out and combatting anti-Semitism at every opportunity," wrote Michael Schoenfeld, vice president of government relations, to Duke's newspaper, The Chronicle.
Duke, though, appears not to have acknowledged any wrongdoing. However, in a letter written by OCR to ZOA in December, posted online by the latter, the Department of Education wrote that Duke "does not dispute that the performer made offensive, anti-Semitic comments during his performance at the conference." OCR further said that soon after the conference, Duke took steps to encourage "a climate supportive of Jewish students." One such step was a training session to combat anti-Semitism, anti-Zionism and anti-Israel bias at the Freeman Center for Jewish Life.
ZOA appeared satisfied with the resolution agreed upon by Duke, as in its report, it praised the institution and OCR for their cooperation in resolving the complaint.
"We thank OCR for promptly and effectively responding to the shocking display of anti-Semitism at the UNC-Duke anti-Israel conference last spring," said ZOA national president Morton A. Klein. "Given the alarming rise in campus anti-Semitism, we are so grateful that the U.S. government is finally sending a strong message to colleges and universities across the country – that if they fail to respond to the anti-Semitic harassment and intimidation of Jewish students, they will face legal consequences, which could include the loss of federal funding," Klein added.