The University of Texas at Austin (UT Austin) and the Michael & Susan Dell Foundation are partnering in an ambitious plan to narrow the completion gap for Pell-eligible students at the Texas institution's flagship campus.
The foundation will gift the university $100 million over 10 years to enhance resources for its Dell Scholars program, which funds low-income students' college costs and expenses, and also offers individual support services for these students.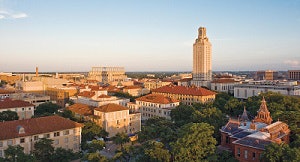 "As a result of our groundbreaking partnership with the Michael & Susan Dell Foundation, The University of Texas at Austin is poised to increase opportunities for thousands of talented students whose potential to achieve will be met with unprecedented commitment, resources and support," said UT Austin President Dr. Gregory L. Fenves in a statement.
Starting in fall 2020, UT Austin's Pell-eligible freshmen with the greatest need will join the Dell Scholars program, which means they'll get $20,000 toward their college costs, including money for expenses like transportation, room and board. If they're Texas residents – which 90% of UT Austin students are – they'll receive that amount on top of the school's Texas Advance Commitment, which covers the full cost of tuition for Texas families earning $65,000 or less.
All Pell recipients will also be offered a slew of support services from the Dell foundation staff. For instance, students will have access to financial literacy training, internship and career prep, tutoring, and peer advising. Each student will also receive a laptop.
The program is "really insightful" in recognizing that "money alone isn't going to make a difference," said Martin Van Der Werf, associate director of editorial and postsecondary policy at Georgetown University's Center on Education and the Workforce.
For some of these students, "buying $20 worth of groceries might empty their wallet," so money certainly helps, he added. Cost is the most common barrier to college access. But outside of expenses, low-income students also have unique needs, including extra "emotional support."
For example, Van Der Werf highlighted the value of career counseling for Pell grant recipients who might be overwhelmed by their class requirements and need help answering questions like, "What kinds of jobs should I look for? What should I say in the interview?"
The goal of the partnership is to raise the six-year graduation rate for Pell-eligible students at UT Austin to 90% over the next decade, from the current 73% on the Austin campus. The university's overall six-year graduation rate is 86%.
Over 15 years, the foundation has supported more than 5,000 low-income students at about 500 schools. And 80% of their recipients have graduated.
The Dell family has a decade-old relationship with UT Austin. A number of UT Austin students participated in the Dell Scholars program. The family committed $50 million to what's now the Dell Medical School. The Dells are "passionate" and "emotionally invested" in the students they fund, said J.B. Bird, UT Austin's director of media relations.
"We talk a lot on campus about creating opportunity for first-generation college students and improving success for Texans from diverse economic backgrounds," Bird said. "They were familiar with our efforts and our success."
UT Austin has been "extraordinarily successful" at graduating Pell grant recipients, said Georgetown University's Van Der Werf. Nationally, only 20% of Pell grant recipients make it to graduation, while at UT Austin, as much as 73% of them get there. In fact, in 2018, the number of UT Austin Pell grant recipients who graduated in four years rose by over 20 percentage points from 2012.
However, because of its success, Van Der Werf wonders whether the flagship UT school is the best place for a gift like the Dells'.
UT Austin is fairly selective, with an acceptance rate of 36%, according to the U.S. Department of Education's College Scorecard. At schools with higher acceptance rates and lower graduation rates – like the University of Texas at El Paso or Austin Community College – "these kind of resources would arguably make an even more measurable difference," said Van Der Werf.
Still, Pell-eligible students at any school need help, he added. "It's admirable. I don't want to detract from it. They're doing a lot of the right things."
Van Der Werf hopes other colleges and universities will follow the lead of the UT Austin and the Dells and provide more comprehensive care for Pell grant recipients, who can come from families with less annual income than the cost of college tuition for one year.
This partnership shows an understanding that low-income students "need a whole gamut of supports" beyond funding, he said. It's "definitely a model other colleges ought to look at."
Sara Weissman can be reached at sweissman@diverseeducation.com.