A series of events at the College at Brockport, including the abrupt dismissal of its chief diversity officer, the resignation of another diversity official and an EEOC discrimination complaint filed by an administrative staff member have sparked weeks of racial turmoil on the SUNY campus in upstate New York.
Protests and complaints from students, faculty and staff have elicited support from the mayor of Rochester and other elected officials, as well as intervention from SUNY chancellor, Dr. Kristina M. Johnson, who called the racial climate on the Brockport campus "not acceptable."
The former diversity chief, Dr. Cephas Archie, was fired and escorted from his office on Jan. 24. He subsequently issued a statement to local media, which said, in part: "We must remain committed to challenging systems, structures, decisions and processes that exclusively represent and benefit some, choosing to retire our silence in such matters which impact us all. As a community, region, state and nation we must change — NO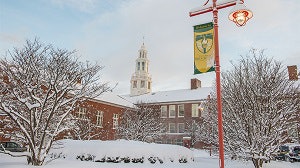 W."
The college has declined to discuss reasons for Archie's termination citing personnel privacy laws. However, Archie's statement suggested that he had joined in efforts to bring about change on the campus. "On many occasions during my tenure we stood united as a community — refusing to continue the repeated mistakes of our past," his departure statement said. He directed all inquiries to his attorneys.
Archie's supporters have included a multiracial coalition of students who staged a peaceful sit-in and march on Feb. 13 carrying signs stating, "I Stand With Dr. Archie." The organizers said they were protesting "in order to raise awareness on racial issues brought to light after the separation of Dr. Archie. The environment at Brockport has revealed itself to be oppressive, in that it lacks diversity among students and faculty, and continues to fail provide equitable opportunities to its minority communities on campus."
Alumni, members of the faculty and staff, a county legislator and Rochester Mayor Lovely Warren also weighed in. A day after Archie was fired, Warren praised Archie's work in a Facebook post.
"It's my understanding that Dr. Archie was fighting against institutional and structural bias and for that he has been dismissed," the mayor said in the post. "It's unfortunate when the people that work toward diversity and inclusion across the collegiate spectrum also face it themselves."
Warren also asked chancellor Johnson to examine the racial concerns on the Brockport campus. The chancellor responded with a letter calling the situation "disheartening," writing, "This is not acceptable and I want you to know that my commitment to diversity, equity and inclusion is unwavering . . ." She said steps were being taken to address the issues including a review by outside diversity experts.
Brockport's Faculty and Staff of Color (FSoC) said in an open letter to Macpherson that "deeply rooted structural and systemic racism" exists at the college. They cited differences and disparities in the application of policies, employee evaluation, compensation, hiring and search processes, "and most vitally – the lack of focused critical support to increase the academic success of underrepresented students – particularly students of color."
Monroe County legislator and Brockport alumnus Vincent Felder also wrote a strongly worded letter to chancellor Johnson. "The diversity issue at SUNY Brockport must be treated as the crisis it has proven to be and must be dealt with in a way that produces sustainable and verifiable results," Felder stated in the Feb. 18 letter.
He included demographic statistics that revealed a lack of diversity in key positions: 100% White president's cabinet; 100% White police department; and 100% White HR department.
A university official confirmed that these figures were accurate, but that one person of color has since been added to the president's cabinet — that's the new interim chief diversity officer, Dr. Lorraine Acker. Her predecessor, Dr. Archie, was not a member of the cabinet, according to the official.
When asked to assess the racial climate on the Brockport campus, Acker told Diverse via email on Friday, "The current racial climate at SUNY Brockport is challenging. There are distrust and communication problems. President Macpherson and her leadership team are committed to addressing equity, diversity, and inclusion."
Acker said administrators "have outlined a series of steps to our campus community that we are committed to acting on this semester and beyond."
She listed a number of planned and current actions aimed at addressing diversity problems. They include:
hosting ongoing community conversations
replacing the current bias reporting process "with an accessible and efficient reporting structure"
mandatory training on implicit bias, institutional racism, and structural inequality for the college leadership team
an "immediate and thorough review" of the diversity demographics in every department and to devise a plan to eliminate these "diversity deserts"
Acker also said the college has created a student advisory board that will have direct communication to college leadership and the office of equity, diversity and inclusion
Going forward, Acker pointed out, staffing and funding for the Office of Equity, Diversity and Inclusion has increased. "But our work has only just begun," she said. "It has been made clear in recent weeks that we need to do much more. Work is already underway and it will continue."