The Idaho House shot down a proposed $630 million higher education budget in a 37-32 vote on Monday after representatives argued that some of the state's four-year colleges and universities were overspending on diversity and inclusion initiatives, reported the Idaho Statesman.
The budget, via House Bill 603, would have increased general fund spending for Idaho's four-year colleges and universities by 0.3%, or $1.05 million, for a total of $307 million. The institutions that would have been funded are the public Boise State University, Idaho State University, University of Idaho and Lewis-Clark State College.
Among the opponents of the budget was Rep. Barbara Ehardt, R-Idaho Falls, who wrote a letter in July, criticizing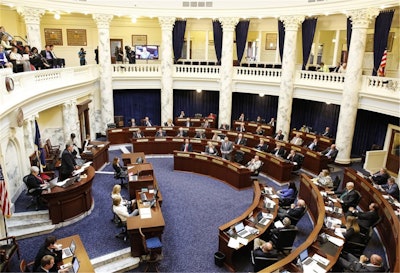 Boise State's spending on new diversity initiatives, including new graduate fellowships for minority students, new curriculum addressing implicit bias for the university's search committee and a new graduate school prep course for underrepresented students, to name a few.
The letter, which was co-signed by 27 additional House members at the time, argued that the diversity initiatives were "unnecessary costs" responsible for both "segregating students" and raising tuition.
"A good deal of the intent behind that letter had to do with the cost of school," Ehardt said. "I have received, from the time I have been here, letters and letters and letters from folks who are attending our universities because they are so concerned that tuition keeps going up and they cannot afford it."
However, in December, all the state's public four-year institutions had announced they would freeze in-state tuition for the next school year.
Similarly, Rep. Vito Barbieri, R-Dalton Gardens, on Monday said he disapproved of "the whole bureaucracy" that has "turned left" and with, what he saw as, a "socialist bent" in higher education, reported the Idaho Press. He argued lawmakers should have a greater say in what is taught and who the university hires and for what reason.
"I can't imagine the number of vice provosts that must have been hired by these universities when we're talking about equality and inclusion instead of reading, writing and arithmetic," Barbieri said. "We've gotta figure out a way to stop rubber-stamping these budgets and begin to send the message that we do have a say on what is taught and we do have a say on who they are hiring, for what purposes they are hiring."
In response, House Democrats criticized Republicans for "voting against content they don't personally agree with," wrote the Statesman.
"I guess I am a little discouraged by some of the commentary that I've heard today," said Rep. Melissa Wintrow, D-Boise. "… Think about the students and how they will be harmed if we shoot down this budget."
Meanwhile, Rep. Heather Scott, R-Blanchard, introduced additional arguments against the budget, reported The Lewiston Tribune. She said universities overspend on "glossy" marketing materials. "That tells me there is somewhere they could cut some money."
Scott also said Idaho's public universities overpay certain employees.
"Nine of the top 10 highest-paid public employees in the state are from the colleges and universities. That's a big red flag for me."
The budget, which is the third one to die on the House floor this session, will now return to the drafting table of the Joint Finance-Appropriations Committee, which, The Lewiston Tribune predicts, will either try to secure extra funding for Lewis-Clark State College (which was hoping for an extra $837,700 to cover occupancy costs and workload adjustment) or will fall in line with the governor's recommended budget, which is $1.4 million lower.