Dr. Adriana Cervantes-González – a lecturer in teacher education at California State University (CSU) Bakersfield – grew up in Tulare County, California and continues to live there with her family. As a student, she only had two educators who looked like her.
The county isn't just lacking educators of color. There's a scarcity of K-12 teachers there, as well as in rural areas across California. Nearly 82% of California's rural communities reported teacher shortages, representing a third of the state's school districts, according to a 2016 Learning Policy Institute study.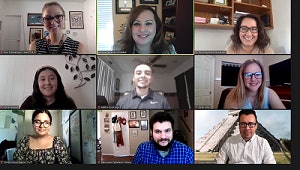 Now, Cervantes-González is part of launching a program – a partnership between CSU Bakersfield and the California Center on Teaching Careers – to combat the problem. The new Teacher Residency for Rural Education project, an 18-month graduate program, aims to train 100 teachers over the next five years to fill gaps in the Visalia Unified School District, with an emphasis on diversity. It hopes to expand to other districts too. The program welcomed its first cohort this fall with the support of a $7 million grant from the Teacher Quality Partnership Grant Program.
"I live in this community," Cervantes-González said. "I reside in this community. My kids attend schools in this community. As a parent, I can't help [but] think, who are the types of teachers I would love working with my own children? We should be able to empower and work with all teachers so they can work with all students."
Because of the coronavirus pandemic, the program's first cohort has six would-be teachers, but it plans to annually accommodate 20-25 residents in the future. All aspiring educators are paired with a veteran teacher who will serve as their mentor and co-teacher in what are now virtual classrooms. Graduates of the program earn a master's degree in education with an emphasis in curriculum and instruction, plus a single subject credential in STEM, from CSU Bakersfield.
Hands-on mentorship is also a pivotal part of the program.
"One of the great benefits of our residency model – and I tell students this early on – is we become like this very close-knit family," Cervantes-González said. "We support each other, not just as faculty but as partners. We're going to do whatever we can to support our students in the process and just help them build their own capacity for learning."
The idea behind the teacher residency is if aspiring teachers do their practice teaching in Tulare County, they're more likely to work there.
Too often, potential teachers who grew up in the community leave for teaching programs in nearby cities, and wherever they do their student teaching, that's where they end up staying, said Donna Glassman-Sommer, executive director of the California Center on Teaching Careers, housed in the Tulare County Office of Education. "If you're a good teacher, they're going to offer you a job right off the bat. We felt like we were losing a lot of our talent because of geographic challenges that we had – even just having them do their practice teaching in our area."
According to Glassman-Sommer, a lack of teachers has been an ongoing problem in California's rural school districts, especially in the Central Valley. When the economy improved after the 2008 recession, older teachers and administrators retired, and teachers moved up into new administrative roles. Meanwhile, the job market during the economic crisis discouraged potential teachers from going into education. The gap between qualified graduates and open positions hit a "record high," she said.
But the Teacher Residency for Rural Education isn't just about filling up roles. It's also about creating a diverse pool of educators, with a focus on teachers who come from the local community.
To make the program affordable, teacher residents are eligible for stipends that cover living expenses, plus additional funds for those who agree to work in a Visalia school for three years after graduation.
Glassman-Sommer has seen "the social justice perspective of coming back and giving back … happening more and more in the school districts," especially those that are "willing to invest in the students who came from their community." Thus, "students who are going to come after them [will] really have great role models," she added.
The first year wasn't meant to be a virtual experience for resident teachers. But despite the impact that COVID-19 has had on the program, Cervantes-González sees some silver linings. Mentors have told her that they deeply appreciate the extra help from residents in their online classrooms as they manage new technology together and work to identify the students who need extra support. It feels like an opportune time for co-teaching.
Plus, now this "small but mighty cohort" will be ready for anything, Glassman-Sommer added, as they navigate unprecedented teaching conditions with a lot of guidance.
"They will be great teachers because they've had to adapt in ways that no one would have expected," she said. "From here on in, everything else will be a cake walk."
Sara Weissman can be reached at sweissman@diverseeducation.com.