As St. Mary's College of Maryland was readying to build a new stadium on campus a few years ago, it first had a hurdle to cross: state law and regulations required the school undergo an archaeological dig of the land.
So, during the summer of 2016, alongside staff and students, Dr. Julia King, professor of anthropology at St. Mary's, surveyed the area. Uncovering items such as ceramics, bottle glass, animal bones, nails and bricks, the team found evidence of what used to be slave quarters.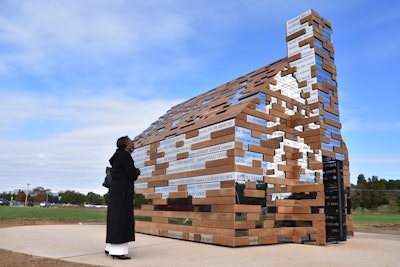 "We also knew that the materials that were coming out of here — there was sort of a disconnect between them," said King. "They were very plain. It would not have been expensive items in their day. But there were a few expensive items which really led us down a very interesting path about the people who lived here [in] Southern Maryland, 18th century. We knew then that these were probably housing [quarters] for the enslaved people who worked for the property owner who didn't live in this location."
After the discovery, Dr. Tuajuanda Jordan, president of St. Mary's, gathered the community to discuss ways to acknowledge and honor the existence of the slave quarters on campus. This eventually led to the idea of building a commemorative.
"We decided to make a commemorative really speaking to resilience and persistence, celebrating the contributions that enslaved peoples made back during slavery," said Jordan. "And continuing contributions that the descendants are making here in this area."
RE:site, a design firm, was chosen to build the "Commemorative to Enslaved Peoples of Southern Maryland." To understand more about the history and project, designers and co-founders of RE:site, Shane Allbritton and Norman Lee, visited the grounds.
"Our approach to any job we have is to make it as site-specific," said Allbritton. "We see ourselves as storytellers that line the cultural landscape of a place and try to extract some kind of history or memory or something historical that needs to be revealed. We like to make connections that are typically unseen and express that through the lens of contemporary art."
Architectural frames had been erected on the site and a ghost frame stood on the field, marking the area and dimensions of the slave quarter.
"It was so inspiring for us to see it," said Allbritton. "It had an absence and a presence. It was there, but it wasn't there. When we saw it, we knew that we had to use this tectonic form in some way to express to people the history of this site and what was here."
The designers' idea was to maintain the "ghostly quality" of the site by using reflections. Additionally, erasure poetry by Quenton Baker, which was inspired by runaway slave advertisements and newspaper articles, was displayed across the structure. The words illuminate at night.
"It was a profoundly difficult process," said Baker. "I mean, it's a difficult text or set of texts to work with. I feel relief and also honored to be a part of providing something ideally that the St. Mary's community, both the college and the surrounding area, can participate in. Or can be part of that sort of cultural landscape. That's a huge honor for me."
The structure itself was also left entirely enclosed.
"We didn't want people penetrating the structure," said Allbritton. "This is a sacred interior and a right of space. We envision that right of space of the slave quarters as a symbol of resilience. It is the only place where slaves could be human beings so that is just off limits."
Last month, installation on the campus began. Now, a virtual dedication ceremony for the commemorative, titled "From Absence to Presence," is planned for Nov. 21 at 11 a.m. It will not be a traditional ribbon-cutting ceremony.
"This [piece] has texture, this has roots," said Carolyn Curry, vice president for institutional advancement at St. Mary's. "This has feeling. It has lots of emotions. So, our attempt was to bring that forth so that people will really get excited to come see it."
Jelani Cobb, a staff writer for The New Yorker, will give the keynote address focused on the importance of honoring enslaved people.
There will be appearances by a number of government officials including the Governor of Maryland, Larry Hogan, U.S. Senator Ben Cardin, U.S. Senator Chris Van Hollen, U.S. Congressman Steny Hoyer, Maryland State Senator Jack Bailey, Maryland State Delegate/Speaker of the House Adrienne A. Jones, Maryland State Delegate Brian M. Crosby, St. Mary's County Commissioner Eric Colvin as well as Baltimore City Council President and Mayor-elect Brandon M. Scott.
"Rather than just bringing greetings, we asked them very specifically to give a very short comment on what a commemorative like this means to the students or to the state of Maryland or to the whole topic of Black Lives Matter," said Curry. "We wanted it to be a personal reflection."
Additionally, the event will include a time-lapse of the construction process, reflections by students on their definition of freedom as well as a poetry reading from Baker.
Jordan emphasized that this site gives "voice to the enslaved peoples, not from the colonists."
"I hope it will inspire people to want to try to understand the history of slavery from those who were enslaved rather than from the colonists or the enslavers," she added. "That is the most important perspective. That is the unique aspect of this piece of art."
Sarah Wood can be reached at swood@diverseeducation.com.