Temple University will pay a civil fine of $700,000 to the U.S. Education Department for knowingly submitting false data to the U.S. News and World Report in an effort to inflate the rankings of its Fox School of Business' online MBA program.
According to the settlement released by the Education Department, Temple's Fox School of Business then advertised those artificial rankings "thousands of times" through various mediums, including social media, billboards, television and radio.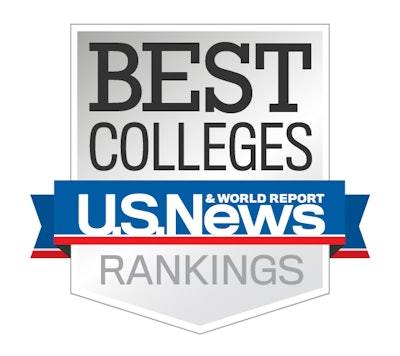 "Consumers rely significantly on U.S. News and World Report and other third-party educational program quality rankings in choosing among educational institutions and providers …," states the settlement. "The Department believes this advertising wrongly increased Temple's enrollment and revenue, deceived consumers, and unfairly harmed competitors."
As part of the settlement, the university admitted no liability or wrongdoing.
"We are grateful to have reached the conclusion of this matter with the US Department of Education," Temple's associate vice president for strategic marketing and communications, Ray Betzner wrote in an email to Diverse. "Throughout the process, Temple was entirely transparent and took swift actions to protect the interests of our students, donors, and the university."
The scandal first came to light in January 2018 when U.S. News announced it would move Temple from its Best Online MBA Programs list to an "unranked" category after Temple informed the publication that only 19.6% of new student entrants had submitted GMAT scores, rather than the 100% the school had originally reported. Prior to that announcement, Temple had held the no. 1 spot on the rankings list for four consecutive years.
After notifying U.S. News of the false data submission, Temple hired an outside law firm, Jones Day, to conduct an in-depth investigation into the situation at Fox. Over the course of six months, the law firm reviewed 15,000 documents and emails and interviewed nearly two dozen Fox faculty and staff.
According to the law firm's findings, the data scandal was partly driven by the leadership of the then-dean of the Fox School of Business, Dr. M. Moshe Porat. The findings state that by emphasizing Fox's rankings as a top priority, Porat placed undue pressure on Fox personnel. Additionally, the report found that Porat had also removed a form of checks and balances by choosing to disband a committee responsible for ensuring the accuracy of rankings data.
"The Dean's focus on rankings, coupled with his personal management style, caused Fox personnel who interacted with the Dean on ranking-related matters to feel pressure to perform in this regard," wrote the law firm.
Porat, who was consequently fired in 2018, refutes the law firm's report. He filed a $25 million lawsuit against the university for defamation of his character in 2019.
Meanwhile, Temple estimates that, prior to this most recent settlement, it has spent at least $17 million in "remediation costs" from the scandal. Included in that sum is an earlier $4 million settlement of a class-action lawsuit filed by former online MBA students who said the scandal had devalued their degrees, a $1.5 million settlement to students in other impacted programs and a $250,000 scholarship commitment to students enrolling in business school programs impacted by the scandal.
In his email, Betzner added that, since 2018, the school has taken "broad-sweeping corrective measures" by implementing "a robust set of practices to ensure that data misreporting with respect to rankings will never occur again."
Those new measures include establishing an internal data verification unit that will oversee the university's data submissions; providing online and telephone hotlines dedicated to reporting malfeasance; retaining a third-party auditor for data submissions; and increasing the training of Fox personnel.
"We made these decisions to protect the integrity that is at the heart of our educational mission," wrote Temple president Dr. Richard Englert and Temple executive vice president and provost JoAnne Epps in an op-ed for the Philadelphia Inquirer. "The public must be able to trust what we say and do, and Temple must be counted upon to take the steps necessary to guarantee that trust."
After being removed from the U.S. News rankings in 2018, Fox School of Business' online MBA program has since returned to the list. It is currently tied with six other programs for 88th place.
Jessica Ruf can be reached at jruf@diverseeducation.com