Before a vaccine for COVID-19 was even produced, Dr. Emily K. Brunson and Dr. Monica Schoch-Spana knew that there would be resistance to vaccinations and barriers to equitable distribution for people of color.
Brunson, an associate professor and associate chair of anthropology at Texas State University, studies vaccination decision-making, and Schoch-Spana focuses on community resilience to disasters as a medical anthropologist and senior scholar with the Johns Hopkins Center for Health Security.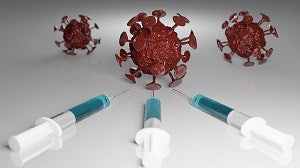 Now, they serve as principal investigators for Communivax, a coalition of scholars in public health, anthropology and public policy, among other fields, working with community organizers on vaccine access for Black, Latinx and indigenous Americans. The effort is funded by the Chan Zuckerberg Initiative, owned by Facebook founder Mark Zuckerberg and his wife Priscilla Chan.
To Dr. Alexandre "Sasha" White, an assistant professor of sociology and the history of medicine at Johns Hopkins, the wide range of academic perspectives is key to Communivax's mission.
"When we're talking about the question of especially what an equitable rollout of the COVID-19 vaccines would mean from an accessibility standpoint, from a racial and ethnic equity standpoint, it really allows us to develop a more robust and complex and also holistic vision or comprehensive vision of what health equity means and what vaccine equity would look like in a COVID vaccination campaign," he said.
Communivax is a three-pronged initiative, composed of a central working group, national stakeholders and six local teams, including groups at University of Alabama, San Diego State University, Idaho State University, Johns Hopkins University and University of Maryland. Local teams meet with each other weekly. The central working group takes their local findings and works on translating them into national policy recommendations and community leaders help to implement them.
For Brunson, "on-the-ground ethnographic research" is what sets Communivax apart.
"We're not parachuting in and doing a quick focus group or community forum and we're not relying on surveys," she said. "We're trying to understand very locally how people have been impacted by the pandemic, how they're viewing COVID-19 vaccination and how that could or won't work in their communities. There are so many issues, especially around equity, that are local and that are difficult to appreciate unless you're there living and working with the community members."
Based on preliminary data, they've already found a variety of access problems with vaccine distribution. For example, in Alabama, local researchers found that people in some low-income areas had to travel two or three counties over to reach a vaccine site, she said. In Prince George's County in Maryland, residents expressed skepticism that local government were working in their best interest.
"Some of the community members are feeling that their needs have not been acknowledged and addressed for a very long time," she said, "so to come into these areas now and start saying, 'You need to do this. It's for the good of the community," [community members are] saying, 'You haven't been worried about the good of our community for a long time – or ever.' There are trust issues."
From White's perspective, this is where an understanding of history is important.
"For far too long, the health issues and experiences of Black, indigenous and people of color communities have only been read through the lens of how they relate to the majority White population, and we've seen this time and time again," he said. In the ongoing conversations about vaccine hesitancy, society needs to "confront the longer lingering and important histories of racist violence in medicine, histories of experimentation, legacies of mistreatment in care," not only related to this "particular concern of whether or not someone is going to get a vaccine."
That means not just involving communities of color in the decision-making process of the national vaccine rollout but building lasting relationships "to build an actual more equitable and collaborative health system in the United States," he added.
Communivax leaders argue universities have a role to play in that – and in equitable vaccine distribution more broadly.
Brunson emphasized that academic researchers can step in to help underfunded public health departments and can serve as a "bridge" to surrounding communities. She also wants university leaders to think carefully about equitably facilitating vaccines for their own faculty, staff and students.
Universities also need to reckon with their own histories, White said, as "thought leaders in challenging inequities in health" but also as institutions "at times been at the vanguard of developing discriminatory or oppressive research, testing and surveillance of BIPOC communities."
"This is a tension I think it's really important for any of us in higher ed to sit with …" he said. "When we think about the issue of vaccine equity or what does it mean to have equity in health, obviously colleges and universities are repositories for a host of knowledge on those questions from a lot of different perspectives. But institutions of higher learning need to also be humble in responding to the needs and concerns within the communities we're seeking to provide care to, first and foremost."
Sara Weissman can be reached at sweissman@diverseeducation.com.