U.S. Secretary of Education Dr. Miguel Cardona listened intently as undocumented educators shared their stories about the importance of higher education.
On Tuesday afternoon, Cardona was late getting to a phone call with a United States senator because he was determined to hear the stories of the educators who gathered virtually to tell him about their experiences as DACA (Deferred Action for Childhood Arrivals) recipients, Dreamers without DACA and TPS (Temporary Protected Status) holders.
The 11 participants spoke about growing up in the U.S., working towards a higher education, seeing their undocumented status impact those plans and navigating life as best they could. Cardona said these stories would inform his advocacy, adding that the educational system should look at bilingualism as an asset.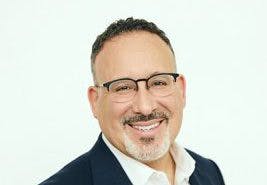 "It is my goal to serve as Secretary of Education and unapologetically address achievement disparities, opportunity disparities, to make sure that our students have access to higher education," said Cardona, himself a first generation college student. "My goal is that I leave with stories to help support our shared mission. … Really paint a picture when I'm advocating on your behalf."
Some of the participants in the roundtable discussion are currently teachers and have shared their status with their students, helping the students navigate their own issues. They all hope that the recently proposed Dream and Promise Act, which will provide them a pathway to citizenship, will be enacted.
A recurring theme among the participants was the role that high school counselors and teachers play in helping undocumented students access higher education.
Marissa Molina, a DACA recipient and the Colorado state director for FWD.us (focused on reforming the immigration and criminal justice systems), lauded her high school counselor who championed her desire to attend college.
"He's the reason I got to college even when there was no DACA, no in-state tuition or financial aid for undocumented students like me in Colorado," she said. "[DACA] allowed me not just the opportunity to get my first job, but to get a loan that would allow me to stay in school. In 2014, it allowed me to become the first person in my family to graduate college.
"After graduating, I actually became a high school teacher because I knew many other students like me who didn't get the same chance only because they didn't have someone championing them," she added. "I wanted to be that champion for young people and create spaces where students knew they belonged and were safe to own their stories."
The COVID-19 pandemic has exacerbated tensions and fear for undocumented individuals.
"We still don't have permanent protections for Dreamers," said Molina. "We know these protections can only come through Congressional action and legislation."
Astou Thiane, now an assistant principal of humanities at a middle school in Brooklyn, New York, recalled how she sobbed to her friends after a high school counselor told her there was no way she could attend college.
"She said it very plainly and very definitively as if this was kind of the law," said Thiane. "As an educator reflecting about it, I still get really emotional."
Thiane researched scholarships, but found she was ineligible for most. The passage of DACA in 2012 enabled her to gain employment. She attended a City University of New York (CUNY) school, and was able to get in-state tuition, paying her way through school by working in retail 40 or more hours a week while also being a full-time student.
"I really want to take part in the work to serve my community," said Thiane. "I wanted to stand in front of Black kids like me, who may be undocumented and share with them that I am undocumented. If that is you, there is a way for you to move forward."
Yadira Garcia Apodaca was seven when her family came to the U.S. She grew up in Phoenix, Arizona. The passage of AZ Prop 300 led to all financial aid being terminated for undocumented individuals, which meant her merit-based scholarship was pulled. She literally fundraised her way through Arizona State University, graduating with a degree in math education, but it wasn't until after the passage of DACA that the possibility of teaching became a reality. She's been teaching high school since 2015.
"Every two years I find myself wondering what's next," said Garcia Apodaca. "I always like to share my story with the students and letting them know I do have DACA.
"We're here now, but it's so imperative that we have a permanent solution," she added. "There's a shortage of teachers. Hundreds of teachers graduate each year, but you can't necessarily use your degree depending on your situation."
Denise Panaligan is in her fifth year of teaching in Los Angeles through Teach for America. She didn't find out she was undocumented until she was 18 and planning for college. Initially afraid to apply for DACA, she did so when she saw friends applying.
"I am very fortunate to be in front of many diverse groups of students—Asian American students, Black students, Mexican students, Central American students," said Panaligan. "By sharing my story, I really hope to number one, just lift up the narrative that Asians can be undocumented too. Immigration for us is an issue. And number two, we need permanent protections for everybody so we're not living our lives in two-year increments."
Other participants spoke about wanting to be teachers and college professors. Cardona concluded the roundtable by sharing his own experiences as an education.
"Your stories have strongly influenced me," he added. "I'm going to take these stories with me. … I'm going to do everything in my power to support you and support students like you. They are the fabric of this country. It's such an asset when we give all of our students an opportunity to thrive."