It takes just one person to change the trajectory of someone's life. For Bradford Grant, professor of architecture at Howard University's College of Engineering and Architecture, that person was the first African American teacher he had as a middle schooler in the California Bay area.
"He happened to teach shop, which involved making things, drafting and drawing," recalls Grant. "I was so impressed with having an African American male teacher and he saw that I liked to make and draw new things, so he said I could be an architect."
Flash forward to today and Grant now is an accomplished architecture professor at Howard University,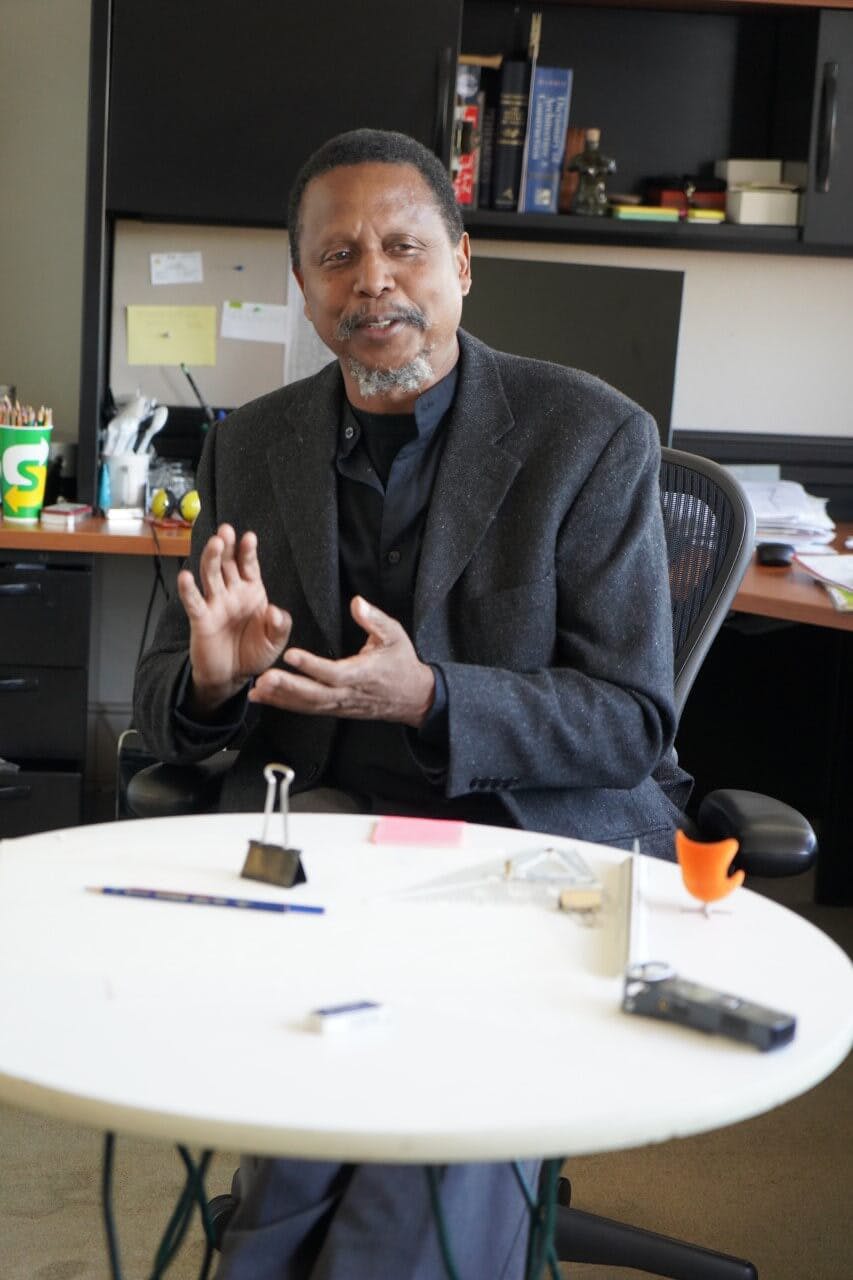 with honors from an array of organizations. He most recently earned the 2021 Distinguished Professor Award from the Association of Collegiate Schools of Architecture (ACSA) in March.
"Had [that middle school teacher] said, 'You should be a doctor,' I would have probably pursued medicine. Had he said, 'You should be a lawyer,' I would have probably pursued law," says Grant. "… In retrospect it showed me how important role modeling is to other young people, so I've always strived to promote role models, especially for African Americans or underrepresented students."
One way Grant has promoted role models is not only by being one himself but by co-compiling the "Directory of African American Architects," considered the first comprehensive survey, analysis and report on the numbers and role of African American Architects.
Building representation is critical in architecture, a field in which only 3% of practicing architects identify as Black. That's due to a number of reasons, says Grant, most notably racism.
"You have to have a lot of money to build a building, and to have an African American architect in control, or have some control, of all that wealth is very difficult and challenging in our society today," says Grant.
He can remember the stark lack of minority architects during his first year at the ACSA conference in 1989. Feeling alienated and in search of an inclusive environment, Grant sat in on a meeting of women architects who were discussing gender issues within the field.
While observing, "I realized there were commonalities within the issues of gender that also had to do with race" says Grant. "So I decided that it would be prudent for me and others to gather, facilitate and advance a group of African American professors."
Little did he know at the time, Grant would later go on to serve as the first ACSA president from an HBCU as well as the first African American to lead the 95-year-old organization.
In the classroom, Grant works to "demystify" traditional design and theory in the classroom by teaching styles and ideas that are culturally relevant to the varying backgrounds and experiences of his students.
"The Capitol building and many of the early buildings that represent our democracy in Washington, D.C., are based on Greek classical styles that represent one Eurocentric version of our nation," says Grant. "But our nation is a multicultural nation. So one would ask, 'Why would a Greek classical order represent a multicultural nation? How can that be culturally relevant, that only the Western style identifies as the power of our country?'"
In contrast, he points to the design of the Smithsonian's African American History Museum, which he calls "a really clear example of a building that holds the culture, especially African American culture, intact in its very form."
Diversity in architecture isn't just crucial to cultural relevance but also to addressing major issues facing the architectural world today, he says. With buildings generating roughly 40% of the world's carbon emissions, designing sustainable, energy-efficient structures is a major challenge amid a worsening climate crisis that disproportionately affects marginalized populations.
"As a profession, we are responsible for designing buildings that will help mitigate or neutralize some of the issues of the climate crisis," says Grant. "And for me, the climate crisis intersects with social justice and, nowadays, environmental justice."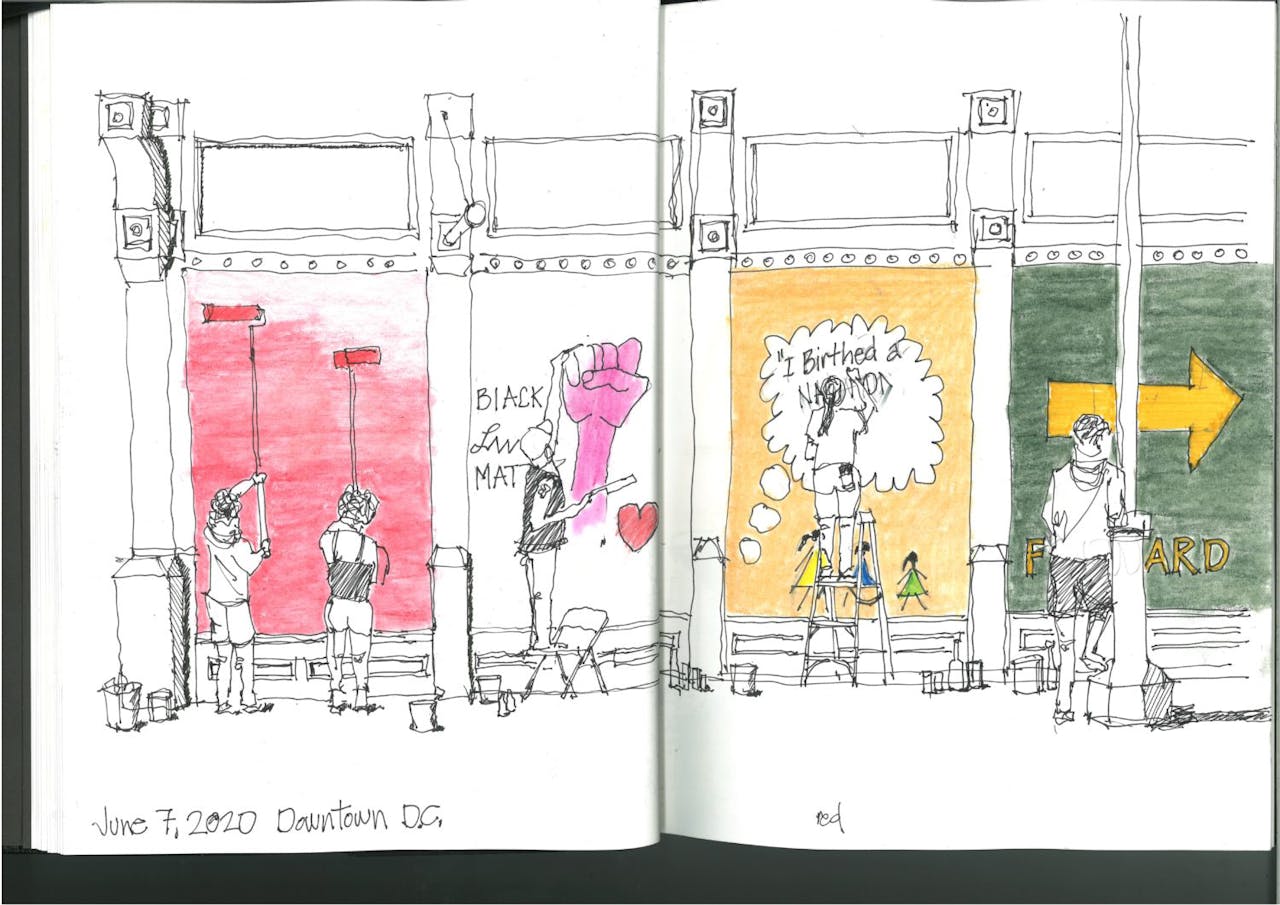 In that way, Grant works to help his students see themselves as agents of change. Part of that work means building them up. If there's one lesson he'd like his students to remember, he says it's this: "Look into yourself for confidence and guidance."
Using contemplative pedagogy, Grant takes a holistic approach to teaching by helping his students make discoveries about themselves. In his drawing and sketching course, for instance, Grant often assigns his first-year students to draw self-portraits.
"I have them draw themselves as part of an exercise of defining or identifying who they are, their identification," says Grant. "It's an exercise that is creative but also really involves the students to search inside themselves about who they really are."
For Grant, sketching is more than a means of designing structures; it's a form of meditation that allows himself to observe and reflect on the world.
Named the National Portrait Gallery's inaugural Instagram artist-in-residence last summer, Grant has helped the museum "tell a piece of the American story" through his drawings. Taking on the position amid a pandemic and racial unrest, Grant says sketching helped him process the tumultuous events of 2020.
"One of the motivations for me is this idea of love," says Grant. "The very term love is not often used in academia, at least in architecture and engineering and technical aspects, but it's been a motivation for me. I love what I'm doing, but I also love the students."
This article originally appeared in the April 29, 2021 edition of Diverse. Read it here.