Dr. Rhonda Gonzales has one eye on the past and the other on the future.
As a professor and chair of the Department of History at the University of Texas, San Antonio (UTSA), Gonzales is passionate about sharing the diverse histories and cultures of societies in pre-colonial Africa for future generations.
Africa's stories and cultures before colonialism typically are not taught at the K-12 level, Gonzales says, meaning students rarely learn about the "depth of [Africa's] history, not just from the origins of humankind and its diversity, but also the breadth and complexity of achievements of people who populated the continent and built societies."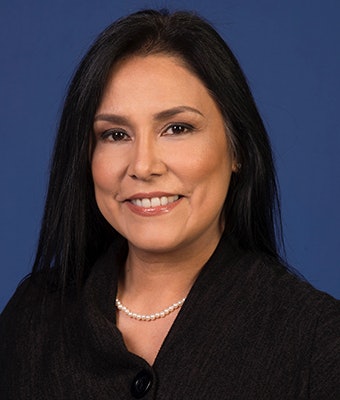 Through her research, however, she works to recover those rich histories.
In 2008, she authored Societies, Religion, and History: Central East Tanzanians and the World They Created, highlighting the vibrant, prosperous — but often forgotten — societies of early Tanzania. In 2018, she co-authored Bantu Africa: 3500 BCE to Present, exploring the complex history of the Bantu languages and Bantu region of Africa, an area larger than the United States. And, to top it all off, she is co-author of the forthcoming book Family Before Gender: History in Central and Eastern Africa.
Yet, despite carrying a heavy research load, Gonzales isn't sequestered to her books. She's a vocal leader and active administrator, too, who's not only passionate about how we understand the past, but also about how we envision the future.
"What ties all of my thinking about the world and people — whether it's first-generation students … or people's histories thousands of years ago — is my belief that we have to support both the production of representation in the past and also be part of creating systems that reflect our diversity and can serve to retain our students, faculty, staff and administration in ways that inspire and empower their successes," says Gonzales, who was a first-generation student herself.
At UTSA, she's served in various administrative roles, from interim dean of the College of Arts and Sciences to interim vice president for student success and associate vice provost for strategic initiatives. This July, however, she'll close her 17-year chapter of working at UTSA to become dean of the College of Arts, Humanities, and Social Sciences at the University of Denver.
But as she prepares for her journey to the University of Denver, she leaves behind a lengthy legacy of championing women and first-generation students at UTSA.
Among her many accomplishments is UTSA's Women's Professional Advancement and Synergy Academy, which she founded in 2011. Inspired by the HER Academy, she wanted to provide affordable career development and relationship building for women in both faculty and staff roles at UTSA. Today, the academy features career development panels, lectures and workshops and, so far, has graduated nearly 100 women.
Gonzales has also been instrumental in creating UTSA's First Generation and Transfer Student Center, which employs an entire staff dedicated to supporting the needs of the school's 11,000 first-generation students and transfer students. "I believe we might be pretty unique, being the first university to have founded a first-generation and transfer students center," says Gonzales, who is also a 2020-21 Hispanic Association of Colleges and Universities La Academia de Liderazgo Fellow.
Additionally, when it comes to forward-thinking initiatives and research projects, Gonzales is no stranger to finding long-term grant money.
"One of the benefits of envisioning and implementing these long-running grants that we've acquired, and that I've been able to write and be awarded with, is that it gives the institution enough time to recognize the value [the programs] add to the institution and to the student experience," says Gonzales. "It's hard to show outcomes in a year or two, but if you can get five years out of something that gives enough time for the institution."
Her most recent grant was awarded in January by the Andrew Mellon Foundation. It's a three-year, $5 million grant to support the university's Democratizing Racial Justice project, which partners with local community members to address racism, inequality and injustice within democracy and civil society.
Just how is she able to balance research, teaching and administrative duties? She says collaboration in historical research plays a big role.
"Time is finite for all of us, so it became apparent to me that to do all these things, to have multiple interests, one of the things I have done to facilitate my work is build collaborative research," says Gonzales, who adds that collaboration among historians is unique. Typically, she says people imagine "the singular person … a man wearing a monocle at his desk or in archives, writing."
While that type of research is fine, she says it's not ideal for every research project, especially interdisciplinary ones.
"I always encourage students to bring their perspectives, whether it's a singular perspective, or collaborative perspective, because we won't know unless somebody is courageous enough to push the boundaries of the status quo," says Gonzales. " … It's about paving the past for a future and to do that, we need to be actively engaged."
This article originally appeared in the May 13, 2021 edition of Diverse. Read it here.