Pregnant Girl: A Story of Teen Motherhood, College and Creating A Better Future for Young Families by Nicole Lynn Lewis is a powerful and deeply moving memoir that sheds light on the plight of an invisible population: student-parents.
In her harrowing narrative, Lewis recounts the heart-wrenching pangs of racism and poverty that she experienced as a young mother working her way through college at William & Mary. And in retelling her story, Lewis — who is the founder of Generation Hope, a nonprofit that works to ensure that all student-parents have opportunities to succeed and experience economic mobility — provides hope to current student-parents and a much-needed blueprint to college administrators on how they can do a better job supporting this growing demographic of students.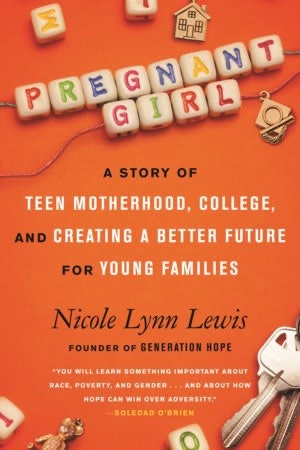 But Pregnant Girl is much more than a recollection of Lewis' personal journey through college and those of others just like her. Instead, it is a sharp critique of all that is wrong with higher education, including rising costs that leave so many saddled with student loans.
"Parenting students, who make up nearly half of all students attending for-profit colleges, institutions that similarly prey on low-income students with a promise of earning credentials quickly and moving into high-paying jobs upon completion are particularly burdened by student debt," Lewis writes. "The average annual loans of parenting students at for-profit colleges are more than ten times higher than those of parenting students at community colleges."
In an interview with Diverse, Lewis — who was named a CNN Hero and is the recipient of the prestigious Roslyn S. Jaffe Award — said she wrote the book to center the experiences of parenting students who are often left out of critical conversations about the future of higher education and their place in it.
"We're not talking about them," she says. "We're not making sure that we understand their experiences and their needs. And there's so much work that has to be done to start putting them on the radar of institutions and policymakers. And I'm hoping that this book does that."
She notes that too many of higher ed's current policies and processes regarding student parents are reactionary, "and our lack of support comes from this idea that, you know, young people are fine, they have a pregnancy, and then they spiral out of control."
The mean-spiritedness of Trump administration policies, which sought to demonize poor people and working families has impacted so many poor and working student-parents.
But to be fair, anti-student policies are not new and have been championed by both Democrats and Republicans at the federal and state levels for decades. For example, in some states, student-parents receiving Temporary Assistance for Needy Families (TANF) have to forego attending college, because they are required to get a job. Their college course work does not count toward work experience.
"It disincentivizes college completion and enrollment," says Lewis, "making young women have to choose between going to college and working to provide for their families."
Lewis' book has prompted a national conversation about student-parents, a phrase that did not exist two decades ago when she was a college student. That conversation will most certainly grow, thanks to her perseverance in advocating for students through Generation Hope. Many hope politicians, social justice advocates and college leaders will keep it going and seek to make higher education more equitable and just.
The bad news, however, is that even in 2021 too many unnecessary barriers exist, making it difficult for student-parents to not only earn a degree but to remain in college.
For Lewis, the challenges were daunting.
During her freshman year, she commuted 150 miles each day back and forth to campus — sometimes in the car for up to four hours — to get her daughter to daycare and then herself to class on time. There were times when her apartment did not have heat to keep her and her daughter warm during the winter months.
"Keeping food on the table was extremely tough for myself and my daughter," says Lewis, who details how she sometimes had to go without meals before she was eventually able to access the supplemental nutrition program for Women, Infants, and Children, better known as WIC. "If you're a parent, you make sure your child eats before you eat, so there were days where I made sure that my daughter had what she had but I would be sitting in class hungry, and that's tough."
Affordable, reliable childcare was difficult for Lewis to secure. While many colleges and universities have established childcare facilities on their campuses, others have not. Insurance coupled with liability issues are often barriers that disadvantage smaller, less affluent schools from moving in this direction.
Dr. John King, former U.S. Secretary of Education under President Obama, writes that Lewis "makes a compelling case for the multifaceted approach that is necessary to ensure that all young people — particularly our youth of color and young parents — are able to make the choice to pursue a college education, earn a degree, and lead thriving lives." Such, King notes, "is an approach that is deeply rooted in the belief and call to action that is core to this book — that all young people are worthy of an education, worthy of resources and opportunity, and worthy of our every effort to help them reach their potential and soar."
You can listen to Nicole Lynn Lewis here as she discusses her new book on Diverse's In The Margins Podcast.