Students whose financial and academic trajectories may have been jeopardized by the abrupt 2016 closing of controversial for-profit ITT Technical Institute will be getting some relief from the federal government. The U.S. Department of Education (ED) announced approval of 18,000 borrower defense to repayment claims for people who attended the school.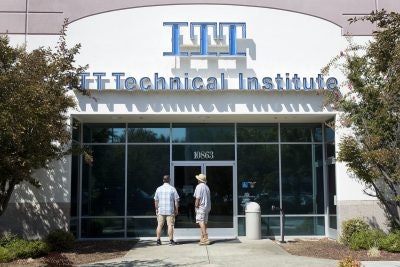 The borrowers will get full loan discharges. This amounts to approximately $500 million in relief.
"I think the underlying debate in all of the borrower defense back-and-forth that we've had is really about two things," said Justin Draeger, president and CEO of the National Association of Student Financial Aid Administrators (NASFAA), adding that a discussion has started over how liable should an institution be for the loan debt that their students take out if that institution was engaged in deceptive practices or marketing.
"But the second part of the debate, is to what extent do we want to try to be precise in measuring the harm that these students incurred versus expediently resolving or adjudicating their borrower defense claim," he said. "And to some extent, those two things have been competing forces throughout this entire conversation."
Draeger said that the Trump administration wanted to be very precise about the harm that these students may have incurred during their time at ITT.
"The problem with that is where policy met implementation," Draeger said. "The implementation of that precision resulted in significant delays. And so now you have this huge backlog that has existed for many years of borrowers who, to some extent, deserve due process. And I think we've reached a tipping point where we ought to just start clearing these claims, paying off those loans and clearing the books so that the students and the federal government can move forward."
With this, the Biden-Harris administration's total loan cancellation under borrower defense amounts to about $1.5 billion – approximately 90,000 borrowers.
"Our action will give thousands of borrowers a fresh start and the relief they deserve after ITT repeatedly lied to them," said Education Secretary Dr. Miguel Cardona in making the announcement. "Today's action is part of the Biden-Harris Administration's continued commitment to stand up for borrowers when their institutions take advantage of them. Many of these borrowers have waited a long time for relief, and we need to work swiftly to render decisions for those whose claims are still pending. This work also emphasizes the need for ongoing accountability so that institutions will never be able to commit this kind of widespread deception again."
The evidence against ITT and in favor of its students was overwhelming, said Dr. Stephanie Hall, a senior fellow at The Century Foundation.
"We have evidence of how ITT victimized students," said Hall, an expert on higher education policy. "You can take a look at student complaints, state investigations, number of law enforcement actions, bankruptcy, closure."
The Department of Education found that ITT made "repeated and significant misrepresentations" about expected earnings and future potential jobs for its graduates from 2005 to 2016.
"In reality, borrowers repeatedly stated that including ITT attendance on resumes made it harder for them to find employment, and their job prospects were not improved by attending ITT," said Department of Education officials, who found that ITT also "misled students" about being able to transfer credits to other schools from January 2007 through October 2014.
The for-profit higher ed chain shut down in early September 2016 and stopped all new student enrollment in late August 2016, a week after the federal government banned the school from enrolling students using federal loans.
Trace Urdan, managing director of strategy consulting and investment banking firm Tyton Partners, said he saw the Department of Education's announcement as somewhat political.
"From a political standpoint, this is also a little bit of a way to start to kind of get at the idea of loan forgiveness and sort of appease a lot of the progressive energy that is behind that desire to forgive loans," said Urdan. "This is just something that's very easy for the department to do and it seems to be popular, especially with their base. And you've got this entity that's kind of demonized already and they're no longer around to defend themselves, they're already defunct and gone away. And so, it's kind of a no-brainer."
The actual trouble might come with future cases, Urdan added.
"I think what gets more complicated is what happens on a go-forward basis, as new allegations emerge, as new claims get made, as claims get made against schools that are still in business, basically that are going to be trying to defend themselves," he said.
Hall said that she sees the approvals as welcome news, but with a caveat.
"My concern is that there's other students waiting for relief, so I hope they're not left waiting any longer, because the clock really is ticking before those payments are scheduled to restart," she said. "And they've already been going through years and years of financial trauma and anything that comes along with that as a result of ITT's behavior."
Arrman Kyaw can be reached at akyaw @diverseeducation.com