Throughout her childhood, Brahmacharini Shweta Chaitanya's mom couldn't seem to part with a particular book. Time after time, her mom returned to its pages, prompting curiosity from Chaitanya who'd wonder, 'What is so great about this book?'
As she would later find out, it contained a large collection of preserved poems by Tukaram Maharaj, a 17th century poet and Hindu sant (or saint).
"She started to tell us a little bit about the different poems, the different teachings, within that particular tradition," says Chaitanya of her mother who had immigrated to Texas from India. "And, as I grew up, I saw that it started to become more and more meaningful to my mom."
While the poems didn't resonate much with her as a child, Chaitanya came to cherish them as an adult. As she grew older, she says, "I found myself curious, 'What are these poems about?' and 'What is this tradition [my mother] comes from?' It gave me some sort of curiosity into studying religion and Hinduism in particular."
Flash forward to today and Chaitanya is now the first Hindu chaplain at Emory University. In that role, she provides support to Emory's growing Hindu population, helping students navigate challenges, whether they be about faith or life.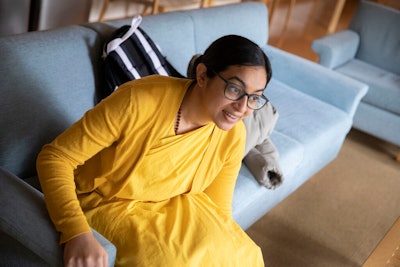 "The fact that a university put out a search for a Hindu chaplain is really amazing," says Chaitanya. "It's a great testament to the fact that the university is interested in representing the communities that it serves and that it's also interested in interfaith dialogue."
Chaitanya earned her bachelor's and master's degrees in Sanskrit at the University of Texas, Austin, and Columbia University, respectively. She then spent two years studying in a secluded monastic community in India.
Hired in February, she's one of five new chaplains at the university, each of whom represents a different faith tradition, including Buddhism, Islam, Judaism and Christianity.
"Offering support for spiritual life that reflects and represents Emory's religious composition today is an important part of our diversity and justice work, and it is also connected with our educational mission, including in the spiritual realms of the arts, music and poetry," stated Rev. Greg McGonigle, Emory's university chaplain and dean of religious life, when introducing the multifaith chaplaincy team.
It's not the first time Chaitanya will serve as a religious figure in an academic setting. During the 2019-20 academic year, Chaitanya studied at Harvard Divinity School as one of the first fellows to participate in a new program for strengthening the Hindu presence on campus. 
As part of the program, she and two other monastics engaged in conversations about Hinduism, which she says encompasses a wide variety of traditions and philosophies underneath its umbrella. Though she was initiated as a brahmacharini (a title that indicates she is a monastic-in-training) through the Advaita Vedanta (literally, "non-duality") tradition, she says conversations with students from other traditions — and other religions entirely — have inspired questions she may not have considered before. 
She looks forward to having more of those conversations. Engaging in interfaith dialogue is a crucial component to the work in the Emory Office of Spiritual and Religious Life. Not only does it help students humanize other religions, she says, but it also encourages the art of listening and empathy — critical skills in any context.
"It's very easy to just talk about religions as a sort of monolith," she says. "But as you put a face to it, you get to sort of learn the nuances, the meaning of that faith tradition, what it means to somebody and how it's incorporated into their life. You get a far richer picture of what these different faith traditions actually look like in the world."
Sometimes engaging in such dialogue is intentional and, other times, it crops up organically in the hallways or cafeteria, as she and other chaplains share their questions with one another.
"It's a really nice model for students who may want to do something similar with their peers," she says. "To see that that conversation is possible in a campus setting amongst the staff and faculty. They might feel more inclined to engage in those discussions amongst themselves." 
She notes that college is often the time of life in which students begin to question the traditions they were raised in or, conversely, begin to grow independently in those traditions. Whatever the reason, Chaitanya likes to see herself as a sounding board for those conversations. 
"We're not interested in forcing a faith tradition on somebody or trying to get them to adhere to something they grew up with," she says. "It's really just about listening to who comes to us and being a sounding board for that person to explore whatever interests them, whatever they feel is helpful for them."
Sometimes those conversations provide a source of familiarity and comfort for students away from their families and traditions for the first time. And with roughly 400 students at Emory who identify as Hindu, Chaitanya hopes to build a comfortable community for them.
"When I was in college, I really wished there was someone like a chaplain who I could talk to, so I really see this role for me as fulfilling that" for others, says Chaitanya, who works closely with the Emory Hindu Students Association. 
"They're amazing students who are looking to explore that Hindu identity within themselves but also find their place within this larger ocean of Emory."  
This article originally appeared in the August 19, 2021 edition of Diverse. Read it here.