With the fall semester in full swing, colleges and universities are following health precautions and safety plans to maintain in-person learning environments, though many leaders continue to watch the increase of COVID-19 cases as the Delta variant spreads rapidly across the country.
Given that COVID-19 vaccines are readily available, some institutions made the decision to mandate vaccines for students and, in some cases, even faculty members.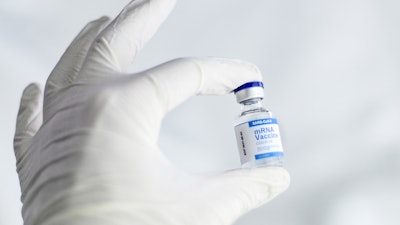 At Marquette University, daily COVID-19 screenings and biweekly COVID tests are required for those on campus who are not vaccinated due to medical or religious exemptions. Those who fail to get tested on time face a loss of access to campus buildings and a $50 fine, according to the school's policy.
Masks are strongly advised for both unvaccinated and vaccinated individuals. Not only do vaccinations mitigate serious COVID-19 side effects, they also provide "peace of mind," says Dr. Xavier Cole, vice president for student affairs at Marquette.
"Once our community knows that we are highly vaccinated, it lowers the temperature around those mental health concerns as well," says Cole. "I really am pleased that we will be able to be much more of a community. "It cuts down on the issues of isolation and cuts down on some things we dealt with, like Zoom fatigue, last year. So, it really does elevate the entire campus."
Political pushback
The vaccine requirements have not come without pushback.
Despite positive reactions from students, the mandate generated some negative responses from those outside the campus community.
"We were following the science," says Cole. "Most of the disagreement was much more about political reasons than it was around anything that had to do about the science of vaccines, which is becoming quite clear about the efficacy not just against the early COVID variant but now even the Delta variant."
Indiana University is among those that have faced legal challenges over its vaccine mandate.
In May, IU joined dozens of other institutions in announcing vaccine mandates. Other than for religious and medical exemptions, students who did not comply risked having their class registration cancelled and faced restricted participation in on-campus activities and events.
Eight students filed a lawsuit, Klaasen v. Trustees of Indiana University, citing a constitutional right violation of "bodily integrity" under the Fourteenth Amendment. Citing the 1905 Jacobson v. Massachusetts decision — which allowed states to require the public to get vaccinated against small-pox — the United States Court of Appeals for the Seventh Circuit upheld IU's requirement in early August.
Weeks later, the Supreme Court agreed not to block the university's mandate.
"That case was about a state university," says Dr. Christopher Robertson, associate dean for graduate and international programs at Boston University's School of Law. "They have more constitutional scrutiny as a state actor. The constitution can restrict what they can do to some degree. But even there, it was a pretty open and shut case."
Boston University is among some of the institutions to also require COVID-19 vaccinations for faculty and staff members.
"I think for most people, it was a huge relief," says Robertson, who is also a professor of law at BU. "Frankly, here in Boston and in Massachusetts, more generally, we have one of the highest vaccination rates in the country already. And so, it is just nice to see that we are keeping people healthy. And that's the best tool we have to do it right now."
Generally, with "at-will" employment, employers can fire without cause as long as it's not discriminatory. Therefore, faculty members or staff could legally face disciplinary action, such as termination, if mandates aren't followed — barring certain contractual agreements, such as union agreements or tenure. But Robertson points out the mandate must make exemptions for medical or religious reasons to avoid any possible negative legal implications.
Though it won't change the legal argument, official approval of the COVID-19 vaccines rather than emergency use authorizations by the Food and Drug Administration (FDA) could make the mandates easier to enforce. In August, the FDA fully approved the Pfizer-BioNTech vaccine.
"There won't be so much pushback, I think, because they won't have that sort of unusual circumstance to be part of the argument," says Stacie Kershner, associate director for the Center for Law, Health & Society at Georgia State University College of Law.
Incentivizing vaccination
Vaccine mandates are not new.
They go back to the first half of the 19th century when public school districts first required vaccination against smallpox for attendance. Now, every state has a list of mandatory vaccines that students need to attend K-12 school, according to Wendy E. Parmet, Matthews University Distinguished Professor of Law and professor of public policy and urban affairs at Northeastern University.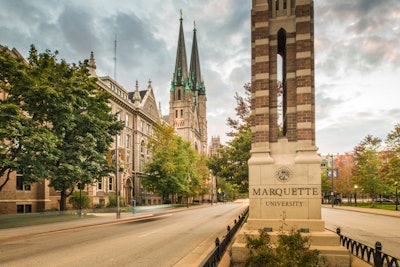 "Universities also very frequently and for a long time have required students to be vaccinated against a risk of disease," she adds. "Everything from meningitis, hepatitis B, measles and mumps. It has been long accepted and understood that communicable diseases can transmit really quickly in university settings."
For some colleges and universities — especially in states like Texas, Arkansas and Arizona, where vaccine mandates are banned — incentive programs were created to encourage students to get vaccinated.
For 12 weeks, ending on October 15, the University of Southern Mississippi plans to draw the names of five vaccinated students weekly to receive prizes. To be eligible, students must be fully vaccinated and submit proof to the university. Available giveaways include fall 2021 semester tuition, dining dollars, Barnes & Noble Bookstore book voucher, credit for housing and residence life and a reserved parking spot.
"We are trying to put this back on students' radar, this is something we really want them to do," says Dr. Dee Dee Anderson, vice president of student affairs at Southern Miss. "We're trying to get students who may be on the fence. … We know that the vaccines are safe, they are effective and we believe this is the best path forward for us and the best way that we can ensure that our students will be able to stay in person engaged on our campus."
She added that faculty and staff are being encouraged to get the vaccine, which is offered at the on-campus health clinic.
Though Marquette has mandated vaccinations for students, the university has chosen to offer incentive programs rather than mandate vaccines for its employees. If employees submit proof of vaccinations, they could win prizes such as free parking, courtside tickets to Marquette's men's and women's basketball teams, campus gift-cards and vaccinated themed t-shirts.
Through Marquette's employee health and wellness program, faculty and staff can also earn points toward earning additional money for their health savings account (HSA) and flexible spending account (FSA) contributions.
"The greatest incentive is for us to be able to be as close to normal as possible in this current environment," says Cole. "Meaning full classes and ability to have events and gather. Even with masks, it'll be much closer to a normal semester. That is something that our faculty, staff, students and anyone that loves Marquette is really doing this for."
This article originally appeared in the September 16, 2021 edition of Diverse. Read it here.