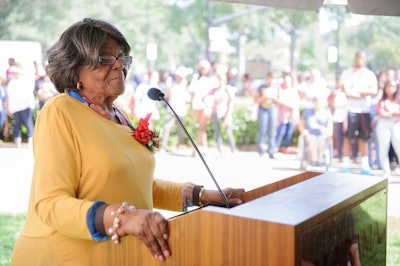 The University of Alabama will be changing the name of the building that houses their School of Education from Graves Hall to Lucy-Graves Hall.
The name-change honors the legacy of Dr. Autherine Lucy Foster, who in 1956 became the first Black student to enroll at the university to earn her master's degree in education. Lucy Foster attended classes in Graves Hall before she was expelled after three days for her own safety.
Lucy Foster was harassed by mobs of angry white students and locals. She sometimes took shelter in a tunnel that connects to Graves to hide from the threat of violence.
Lucy Foster returned to the University of Alabama in 1991 to earn her master's degree in education, and the university awarded her an honorary doctorate in 2019. Her name also graces the Autherine Lucy Clock Tower, the Foster Auditorium, and two endowed scholarships.
"I am so grateful to all who think that this naming opportunity has the potential to motivate and encourage others to embrace the importance of education, and to have the courage to commit to things that seek to make a difference in the lives of others," said Lucy Foster in a statement.
The building will keep the name of former Alabama governor Bibb Graves, once a Grand Cyclops of the Ku Klux Klan. He used that position to gain political power, through which he enacted several reforms that directly benefitted Black communities. Judge John England chaired the naming committee in June 2020, and said the committee "wrestled" with the decision to leave his name in place.