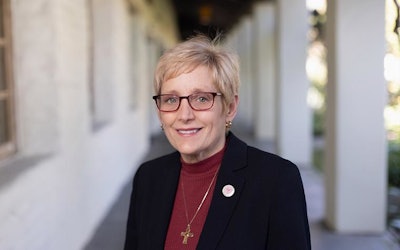 Dr. Julie H. Sullivan has been named the 30th president of Santa Clara University, a Jesuit, Catholic institution in Silicon Valley. When she assumes the role on July 1, she will be Santa Clara University's first woman and first layperson president.
Sullivan spent almost nine years as president of the University of St. Thomas, Minnesota, a Catholic university. While there, she oversaw a physical transformation of the university, built a new program in health and nursing, and launched a two-year pathway towards a bachelor's degree targeting historically marginalized students. The institution went from D3 to D1 under her leadership.
Sullivan said she was "deeply honored" by her selection, made possible by the update to Santa Clara University's bylaws in June 2021 that removed the requirement its president be a Jesuit priest.
"Throughout my career I have been witness to the transformation that happens when you develop not only knowledgeable, but faithful, compassionate citizens of the world," said Sullivan. "At Santa Clara University, I have found a home rich in history and primed for the future, with its robust social consciousness distinctively driving tomorrow's innovations."