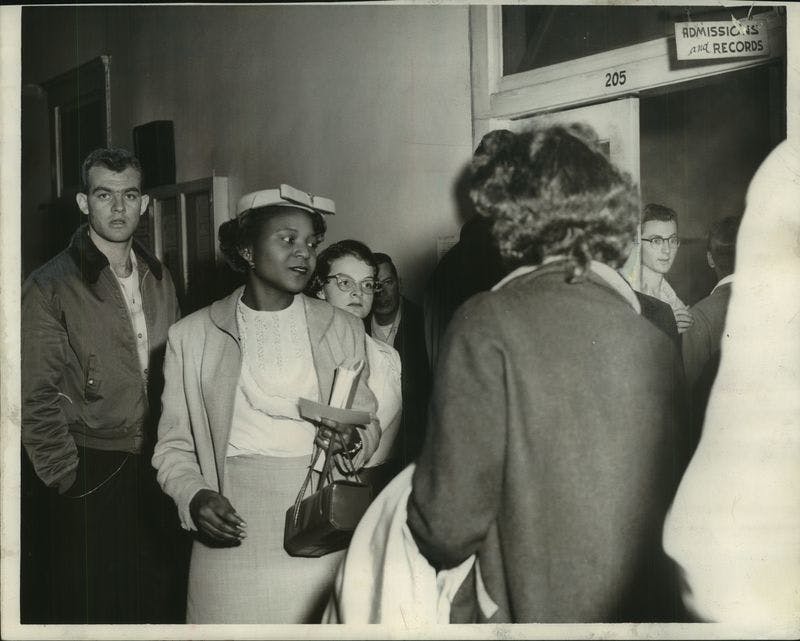 1956 Press Photo of Autherine Lucy.Dr. Autherine Lucy Foster, the first Black student to attend the University of Alabama, namesake of the Autherine Lucy Hall on campus, has died. She was 92 years old.
Just last week, Lucy Foster had been in Tuscaloosa to attend the naming of Autherine Lucy Hall. She had once taken shelter there from a violent white mob when the building was still known as Graves Hall in honor of Bibb Graves, a former Alabama governor and Ku Klux Klan leader.
The original renaming plan included both Graves and Lucy Foster's names, but backlash from students, faculty, and the community pushed the board to drop Graves's name entirely.
Lucy Foster came to the University of Alabama to earn her master's degree in education in 1956. But just three days after Lucy Foster enrolled, the University expelled her for her safety. She was able to return to and complete the program in 1991. In 2019, the university gave her an honorary doctorate.
At the ribbon cutting ceremony, Lucy Foster said, "If I am a master teacher, what I hope I am teaching you is that love will take care of everything in our world."