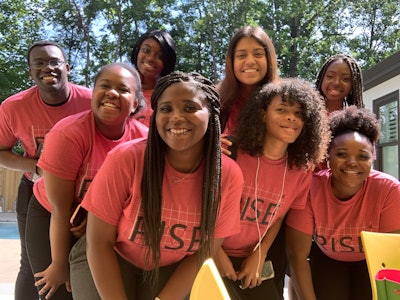 North Carolina Central University's (NCCU's) Research Institute for Scholars of Equity (RISE) program is using its second grant from the Institute of Education Sciences (IES) to become RISE 2.0.
RISE 2.0 will continue its mission to increase the number of Black and Latinx students seeking doctoral degrees, connecting upper-level undergraduate students with the mentors and resources needed to conduct educational research at the intersection of social equity.
The grant, totaling $1.53 million, will help 58 fellows over the next five years. So far, 11 students were selected to join RISE 2.0 in March.
Dr. Wynetta Lee, director of RISE and co-principal investigator of the grant, said that RISE contributes to NCCU's strategic plan "in many ways."
"As an interdisciplinary program for undergraduate students, many of whom are African American and Latinx, first generation college students who are unfamiliar with the culture of graduate education, it helps prepare them to successfully access and attain graduate education in a variety of fields," said Lee.
RISE recruits its fellows from NCCU and other participating institutions, including the University of Southern California and fellow Historically Black Colleges and Universities (HBCUs) Houston-Tillotson University, Jarvis Christian College, Paul Quinn College, Wiley College, and Virginia Union University. Students from previous cohorts have already gone on to pursue their doctoral degrees.