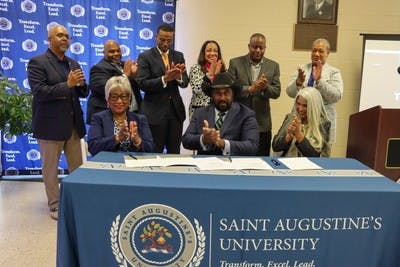 Representatives from SAU and NBFA meet to form alliance.Saint Augustine University (SAU) and the National Black Farmers Association (NBFA) have formed an alliance to tackle issues of inequity and civil rights in agriculture.
The NBFA, founded in 1995 by John Wesley Boyd. Jr., was created to stymie patterns of discrimination facing Black, minoritized, and women farmers. By partnering with the NBFA, SAU is officially a John Boyd Institute. Together, they will tackle food sovereignty and hunger, land retention, educational and technological training, rural economic development, inequitable access to loans, and civil rights.
"Black farmers have always served as pillars of our society. They have used their hands to pound our earth throughout history to produce sustenance and stability," said SAU President Dr. Christine Johnson McPhail. "Our alliance is a tribute to this history and a declaration that Saint Augustine's University stands with our Black farmers in their ongoing efforts to ensure equity and opportunity."